Honoring the fallen and their families
This Memorial Day, as we prepare for the unofficial beginning of summer, please keep in mind the reason behind our national holiday. We continue to lose those who help secure our freedom, and our way of life would not be possible without the brave men and women who made the ultimate sacrifice. We must not simply enjoy this holiday; we must honor the fallen and their families.
As a company, we will demonstrate our appreciation by again sponsoring the National Memorial Day Parade in Washington, D.C. This parade is the largest of its kind in the nation, and Team Leidos volunteers will serve lunch to more than 750 active duty military members marching in the parade. If you are in the National Capital Region this weekend, I hope you will come down to the National Mall and join us. 
Additionally, I am pleased to announce that Leidos recently joined the American Corporate Partners (ACP) Veteran Mentorship and Transition Program. ACP is national non-profit organization dedicated to helping post-9/11 Veterans transition to the private sector through one-on-one mentoring with corporate professionals. In partnership with our Military Alliance Group (MAG), Leidos will provide 50 mentors willing to share knowledge and expertise and network with Veterans seeking career guidance. 
Finally, I ask you to join me in the National Moment of Remembrance, pausing at 3 p.m. local time for a moment of silence to honor those who lost their lives so that we can remain free.
I appreciate the important work our employees do each day to make our world safer and our military the strongest in the world. I wish you all a happy and safe Memorial Day.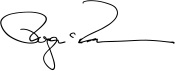 Roger A. Krone
Chairman and Chief Executive Officer