Message from Chairman and CEO Roger Krone
By exploring our ninth annual sustainability report you will learn more about how Leidos is committed to sustaining our employees, our communities, and our world.
Leidos is a company with exceptional talent and leadership, a keen ability to adjust to challenges and opportunities, a deep commitment to ethics and integrity, and a passion for customer success. 2017 marked a strong year at Leidos as we continued to focus on making the world safer, healthier, and more efficient – a commitment that also extended to how we empower our teams, contribute to our communities, and how we operate in a sustainable manner.
Employees continue to lead our sustainability initiatives at Leidos, supported by a team of subject matter experts from across the enterprise. Joining our employees are business and community partners, suppliers, and other stakeholders who share our vision to improve the world around us. Thanks to support from many, Leidos accomplishes more than it could do alone.
Each year, our annual report communicates the progress and impact of the company across multiple areas we deem important to our growth and sustainability. Leidos strengthened its workforce, remained dedicated to hiring veteran heroes, further reduced our Greenhouse Gas (GHG) emissions, enhanced our already robust ethics program, and expanded our community engagement.
To support our communities in 2017, we made over $4.2 million in charitable donations. Our employees, who inspire me with their commitment to improve the world around us, contributed over 25,000 hours of their talent to a wide variety of company-sponsored causes. Focus areas included a new campaign launched to address the every-growing opioid epidemic, STEM education, basic needs and wellness, ethics and leadership, and support to our military and intelligence community personnel and their families.
Working with our operations around the world, I am equally privileged to see firsthand how our employees achieve results the right way, operating with the highest ethical standards. Of our five core values, operating with integrity is number one, and our ethics program and practices are critical to our culture and to our company's viability.
Finally, between 2016 and 2017, we continued to reduce GHG emissions through real estate restructuring as well as through improved efficiency programs and increased use of renewable energy to power our owned facilities. As part of our continuous improvement efforts, we expect to further reduce our emissions and remain focused on efforts to minimize our overall environmental impact.
We realize that operating sustainably is a continuous journey, not a fixed destination. Moving forward, we remain deeply committed to our employees, our communities, and our world.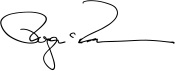 Roger A. Krone
Chairman and Chief Executive Officer