Alumni spotlight: SAIC veteran Jeanette Puritano's return to Leidos
Jeanette Puritano spent the first 23-plus years of her career at SAIC, including about two years at the "new SAIC" after Leidos became a stand-alone company. After taking a role at another government contracting company for about two years, Jeanette applied to a position at Leidos to expand her experience and move her career forward.
You spent more than two decades at SAIC, the predecessor to today's Leidos. What did you enjoy about working there?
After college, I knew I wanted to be in the HR field, and SAIC provided so many opportunities, both in terms of career advancement and continued education. SAIC offered HR positions throughout the U.S., which made staying with the company easy — there always seemed to be new internal opportunities.
I was fortunate to find various roles, all challenging and fulfilling, within SAIC throughout my career from 1992 to 2015. During this time, I watched the company evolve and mature, and I received valuable assistance while earning my master's degree in HR. I loved my time with SAIC.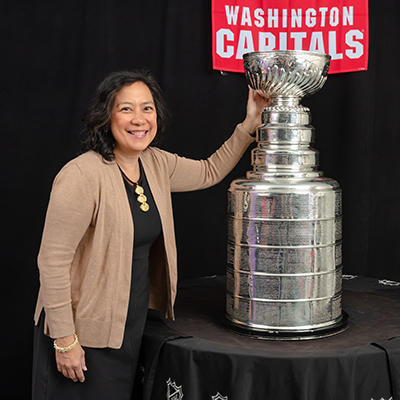 Why did you eventually leave the organization?
When SAIC split and formed Leidos in 2013, I stayed in my role at the new SAIC until 2015. That year, I was offered a role at another government contracting company that would move my career forward. I took it and stayed there for a little more than two years.
What made you consider coming back and taking a role with Leidos?
Some of my former SAIC friends and connections had gone to Leidos post-split. Through them, I heard about an open HR Business Partner role that would support the corporate functions, a group I hadn't yet worked with in my career. While I interviewed, I noticed how much the split, and a later merger, had shaped what the company looks like now.
So, while the company felt familiar, the culture and job looked fresh and different — full of opportunities, especially in HR. Working for an ethical company is also important to me, and I knew that this was a critical part of the Leidos culture.
How has working for Leidos gone for you so far?
I've been here for a little more than a year now, and my impressions have been confirmed. I love my HR team, my manager and the leaders that I support. As Leidos continues to grow and evolve, I hope to be a critical part of that growth. HR has played an important role throughout the company's history, and I'm hopeful that continues.
How do you see your career progressing from here?
I plan to stay at Leidos and contribute to the company's growth for years to come. It's been good to see how HR peers who transitioned to Leidos after the split have evolved into different and new roles that they're enjoying.
I hope that my experience from before I left, along with my experience during my "scenic tour" at another government contracting company, will be valuable to Leidos.
---
If you're interested in joining ENCORE, the Leidos Alumni Network, visit Leidos.com/alumni.