Baltimore Leidos Toastmasters savoring speech contest success
Toastmasters International (TI) has 357,000 members in more than 16,600 clubs in 143 countries. One of those clubs is the Baltimore Leidos Toastmasters, which consists of 13 active members who are all Leidos employees or subcontractors. Chartered four years ago, the club made a breakthrough last month when one of its members won an area competition for the first time.
Brian Weiss is a Leidos subcontractor and has been a member of the Baltimore club since 2017. On Feb. 17, Weiss finished first in the Humorous Speech Contest at the Area 53 (covering the Baltimore metro area) competition in Reisterstown, Md. The team also placed in two other categories at the event, winning third in the Table Topics Contest and the International Speech Contest.
The third-place finisher in those contests was Dave Morris, a Software Development Analyst at Leidos and a co-founder of the Baltimore club. The club started in 2015 and last year earned "Distinguished" status by meeting five out of 10 goals set by TI. The club's mission is to provide a nurturing and positive environment where every member can develop oral communication and leadership skills.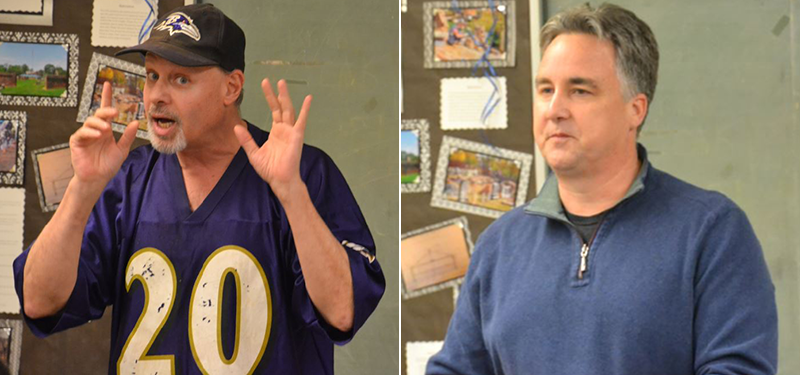 "Toastmasters has benefited my career by boosting my self-confidence and personal growth to deliver effective speaking habits," said Morris. Among the other skills Morris attributes to TI participation: the ability to conduct focused meetings, increased confidence when dealing with impromptu communication situations, and more effective presentation habits.
TI began in 1924 and is a non-profit that promotes communication, leadership, and public speaking skills through a worldwide network of clubs. Its annual international convention draws more than 30,000 participants, making it the world's largest speech contest.
Morris and the Baltimore Leidos Toastmasters, however, aren't getting ahead of themselves. Up next is the March 9 Division E contest, which includes 28 clubs from parts of Baltimore County, Howard County and Carroll County, Md. Weiss will compete in the Humorous Speech category at that contest against other area winners. If Weiss gets the last laugh this weekend, he'll advance to the District 18 (covering parts of Maryland, all of Delaware, the West Virginia Panhandle, and Virginia's Eastern Shore) competition on April 13.