From Bosnia to Beavercreek, this veteran goes where the mission takes him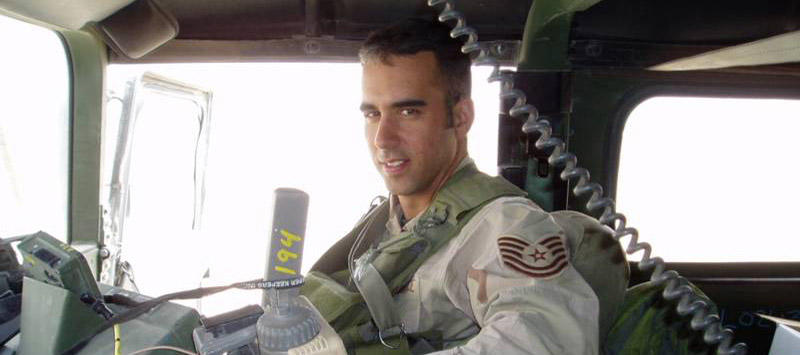 Keith Westheimer's 13-year Air Force career took him around the world and included stops in locales as different as Kentucky and Kosovo. There were also multiple deployments, from Eastern Europe to the Far East to the Middle East. These days, Westheimer the civilian calls the Dayton, Ohio area home.
"I accepted the position with Leidos and relocated in 2011, and I couldn't be happier with my decision," says Westheimer. "Dayton has turned out to be a pleasant surprise."
The Gem City region has a lot going for it. Westheimer cites affordable housing, a bevy of family-friendly parks and trails, low cost of living, negligible traffic, proximity to multiple 'big' cities, strong public schools, and "surprisingly robust cultural and dining options for a city of its size." The work is pretty good, too.
Westheimer is a Deputy Program Manager specializing in military simulators in Beavercreek, Ohio. He works at a customer site on the nearby Wright-Patterson Air Force Base. His co-workers are an "interesting mix of veterans, research psychologists, software and hardware engineers, active-duty military, and government civilians."
"It's extremely satisfying to work in a dynamic research and engineering environment with a lot of great colleagues from all walks of life and professional backgrounds," says Westheimer.
Unfortunately, that wasn't always the case for Westheimer. His first full-time job after the Air Force was as an instructional designer and corporate trainer for a major financial firm in Dallas.
"Since my last assignment was in Texas, and I'm originally from there, it seemed like a pretty ideal setup," says Westheimer. "After a couple years there, I realized that I didn't particularly enjoy the job and I missed the camaraderie and atmosphere of military and wanted that back – without actually going back in."
A lifeline arrived when a friend who Westheimer served with called to tell him about a potential opportunity. The friend was working on a program for the Air Force Research Lab (AFRL) that was looking for ex-military subject matter experts to help run simulators at Wright-Patterson. One of the modules was a prototype Joint Terminal Attack Controller (JTAC) immersive simulator, the exact area of Westheimer's expertise.
He jumped at the opportunity and hasn't looked back since.
"I get to work in a fast-paced environment conducting research, training, and supporting active duty warfighters," says Westheimer. "It's also great to work in an atmosphere that's really military-friendly and provides a lot of the same camaraderie I enjoyed in the Air Force."
As active duty, Westheimer was part of the ground forces that helped end the conflict in Kosovo. As a civilian, he's helping to prepare and train the next generation of heroes.
---
Click here for more information on our work in Dayton and to browse current opportunities.