Cancer biologists get expert perspective on research potential of imaging technologies
FREDERICK, Md. – Leading experts in the imaging science and cancer biology field convened at Hood College June 21-23 for an in-depth look at the potential of new imaging technologies to transform their work. The Imaging Science and Cancer Biology Symposium, sponsored by Hood College and Leidos Biomedical Research, Inc. featured presentations exploring advances in understanding the mechanisms altering cancer cell signaling—as recently enabled by advanced imaging tools.
The meeting kicked off with an address by Otis Brawley, MD of Johns Hopkins University. Brawley is the former chief medical and scientific officer for the American Cancer Society. His talk focused on disparities in cancer care based on race, geography and socioeconomic status.
Hood College President Andrea Chapdelaine, PhD, and Ethan Dmitrovsky‍, MD and Leonard Freedman‍, PhD of Leidos Biomedical Research hosted the presenters and attendees. Dr. Dmitrovsky, president of Leidos Biomed, welcomed the distinguished group of scientists to what he called a "pivotal" symposium. "Advances in imaging technologies are revolutionizing cancer biology, providing a deeper understanding of molecular and cellular structure," he said.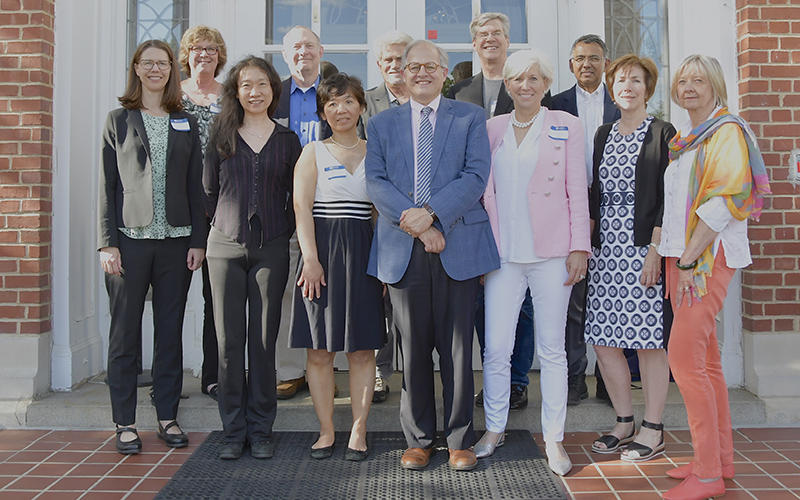 Hood and Leidos Biomed seek to develop similar scientific symposia in the future, focusing on growing disciplines such as data science and machine learning. "The high-quality, timely science presented and networking opportunities among leaders in the field made for a very successful symposia and inspired us to plan for more," said Dr. Freedman, chief science officer. Leidos Biomed currently operates the Frederick National Laboratory for Cancer Research, sponsored by the National Cancer Institute.
Doug Lowy, MD, acting director of the NCI, introduced the scientific program, which included faculty from U.S. and Canadian research universities and the NCI. They discussed the use of imaging techniques and described the research they have enabled across an array of structural biology topics, ranging from the epigenome to the immune system.