The code to success
To celebrate #NationalCodingWeek, we caught up with two coding fans – Blair and his mentee, Erin – to find out how they're continuing to learn and develop their skills for future success.
Blair
Blair is an Application Support Analyst in the Emerging Capabilities team at Leidos, based in Glasgow. He recently embarked on a Data Analysis course at digital skills academy, CodeClan.
"As part of the work Leidos is starting to do in the field of data science and engineering, I started a 14-week intensive course in Data Analysis at CodeClan. The course is aimed at people who perhaps don't work in IT but are looking to make a change in their career, or like me, have coding skills they're looking to develop in a new area. I was a programmer in a previous company so when I found out there was an opportunity to build my skills and learn new languages I jumped at it." 
"Following some pre-coursework to get everyone in our class to the same starting point, we've gotten to grips with the R and PostgreSQL languages, the language of statistics, we've learned from industry experts about data governance and quality, privacy and cybersecurity. We've been well looked after outside of class as well, with social outings and things like that. So I'm excited for what these new skills can do for my future but to then learn that my mentee Erin has found coding is her passion as well has doubled that excitement." 
"The guidance I've tried to give her has centered around the idea that everyone needs to work so you may as well do something you enjoy, and I'm delighted Erin's internship gave her a chance to try it and helped her realize what her next steps can be. Coding is never boring, there's always another problem to solve, it affects every area of life, so there's an incredible variety of fields to work in and creating solutions that have positive real world effects is immensely satisfying."
Erin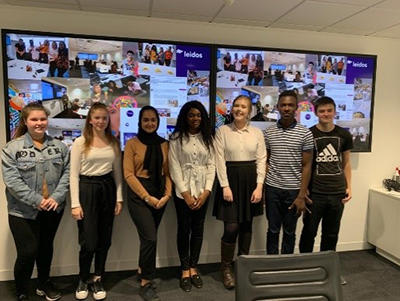 Erin is a 17-year-old school student, mentored by Blair, who completed a four-week paid internship with Leidos this summer as part of the Career Ready programme.
"Before I started my Leidos internship, I wanted to be a marine biologist. I'd studied IT in school until 3rd year but following a few challenges in my class, I'd dropped it and switched to chemistry. I wasn't really interested in computing at that point – it was just another subject. My internship changed all that!"
"During my internship, I was in a group with several other students learning step-by-step how to code a website. We all had different backgrounds so it was good being able to go through the training together but at our own paces. Problem-solving skills were important; we were given a project brief but we had to come up with our own design solutions and figure out the best way to code them. I really enjoyed the challenge of all this (even when things went wrong and I found out it was due to one tiny little thing missing in my code!); being able to create something and see my work come together was really exciting."
"I never pictured myself having a career in IT but now I'm hoping to follow in my mentor, Blair's, footsteps. For anyone else who's interested in learning to code, I'd say go for it! There are loads of free online resources to help you get started, or you could try a course like Blair's at CodeClan. Once you know how to code, you can do anything – from creating apps, games, all kinds of software, technology to help people… there are so many options open to you."
---
If you've been inspired to try coding or you're interested in developing your skills further, please contact CodeClan or Leidos to find out more.
CodeClan is Scotland's first and only SQA accredited digital skills academy on a mission to help bridge the digital skills gap in Scotland's growing tech industry.
Leidos is a global science, technology and engineering company, tackling some of the most complex problems in government, health, transportation, defense, safety, and security.