Dear heart sisters: Don't explain away symptoms
Every February is American Heart Month. Like many, however, I never paid attention to the fact that heart disease is the No. 1 killer in women. All of that changed on April 1, 2016 when heart disease reared its ugly head.
When I first started experiencing some unusual symptoms, I didn't even know that they were symptoms. I explained it all away to myself. I didn't tell anyone and thought the symptoms would just pass. I don't know where I was on my own list of priorities, but I certainly wasn't at the top. I'm good at taking care of others, but I learned that there was a price for that if you're not careful — if you're taking one of your body's vital functions for granted.
In the latter part of 2015 and the beginning of 2016, I was experiencing an increased amount of stress in my life. A lot of the stress came from trying to help care for my mother, whose health was declining. Unfortunately, she passed away in Feb. 2016. Losing her weighed heavy on my heart — quite literally. 
It was so easy to tell myself that the symptoms I was experiencing were due to grieving, stress, lack of exercise, and just being rundown. I was tired, my back hurt, my left arm ached, and I would get short of breath just walking from room to room. This went on inconsistently for a few months.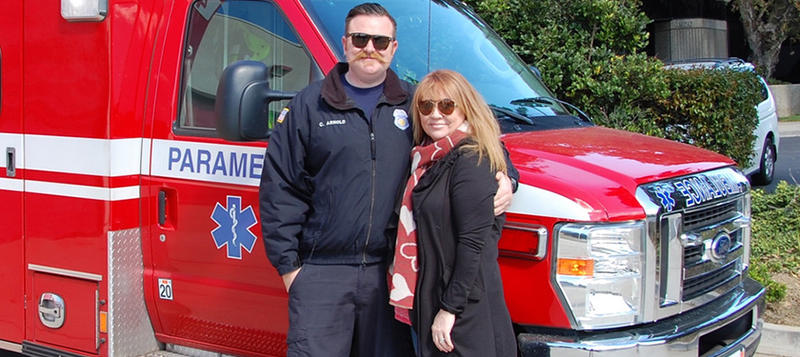 In April 2016, while camping, the pain in my arm and shortness of breath became worse. My son is a paramedic so I pulled him aside. I had a natural instinct not to scare my child (even if he is 28!) so I tried to minimize my symptoms. I remember him saying "mom, I'm assessing you with the questions I'm asking. What you're telling me is serious. You need to go to the ER now!" 
I ended up being in the hospital for four days. I had a stent placed in my right front artery, which was 99 percent blocked. I was weeks, if not days, away from having a heart attack. Besides the stent, I was put on four additional medications and my medical file now reads 'heart disease.' I had excellent care at the hospital, but I remember leaving scared and nervous about the lack of knowledge of what just happened to me. I knew I had to research my condition and educate myself.
Did you know that only 29 percent of U.S. medical schools offer med students the 'recommended' 25 hours of nutrition education? Notice I said 'recommended' and not 'required.' Yet we look to our doctors as nutritional experts. I'm here to tell you that they are not always the experts! You and I have to be. Doctors are more likely to do what they can to 'fix' you, but can't always do what it takes to 'heal' you. 
I found that there is a wealth of knowledge about heart disease available to all of us — so much material that it can be confusing. Different experts have different opinions on the most beneficial way to care for your heart. But one thing the experts do agree on is that heart disease is reversible. Your body wants to heal. And the good news is that the moment you start a following a healthy lifestyle, the heart healing begins.
I am a survivor and this is my advice to women: do not explain away symptoms to yourself. For example, chest pain is not always a symptom in women for a heart attack. Be smarter than proud for yourself and those who love you. Just call your doctor and be the strong woman you are when discussing symptoms. If something in your body doesn't feel right, it probably isn't. The best case scenario is the doctor tells you your heart is great; how can you be embarrassed about 'troubling' a doctor for their time with that news?
Two years ago around this time, I came as close as you can get to a heart attack. I remember that every day. And because of it, I don't put off things that I always thought I had so much time left to do. My kids don't buy me 'things' anymore for holidays and birthdays, they arrange for me to do something I've never done before. Just last week, I interacted with a Beluga Whale!
I took up kayaking and if I can hike in a forest, I breathe deeper than I do anywhere else. I eat a plant-based diet now, which means that plants are at least 80 percent of my food intake. On most days, it's 100 percent. I have never smoked, I rarely drink alcohol, and I have stopped drinking soda altogether.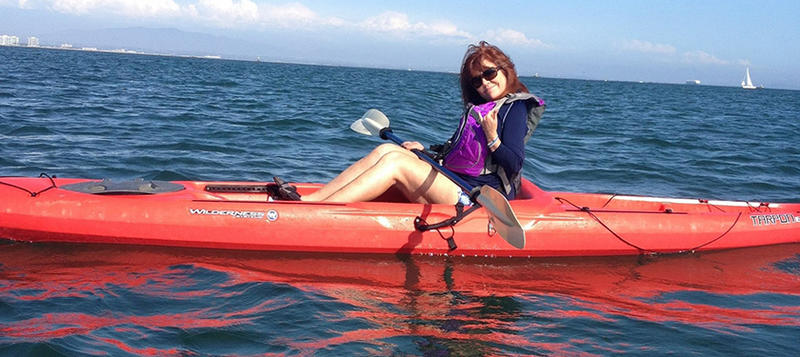 I don't always get to the gym but I try to walk as much as I can and I'm taking steps to reduce stress in my life. I subscribe to sites like Leidos Mission for Life and the American Heart Association for the latest healthy living information. But this is just the lifestyle changes I've made. Your research may find other methods right for you.
In conclusion, be heart strong and fall in love with yourself. Be an advocate for your family and friends to be healthy for good. Your body and your loved ones are counting on the decisions you make to live a long and wonderful life!