Diversity of thought, style, and experience: Meet some of our interns
July 25 marks National Intern Day, a time to recognize the future of our workforce and celebrate the work they perform at Leidos to help us achieve our mission of making the world safer, healthier, and more efficient.
Today we're excited to put the spotlight on a few of our interns hired through Diversity & Inclusion Program Office and Diversity Talent Acquisition partnerships with organizations and events such as the Black Engineer of the Year Awards (BEYA) STEM Conference, the Hispanics in Engineering National Achievements Awards Conference (HENAAC), the National Society of Black Engineers (NSBE) and the Society of Asian Scientists and Engineers (SASE). Identifying, recruiting, and retaining a pipeline of talent through these partnerships is critical to cultivating an inclusive culture that embraces a workforce that is rich in diversity of thought, style, and experience.
We sat down with several of our summer interns to learn about what made them choose Leidos, and how their internships will shape their careers. Their responses are below.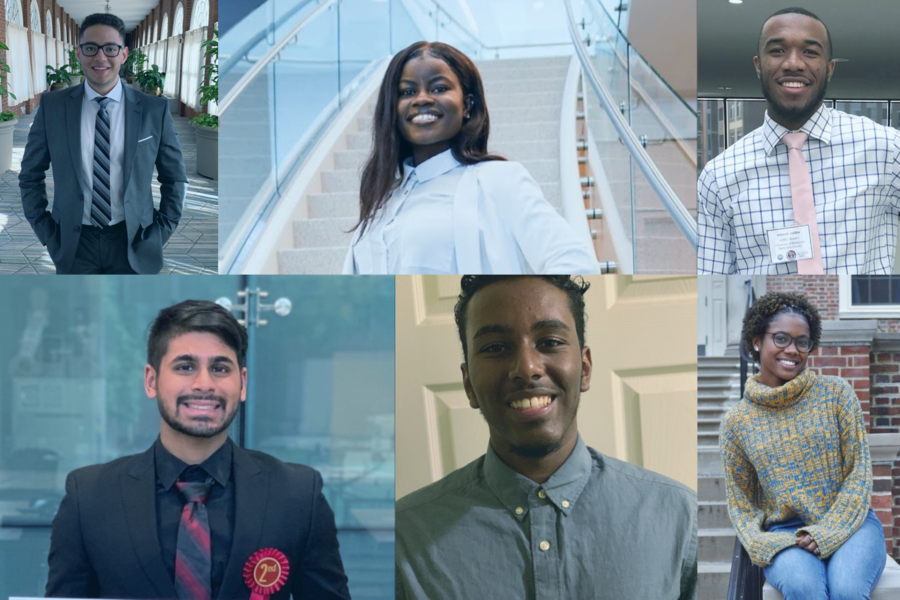 Sydney Boyd is pursuing a Bachelor of Science in Information Sciences and Technology: Design and Development from The Pennsylvania State University
Ishmail Jabbie is a recent graduate of the University of Maryland, Baltimore County with a Bachelor of Science in Mathematics and minor degrees in Economics and Statistics
Nahum Meherete has a Bachelor's degree in Computer Science from the University of Maryland, Baltimore County, and is currently pursuing a Master's in Data Science, also at UMBC
Favour Njunkeng is a senior at the University of Maryland, College Park, pursuing a degree in Computer Engineering and Mathematics with minors in Arabic and Global Engineering Leadership
Milan Patel is a recent graduate of the University of Maryland, College Park with a Bachelor of Science in Bioengineering
Oscar Solis is a graduate student at Prairie View A&M University, pursuing a Master's degree in Computer Engineering with a specialization in artificial intelligence and machine learning
What about Leidos interested you initially?
Boyd: How diverse the company is itself. Initially, I just knew about the four different groups, but in the months before my internship I did a lot more research and attended talks that Leidos held. I realized how much I could grow here, and how much the people around me could teach me as I work. 
Jabbie: I was interested in the type of work that is done here. I knew that it would be a wonderful opportunity for me to get valuable experience and be involved in an interesting project that I could be proud to have worked on moving forward.
Meherete: I was interested by the brand of Leidos. I thought it was interesting how Leidos developed into such a large company is such a short amount of time. The rise of becoming a big name in the field is an inspiration to strive for greatness. I also enjoy the diversity of the company; a friend of mine told me about all the different communities within Leidos and how there is a community for everyone.
Njunkeng: I was initially interested in Leidos due the depth and breadth of its project offerings. Having also seen and had fruitful conversations with Leidos employees at diversity events I love like the NSBE Annual Convention and BEYA, I was determined to join in on the Leidos mission. 
Patel: Leidos interested me as they work with different customers ranging from the DoD to the healthcare industry.
Solis: Meeting Leidos leaders and employees at the BEYA conference in February made me interested in working here.
What do you like best about working at Leidos?
Boyd: The culture and people are definitely my favorite things about Leidos. I'm a people person, and from day one I felt welcomed by the people I work with. You can tell that Leidos promotes a diverse, positive culture that's meant to welcome anyone. 
Jabbie: I think the opportunities here are limitless. The work is connected to so many different things and applications in the field. I also like that I am able to work with a mentor 1:1. It allows me to be independent and learn a lot through my own failures, but then gives me a direct resource to reach out to ask for help.
Meherete: I like how the people are always willing to help out, even if it is outside of the task at hand. The life lessons learned that can be applied to aspects outside of work is a valuable asset to me. I really enjoy the employee resource groups since it is hard to find people like you and it provides great comfort in knowing that there are other employees that understand what it is like to be a certain minority in the workforce.
Njunkeng: What I like best about working at Leidos are the many opportunities available for both professional and personal development. I have gotten the chance to participate in a project that teaches me new skills every day, and I have likewise developed personally from the wide array of benefits provided as an employee. 
Patel: I like working with the people at Leidos, as they all are very friendly and open to help you.
Solis: The people that I work with are great and very knowledgeable in their respective areas. The projects are also very interesting and I really enjoy the kind of work I have gotten exposed to during my internship.
What kind of work are you doing, and what value do you feel you are providing to the organization and to the customer?
Boyd: I'm currently working as a Communications/UX intern, and do a lot of graphic work on applications and websites. I also work on projects where I get to meet the client and get a better understanding of how my office can support them. 
Jabbie: I am involved in a project that will try to extract relevant information from a dataset. I am currently trying to get a demo up and running so that we can determine which system would be best moving forward.
Meherete: I am currently working on a machine learning model (ML) for a software tool. I feel like I provide a lot to the organization because of how far along in the project I have gotten.
Njunkeng: I am currently working on ML approaches for map analysis, which has many phases aimed to improve confidence and reliability for deep neural networks. I feel that I am providing significant value to the organization and to the customer because I am actively contributing to algorithms for ML architectures.  
Patel: My work involves setting up a network infrastructure that can communicate from one subnet to another subnet.
Solis: Currently I am working on automating different aspects of a tool that, when it is implemented, I hope it can reduce the time it takes to gather training sets for different convolutional neural network (CNN) models. I think I bring a new perspective due to my background and my previous research experience.