Finding Joy: A civilian oceanographer's unique career charting international waters
The two-day McMullen Naval History Symposium begins today in Annapolis, Md. Held since 1973, the biennial event showcases research and experiences in naval and maritime history. One of this year's featured speakers is Joy Carter Minor, an engineering manager with Leidos who provides integrated logistics support for the Navy's sonar system. Minor supervises a team of geographically dispersed employees and splits her time between customer sites in Manassas, Va., and Chesapeake, Va.
Minor served as a civilian oceanographer onboard U.S. Navy oceanographic operational platforms charting harbors and approaches in worldwide areas of civil unrest. She has supported the Chief of Naval Operations in the Pentagon on the Navy's Air-Sea Battle strategic planning and Irregular Warfare efforts to field mature technologies to the warfighter. Minor has also provided systems engineering support to both U.S. Navy and Coast Guard shipbuilding, Missile Defense Agency, Non-Lethal Weapons Program, NAVAIR, and the Department of Homeland Security.
I recently interviewed Minor about her career and upcoming presentation at the McMullen Symposium. A condensed version of our conversation is below.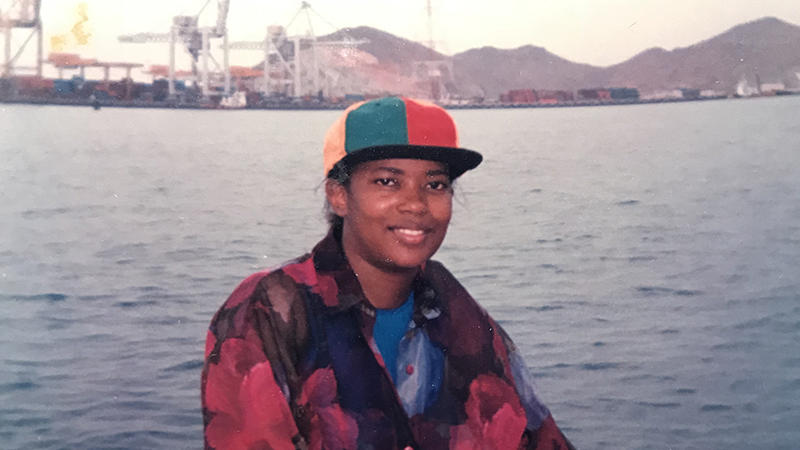 You're presenting at the symposium tomorrow and the topic of your speech is "How Post-Cold War Maritime Strategy Changed the U.S. Navy's Culture." How did this opportunity come up?
Well, I've followed the McMullen Naval History Symposium for some time because I have a personal interest in Naval history. I'm also currently a doctoral student working on my Ph.D. in international studies and I have to complete an academic accreditation or paper as part of the requirements for graduation. I felt that the symposium was ideal because I think I have a story to tell and one that I believe should be included in Naval history. So I submitted when the Naval Academy put out its call for papers last year and I was notified earlier this year that my paper was selected.
I always knew that my career path was somewhat unique, particularly for the time, since I started my career in the late 1980s just before the Cold War ended. A couple years ago, the Pascagoula Naval Station in Mississippi invited me to speak during Black History Month. I talked about the technical and cultural challenges that we faced during the '80s and early '90s in Mississippi at the Naval Oceanographic Office and most of the people in attendance found it intriguing. Thinking about it afterwards, I realized there was a good story there. And when my mom passed away in December 2017, I needed something to divert my grief so I decided to pour my heart into this memoir. Most of it is focused on my career and how foreign and domestic affairs impacted my daily life and my work life.
What was your childhood like? How did you develop your interest in topics like oceanography and Naval history?
I grew up on the Gulf Coast of Mississippi. All I knew was the ocean, the water. The town I grew up in, Moss Point, was located between two rivers, the Escatawpa and the Pascagoula and they empty into the Gulf of Mexico, so I was surrounded by water on all sides.
My entire family at some point in their lives worked in the ship building industry. While I was in college, I was a co-op student at the shipyard. That was my first introduction to actually being on a ship. I worked in a piping/design department and I walked on the first CG-47 Ticonderoga cruiser, doing some engineering change design for the piping on those ships. So that's when I developed my real love for being at sea. I was already a swimmer and loved canoeing so I just had a life on the ocean. My first job after I graduated was at the Naval Oceanographic Office where I was a hydrographer/oceanographer for the next 13 years, traveling internationally three months on, three months off that entire time.
Where did your work take you?
I spent time in Somalia, Kenya, the United Arab Emirates, the Mediterranean Sea, and the Albanian Sea. We traveled in teams so I just always volunteered for that part of the world -- the Middle East, North Africa, and East Africa. I fell in love with the work after the very first trip. The place I spent most of my time and the longest stint was Somalia.
Where was that first assignment?
That was Djibouti, Somalia, and Kenya. I met the ship in Djibouti and surveyed the East African and Indian Ocean coastline from Djibouti down to Kenya.
From all of your international assignments, which one was the most challenging or which one were you the most nervous about?
I would say the four years in the Horn of Africa because there was so much going on there. Somalia was in a civil war and very few people knew that we were there. Even the locals when we showed up, their immediate reaction was, "Why are you here?" Even though we were on boats with an American flag, we were not in uniform. Almost every time, we were accosted and taken into custody until somebody could make calls to verify that we were supposed to be there. Wherever we went, we rarely spoke the language and we did not have an interpreter. Lucky for us there was always a local who knew a little English. What we did have was our "get out of jail free" card, a typed paper in a plastic binder in the local language that supposedly explained who we were and why we were there.
We were usually the face of America when we got there. When I first started traveling, it was before GPS so we were using radio navigation positioning. We had to go put in our transponders. We had to do the triangulation surveys, so we were on the ground, in the desert. We really got to mingle with the locals.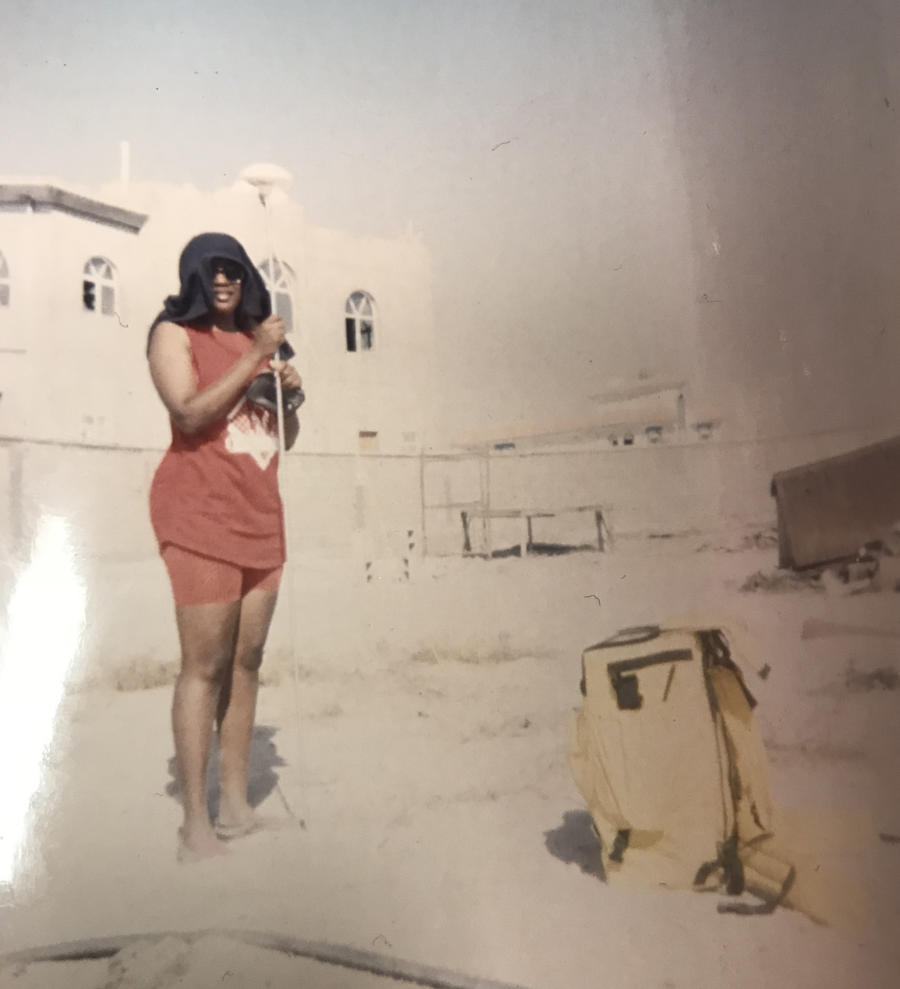 Which assignment do you look back on most fondly and why?
The UAE because it was just so fascinating. We were there before Dubai is what Dubai is today. Even then it was fascinating because the water was irrigated and everything was manmade. But it was the best, it was just amazing to me. There were streets paved with gold in some places, literally. My travels dispelled a lot of myths we hear about Middle Eastern and African countries. At the end of the day, they were just people. They were just as intrigued with me as I was with them and because I didn't go in with any preconceived notions about who they were as people, I had no bad experiences.
You received the Armed Forces Civilian Service Medal for your contributions surveying the Albanian Sea after the Bosnian war. Can you tell us about that experience?
I was a member of a small team deployed in 1998 to position sonobouys in and around the Mediterranean and Adriatic Sea just after the war. We were launched from the mother ship in the wee hours of the morning and traveled on a smaller survey boat in and around the Mediterranean with a map of last known locations of the sonobouys. The boat tied up in the Albanian Sea for a few hours and I had an opportunity to meet the local people and see how the war had devastated their homes. A year later I was awarded the Armed Forces Civilian Service Medal.
The International Hydrographic Organization certified you as a Class A hydrographer in 1998. What was the significance of that?
I'm pretty sure I was the first U.S. citizen qualified by the IHO to certify nautical charts in accordance with international standards. The Naval Oceanographic Office did not have any certified hydrographers at the end of the Cold War. The U.K. course was one of the few courses available at that time. I applied for the single slot made available and was selected from among my peers to attend. I was the second to attend, but the first to complete the course successfully.
You earned your bachelor's degree in chemistry and then you went back for a master's in systems engineering 13 years later. What was that like?
I got divorced during those 13 years, so I was a single parent by then and my parents had gotten older and couldn't keep my daughter so I realized I had to make a career change. While I was traveling, the Navy decided to introduce a new class of oceanographic vessels, the Pathfinder class, and it was going to be a more modular roll-on, roll-off vessel. I was actually embedded with the prime contractor at the time to develop the requirements and the architecture for the integrated survey system that was on that new class of ships. While working to develop that integrated survey system, I developed a new love so I stayed in the maritime environment because that's where I felt most comfortable but could still do something different in the space. So I made that switch.
How did you balance motherhood with your three-months-at-a-time international assignments and then getting your master's degree?
That was the most difficult. It was actually almost a mental breakdown when I realized I could not keep leaving my daughter because there were times that I didn't have enough notice to get daycare for her. So I had to make a conscious decision to do something different. I started thinking about what other skill sets I had learned that I could transition somewhere else. That's how I ended up moving from Mississippi to the Washington D.C. area for my master's and bringing my daughter with me -- and it was the best decision I could have made.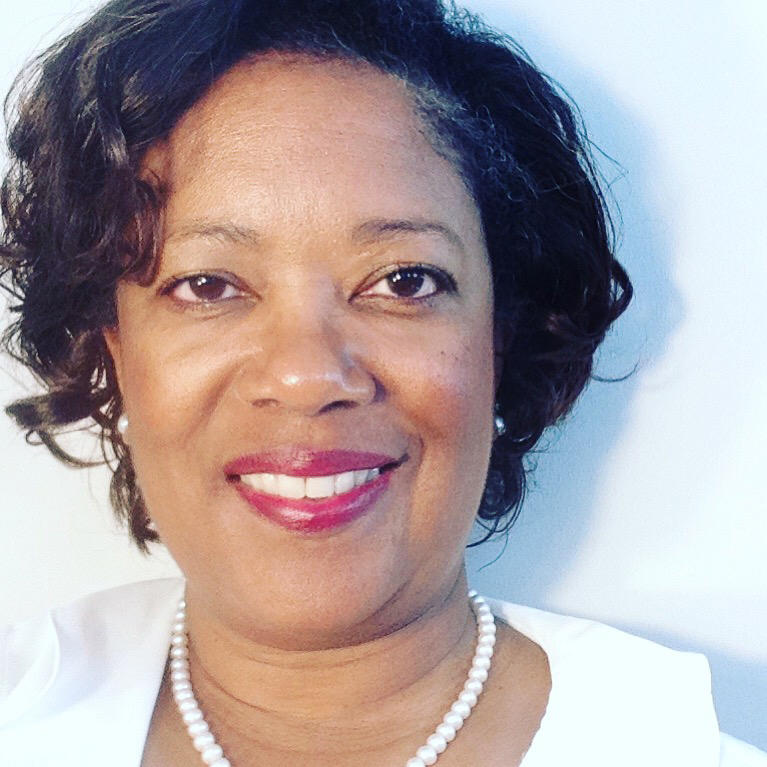 Has your daughter taken an interest in her mom's fascinating career path?
Believe it or not, from the time she was 6, she decided that she was going to go to Georgetown and study foreign affairs. And she did. She graduated high school at 16, got accepted early entrance into Georgetown, and not only did she study foreign affairs, she did the Science Technology in International Affairs curriculum. She graduated and is currently a cybersecurity analyst with Google in New York.
Wow, that's very impressive. You must be extremely proud of her.
I am. I am. The thing is, even when I was doing my bachelor's program, she went to college with me every night so she had no choice but to have good grades!
In 2015 you also earned a master's of divinity from Virginia Union. How did that come about?
I'm so complicated... I've always had this internal desire but I didn't understand ministry. I didn't even understand what I believed and I talk about this in my book. While working in the Pentagon, I worked in the Irregular Warfare Office and I was involved in some war gaming. We were war gaming a situation with non-state actors who just happened to be Islamic extremists. One of the men in the group was a Christian but also a part of an organization called International Center for Religion and Diplomacy, the ICRD. He knew a lot about all the Abrahamic faiths -- Christianity, Islam, and Judaism -- and he was able to make unique contributions to the war gaming exercise because of his knowledge.
I kind of stuck to him like glue and I realized I didn't know anything about my own beliefs. I grew up in the Christian tradition, I felt a calling that I didn't know what to do with, and I had no one to nurture. So I initially went to seminary just so I could learn more about my own theology. And now I'm a minister. I also have somewhat of a pluralistic belief. I have a Christian theology because that is the faith that I grew up in, but I'm not closed-minded.
You're currently pursuing your Ph.D. in international development. When are you scheduled for that and do you have a thesis topic?
I'm scheduled to take comprehensive exams November and December of this semester. I'm still forming my thesis but I can tell you now that it will have something to do with the intersections of religion and international security and the impacts that religion has on international security. I personally have an interest in Somali-phobia. I've done a lot of research because I've spent extensive time in Somalia getting to know the Somali people. I understand some of the dynamics of what's going on with Somalis in America today and I really want to write about that but my advisors aren't so sure. My goal is to graduate, so I can always do that topic later.
The teams you were on consisted of scientists, engineers, oceanographers, etc. How many women were there? What was diversity like?
That's why I feel that my paper's topic is important, looking at that transition from Cold War to post-Cold War because it was before the Navy allowed women on combat ships [the Navy changed its policy in 1993]. The Merchant Marines had women and there were women among the scientists on board, but there was usually just one woman per crew. It was an interesting time.
Anything else you want to share about yourself, your career, or the Symposium?
The Naval Oceanographic Office was initially in the Washington D.C. area before it was relocated to Mississippi in 1976 in a somewhat political and kind of tumultuous move. It disparaged some of the minority employees that didn't want to move. It ended up that those who did move were the ones who were the experts in hydrography. I wasn't a part of that initial group but I started working there right after they moved to Mississippi. It was a cultural, technical, and political environment that was kind of charged at the time. At the end, we still managed to chart the world's oceans and lead the way. While I'm not there anymore, I still feel a kinship with all of the civilians who have done it. That's the reason I want to talk about what civilians have contributed as far as charting the oceans.