Forward-thinking IT helps JPL focus on mission
World-class athletes have competed at the Rose Bowl in Pasadena, Calif., for almost a century. Three miles away from the Rose Bowl is another remarkable venue, NASA's Jet Propulsion Laboratory (JPL) — where world-class engineers, researchers and scientists display their talents.
A federally-funded research and development center, JPL is managed for NASA by the California Institute of Technology. The lab carries out robotic space exploration and develops technologies that improve life on Earth. It's where a lot of cutting-edge science happens.
Many of the robots and satellites that go to space start at JPL. This includes the Mars Science Laboratory Curiosity rover, the most advanced rover ever built. According to NASA, Curiosity met the audacious goal of finding evidence of a past environment well-suited to supporting microbial life just eight months into a planned 23-month prime mission.
Complex missions like Curiosity's don't happen overnight. Roughly 5,500 JPL staff, using some 9,000 devices, work internally and with outside partners to develop the science and technology needed to accomplish NASA's missions. This means top-notch IT support and systems are vital to JPL's success.
Leidos, which recently completed a merger with Lockheed Martin's IS&GS, has provided many of these central IT services, support and enterprise IT for JPL staff since 2008. JPL's initial challenge was to automate wherever possible and simplify everywhere else. In response, Leidos streamlined hardware and software orders, automated back-ups, pushed software patches, and upgraded the technology in conference rooms for JPL.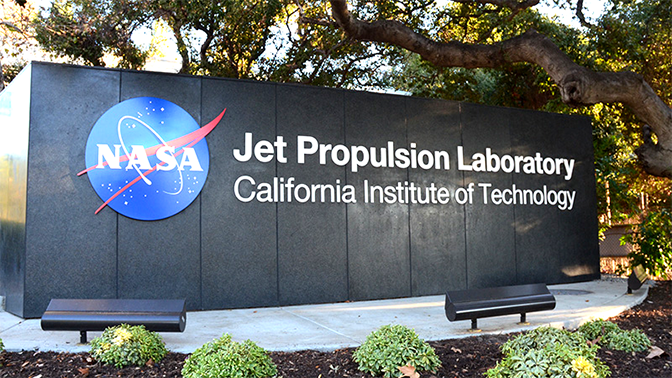 "It was important for JPL to create a good user experience for its staff," said Nathan Apodaca, senior program manager at Leidos. "We've made sure that whenever a JPL user accesses any type of IT resource, they're treated to an easy-to-use, consumer-like environment."
That consumer-like environment is evident in JPL's product catalog, which Apodaca's team built in 2009 and maintains today. The catalog significantly cut the red tape and convoluted processes that go into ordering IT and mobile equipment. Instead, JPL users shop on a simple, intuitive platform.
"No one in the federal government had a catalog that operated like JPL's. It provides staff with an Amazon-like user experience."
-- Nathan Apodaca, Senior Program Manager
"No one in the federal government had a catalog that operated like JPL's. It provides staff with an Amazon-like user experience, giving them a single view into all of their IT assets and products and services that can then be provisioned," said Apodaca. "JPLers can access the catalog, select hardware with a single click and then see recommendations based on items that their peers have selected."
The catalog was so successful that Leidos expanded it to include IT services. In operation for almost four years, the catalog gives JPL staff the freedom to manage their entire IT infrastructure. Everything from setting up email accounts to obtaining a second monitor to changing their mobile calling plan happens on the user-friendly platform.
Leidos continues to add requested features to the catalog and improve the interface to further streamline operations. For example, JPL staff can use the catalog to check their IT service history and ticket status.
Now, Apodaca and his team are moving JPL's IT services into the cloud for increased efficiency and security. They started by implementing backups of all JPL work into the cloud, a continual process that preserves data in case of a catastrophic event at the lab.
The new cloud backup service protects JPL systems so that no work is ever lost due to hardware failures. When there is an incident like a desktop crash, the Leidos team can pull new hardware from its inventory, re-load everything lost, and have the JPL scientist back up and running fast.
Using native encryption, the desktop backup service also enables JPL staff to quickly upgrade equipment or any piece of equipment as part of the new standard deployment process. Deployments that took several days now take fewer than four hours.
"We have several automated scripts that we run," said Apodaca. "The scripts identify the new system with the scientist who needs the upgrade and then begin downloading all their data. A few hours later, the new system is up and running and ready to help support JPL's mission."
Going a step further, Leidos has matured the way it supports JPL end-users by adding an on-site presence with dedicated staffing. Apodaca views this in-house support desk as JPL's version of the Genius Bars found in Apple Stores. Not surprisingly, the HUB results in higher levels of customer satisfaction because of the face-to-face engagement the IT support team and JPL staff enjoy.
On top of the IT support and infrastructure, Leidos acts as a facilitator for introducing new technology. Leidos hosts quarterly sessions at JPL to highlight what's new in the IT space and how it can enhance their work. Leidos also supports JPL's work on earthly innovations like its Conference Room of the Future initiative.
Partnering with the JPL CTO's office and top office technology vendors, Leidos is helping develop and build lower-cost but more advanced and efficient conference rooms that can help alleviate space constraints in the lab. JPL's main focus, though, is showing how new technology can provide more robust features for government at less than half the cost of a traditional conference room setup.
"With a goal to help lower end-user costs, Leidos and the JPL OCIO are partnering to demonstrate how to transition from the old, standard conference rooms to smart conference rooms with plug-and-play technology that is easy to use, efficient, and controlled using application management," said Apodaca.
Among other innovations, JPL is using IT to help determine which conference rooms are being used, which in turn reflects whether conference space is required or not. JPL and Leidos have also partnered to prototype using Amazon's Alexa to simplify a room's setup for presentations and turn equipment on and off.
Technology collaborations, like the one driving these advanced conference rooms, are what drive innovation. In Leidos, JPL has an accomplished enterprise IT and technology collaborator and partner supporting its groundbreaking work in outer space and on Planet Earth.