Games at Capital One Arena take on a new meaning
Fans can now take the court or hit the ice alongside their favorite players at Capital One Arena – virtually, that is.
Monumental Sports and Entertainment (MSE), the ownership group behind the Washington Capitals, Washington Wizards, and several other D.C. area sports teams, opened a new interactive esports gaming zone on Feb. 23. Leidos is the presenting sponsor of the unique space located on the second level concourse of the downtown arena.
"We are thrilled to continue our partnership with Leidos in the constantly-evolving esports landscape," said Jim Van Stone, MSE President of Business Operations and Chief Commercial Officer, in a press release. "Fans will really enjoy the camaraderie of the competition at this engaging activation area."
The new sponsorship deepens an existing esports relationship as Leidos is the official presenting partner of MSE's Wizards District Gaming (WDG) franchise in the NBA 2K League. WDG starts its second season on April 2 and hopes to build off of last year's playoff berth.
Thanks to the gaming zone, fans don't have to wait to get their 2K fix. The activation area debuted last Saturday during the Wizards game against the Indiana Pacers. Its opening continued on Sunday when the Capitals hosted the New York Rangers.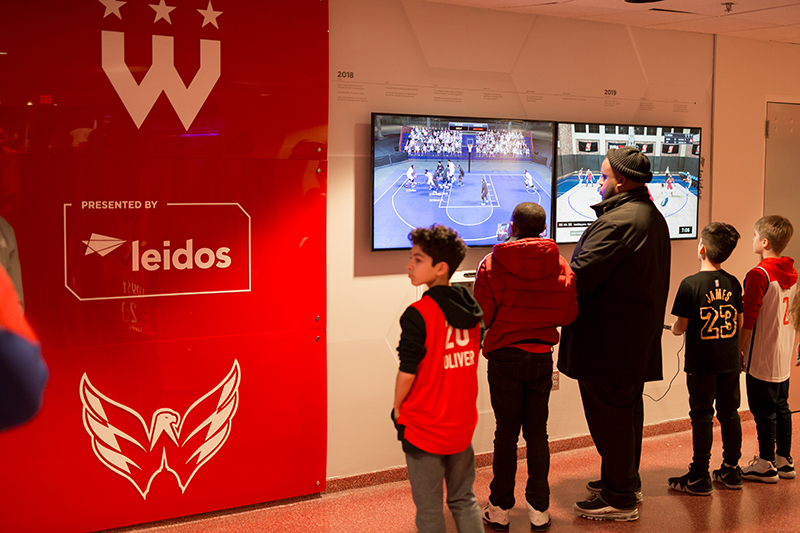 "Being able to open the Leidos gaming zone this past weekend was a tremendous experience. Fans of all ages were eager to challenge their friends and loved ones to compete for some awesome prizes while playing as their favorite virtual Wizards and Capitals players," said Grant Paranjape, MSE's Director of Esports Business and Team Operations.
"We're very excited to be able to further our partnership with Leidos through this activation and look forward to continuing to innovate in esports and gaming to provide our fans with best-in-class experiences."
The esports showcase has two Xbox and two PlayStation game consoles which allow fans to play 2K and NHL 19, which is the hockey equivalent of the basketball game. The space also highlights MSE's history and foray into esports through a timeline that focuses on WDG and Team Liquid, a professional esports organization which MSE has an ownership stake in. Team Liquid has more than 60 professional esports athletes who compete in 14 of the world's top video games.