Heroes of Leidos: Marc Schron
Marc served in the U.S. Navy from 2008-2015 and currently serves in the Navy Reserves. While on active duty, he had deployments to Africa, Europe, and the Middle East — including a year-long stint with Naval Forces Central Command in Manama, Bahrain.
In his present Reserves role, he is a Crisis Action Team Chief at Commander, Navy Installations Command in Washington, D.C. At Leidos, Marc is a Systems Engineer in our Advanced Solutions Group and based in Bowie, Md. He was recently featured on an episode of Lifetime's Military Makeover — Operation Career.
Who or what inspired you to serve?
Growing up in Potomac, Md. with a mother on active duty in the U.S. Public Health Service Commission Corps exposed me to the uniform and experiences on military installations from a young age. At the time I was in elementary school, all fourth grade classes in Montgomery County took a field trip to Annapolis to experience the state capital and the United States Naval Academy. It was during this trip, at the age of 10, that I decided I would attend the Naval Academy and serve as a Naval Officer.
When you think back on your service, what is the first thing that comes to mind?
Ship, shipmate, self.  Three simple words, yet without a doubt in my mind the very nexus of how to live a purposeful life and interact positively with society, whether in the professional or personal realm. This idea stems from putting the mission and the people to your left and right first, serving a cause larger than ourselves.
What was your proudest moment as a veteran?
Returning from a ship deployment, manning the rails in dress uniform, seeing all the families waiting on the pier — nothing in the world quite compares to that experience.
Who influenced you the most during your time in the service, and why?
The Commanding Officer who turned over just before I got to my first ship, the USS VICKSBURG, had an incredible saying: "Sail fast, shoot straight, and always speak the truth." In a world of over-information and rules that have rules, this distilled guidance is the most poignant memory I have of starting my years of sea duty sailing around the world. I never had the privilege of serving with Captain Swicker, but his straight-forward legacy shaped the young days of my Surface Warfare Officer career.
What do you miss most about your time in service?
The esprit de corps, putting on the uniform every day and serving something larger than yourself. That is one of the reasons I am privileged to continue my service in the United States Navy Reserve; we provide a wide array of routine and critical functions and, when our nation is in need, we will respond.
How did your service change you?
My service did not change me so much as it honed already innate characteristics that made me such a great fit for a first career in uniform. Teamwork, attention to detail, enthusiasm for organization, and supporting a chain of command; all of these were already a part of my life through sports, extracurricular activities, and solid family values.
What does being a veteran mean to you?
I may not wear the uniform on a daily basis, but I still hold those values close in my heart: honor, courage, and commitment. Veterans have an inherent responsibility to be leaders, and leadership is something I will never shy away from. We sometimes have a particular look or carry ourselves a certain way; these are the people I will look to in a difficult situation to step up and take charge.
What's something you want people to know about veterans, that they might not know or realize?
Veterans have a wide range of skills and experiences and, by and large, the desire to share them with their communities. Wearing my uniform to social functions, I have talked with people who never met a veteran. The ability to share our stories, and learn about our communities, is one of the things we desire for a fulfilled life.
Are there any causes, charities or organizations that you're passionate about or actively involved with?
Team Red, White, and Blue (Team RWB). It is a veterans service organization that is  about seven years old and counts more than 130,000 members in more than 220 chapters across the country. Free to join and open to everyone (active, guard, reserves, retired, or just normal civilians that want to be supportive and part of a team), Team RWB is without a doubt one of the most incredible positive forces I have ever encountered. I have been a member since 2013, and on the leadership team of the Annapolis chapter as Athletic Director since Nov. 2015 and co-Chapter Captain since July 2016.

The simple act of wearing the signature red shirt with the eagle emblem makes you instantly recognizable and guarantees a support network wherever you are. Other members, collectively known as "eagles", will automatically and genuinely take an interest in your activities, your thoughts, your goals, and how we can come together as a community to help you achieve them. The mission is "To enrich the lives of America's veterans by connecting them to their community through physical and social activity." The variety of people with whom I have become lifelong friends through this organization is absolutely one of the highlights of my daily life.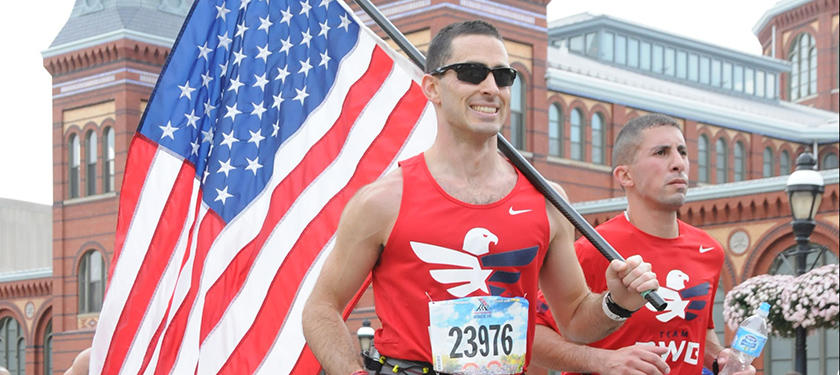 Why is Leidos a good place to work for Veterans?
Leidos is my second employer since leaving active duty, and one of the many reasons I made the switch was to be involved with direct-impact efforts that very much align to my history of service. The number of veterans with whom I work is incredible, and our natural bias for action makes working together a seamless and synergistic effort.
---
Click here to learn about Operation MVP, our company-wide initiative to hire, train and support veterans.