Hiring pros, veterans share best practices at DC Metro BLN's Wounded Warrior Symposium
The D.C. Metro Business Leadership Network hosted its seventh annual Wounded Warrior Symposium at the Leidos Conference Center in Reston, Va., last Wednesday. Around 35 stakeholders attended the event, sharing their experiences and best practices around veteran hiring.
Charlesiah McLean, Director of Diversity & Inclusion at Leidos, serves on the D.C. Metro BLN's Board of Directors and was the program lead and coordinator for the symposium. This year's symposium was the second one Leidos has hosted and the program was once again a success. Leidos Health's Jermon Bafaty kicked off the event with some brief remarks before turning it over to Leidos Military Outreach Program Manager Alex Verhulst, who gave a presentation on Operation MVP, the company's official veteran outreach program.
Operation MVP's mission is to build a pipeline of veteran candidates that helps establish Leidos as a preferred employer among servicemen and women looking to transition into civilian roles. With the help of strategic external partnerships, the program is meeting its mission as Leidos currently employs almost 6,500 veterans and looks poised to meet future veteran hiring targets.
"Leidos is once again on track to hire more than 25 percent veterans for the third consecutive year in 2018, meaning that over a quarter of our hires have been veterans every year for the past three years. We're extremely proud of this accomplishment and the efforts involved in recruiting, hiring, and retaining veteran employees," said Verhulst.
Tim Principe, an Intelligence Analyst at Leidos, followed Verhulst with a presentation that highlighted the company's Military Alliance Group (MAG). Principe chairs the MAG, which is one of seven employee resource groups (ERGs) at Leidos. MAG provides a supportive and collaborative environment that's a valuable resource for veteran employees and their supporters. The group presents its 200-plus members with ample opportunities to volunteer with and advocate for military-related initiatives. Their activities include several wounded veteran-focused events, such as supporting trials for the Warrior Games or holding workplace symposiums about PTSD. Beyond the obvious benefits MAG provides its members and the communities they serve, the group helps Leidos with veteran recruitment, outreach, and onboarding.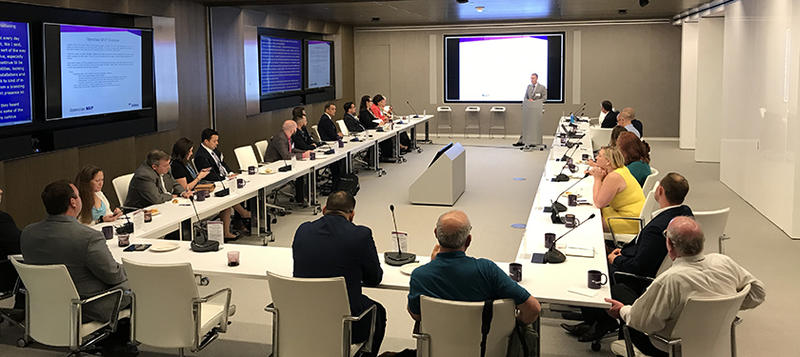 After the Leidos-heavy beginning, the rest of the symposium featured state and federal government officials and employees and hiring professionals from regional companies, all of whom actively promote veteran hiring. The first of these presenters was Ross Koenig, Program Manager of Virginia Values Veterans (V3). Koenig's program helps Virginia employers meet recruiting, hiring, and retention needs. V3 does this by educating employers on the value of hiring veterans, training organizations on how to recruit, hire, and train veterans, and by connecting companies with qualified veteran candidates.
Virginia has the fastest-growing veteran labor force in the U.S., so a program like V3 plays an important role. Created after an executive order by former Virginia Gov. Bob McDonnell in 2010, V3 became a reality through the state's Department of Veterans Services partnering with federal and state agencies and the private sector. Today, there are almost 500 V3 certified companies who, combined, have hired more than 31,000 veterans since the program's inception.
Koenig was followed by two panels, one with talent acquisition representatives from Capital One, DXC Technology, and Northrop Grumman, and another with veteran employees from Capital One, Northrop, and Leidos' Principe. The first group of panelists provided overviews of activities and steps that their organizations have taken to empower and support the military community with fulfilling and rewarding career opportunities. The second panel showcased real-life success stories as the veterans shared their journeys into the civilian world, what factors helped or hindered their progress, and how they're helping to pay it forward for fellow veterans.
The valuable day of programming was capped off by keynote speaker Nancy Glowacki, Women Veteran Program Manager for the Department of Labor's Veterans Employment and Training Service (VETS). Glowacki's agency has four clear objectives as parts of its mission: 1) Prepare veterans for meaningful careers, 2) Provide veterans with employment resources and expertise, 3) Protect the employment rights of veterans, and 4) Promote employment opportunities for veterans. VETS helps fund vital services for veteran job candidates, such as detailed assessments of skill levels and service needs, development of individual employment plans, employment counseling and career planning, case management, and even short-term prevocational services.
There are 20.6 million veterans in the U.S. and almost one-fourth of them have a service-connected disability (SCD). Thanks to the important work being done by all of the symposium attendees and their organizations, every veteran can enjoy a successful transition into a thriving civilian career.