Everyday heroes: The Leidos team in Puerto Rico
More than 18 months after it hit, Hurricane Maria is still having a profound effect on the people of Puerto Rico, as well as on its natural environment and economy.
Leidos has a team of seven, who are part of the TRICARE Overseas Program, living and working in three different locations in Puerto Rico, many of whom have been there for more than a decade. The TRICARE Overseas Program provides medical, dental and pharmacy coverage to military personnel and their families.
Regional Lead Lasky Montero manages the TRICARE team in Puerto Rico. Based in the U.S., Montero performs routine site visits at the three military treatment facilities that house Leidos staff. Montero left Puerto Rico just a couple of days before Maria hit, but she is no stranger to the damage wrought by hurricanes on the island. She was there when Hurricane Irma hit just a few weeks before Maria.
Montero worked with Michelle Cocker Nelson, Senior Project Manager in charge of the TRICARE Overseas Program, to develop a contingency plan specific to Puerto Rico before the storms. Nelson, who was scheduled to travel to Japan when Hurricane Maria was about to make landfall, wanted to ensure that there was a clear communication plan with all Leidos staff should the storm hit the island as predicted. She alerted Leidos HR of her status and made sure that there was a protocol in place within her team to keep HR aware of the situation.
Nelson and Montero also developed plans and protocols to ensure the safety and accountability of all team members when future hurricanes hit. One of the goals was to get the team up and running as soon as possible and restore their access to the healthcare technology that's necessary for them to do their jobs.
In the aftermath of Hurricane Maria, the plans and protocols were invaluable. Despite having a communications plan in place, getting in touch with people proved very difficult because of the scale of the damage.
"During the first days after the storm, most of the team had to drive up to an hour and a half to get enough of a signal on their cell phones to call me and let me know they were OK, and check to see what they could do. The team wanted to be at work the very next day to help and assist others," Montero said.
"After hearing from each person, I would then call Michelle in Japan, no matter the hour there, to inform her of who had reached out to let us know they were OK. I then followed protocol and informed Leidos of the accountability of each member of my team."
Commitment in the face of adversity
Iris Miranda, one of the team members of the TRICARE Program, was back at work immediately after the storm passed. Because of the loss of power, security was an issue so only individuals with military IDs were allowed on the bases. Iris, an active duty spouse with a military ID, was allowed back on the base immediately, while other team members waited to gain access.
Miranda helped the base with clean-up and at night would climb onto the roof of the building to get a signal so she could call Montero and update her on the latest developments. She also volunteered to help cook for the soldiers who were rescuing people and working to restore order.
 
The people of Puerto Rico are a resilient group and our Leidos team is certainly not an exception

,

Senior Project Manager

Another team member, Eric Gerena-Matias, was also back at work the next day. Although Hurricane Maria destroyed the clinic, Eric worked tirelessly out of a tent for several months, sharing the one computer that was available at the location. Eric was selfless in his duties, despite the fact that he lost a family member to the storm.
Every one of the Leidos TRICARE Program Team did their part. Despite having no water, the loss of homes, and other personal challenges, Leidos staff did whatever they needed to get to work. This meant many of them had to adjust their schedules to work around the curfews that were in place.
Leidos provides assistance
Another challenge was accessing money for essentials. No ATMs were working, so once a week the team members had to stand in long lines to get cash — with the limitation of only being allowed to withdraw $300 at a time. In addition, the Leidos Relief Fund was a huge help, giving team members a cash injection to tide them over in the short term, as well as the Leidos Relief Foundation, providing hardship grants longer-term to affected employees.
Team members were also worried about getting paid when normal life resumed because they were unable to log times spent on everyday tasks. Anticipating this situation, however, it was agreed when developing the storm contingency plan that this expectation would not have to be met under such circumstances.
"I am forever grateful to the company on how they dealt with this critical situation," Nelson said. "The help and response from HR has been phenomenal and the folks at crisis management have been extremely helpful."
The long recovery
Now, the team is back up and running as normal, but Puerto Rico still has a long way to go. The island is home to approximately 3.6 million people and when Hurricane Maria hit, it impacted everyone.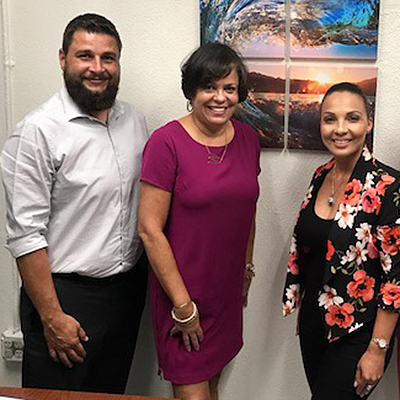 The storm wiped out power on almost the entire island, flooded buildings and left thousands of people homeless. Although the official death toll at the time was 64 people, a 2018 study published by Harvard researchers in the New England Journal of Medicine estimates that 4,645 deaths can be linked to the hurricane and its immediate aftermath. Hundreds of thousands of people have left Puerto Rico to find new jobs and homes in other parts of the world.
"The people of Puerto Rico are a resilient group and our Leidos team is certainly not an exception. On my first visit back to Puerto Rico after the devastation, I was amazed at how positive and grateful our team was for all the support received from the company. They lost a lot, yet their commitment to their positions was remarkable," Nelson said.
"Despite the lack of power on the island, there was no work stoppage. Lasky rolled up her sleeves and assisted her team in completing the necessary tasks associated with the requirements of the contract. She and her team, which includes Mayra Rodriguez, Viviana Rivera, Aurora Gonzalez, Nelida Lazu, Hector Garcia, and Iris and Eric, are the true heroes of this story. I can't express how much pride and admiration I have for each one of them," Nelson said.
The struggle to return to normalcy is ongoing, but the TRICARE team is committed to rising to the challenge and continuing its important work.