Husband and wife team complete world's longest nonstop river race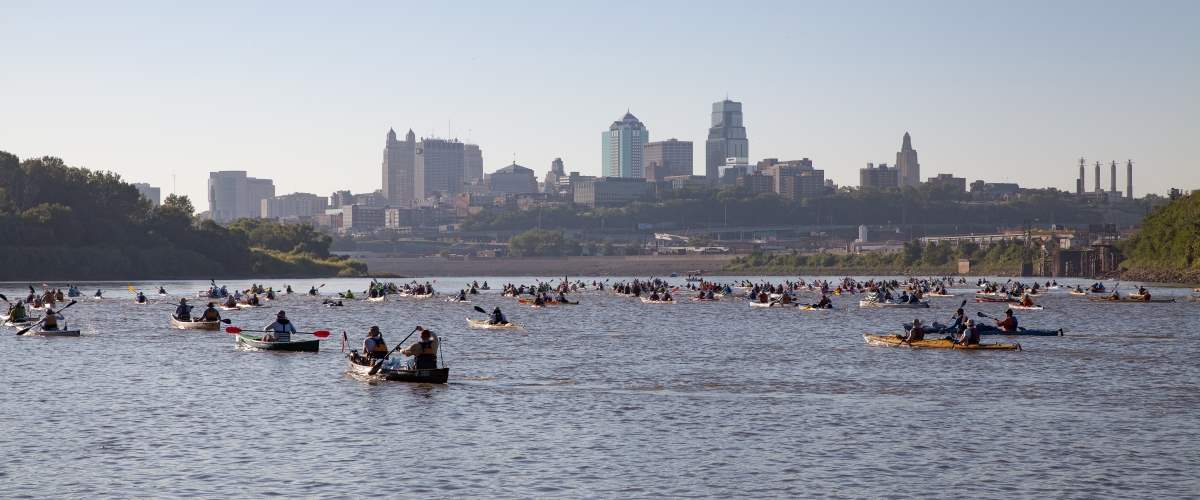 Nearly without sleep or rest, Eric Danielson‍, Program Manager of Leidos' Energy, Environmental Science, and Engineering program, and his wife Launa tandem paddled 75 hours in a canoe and kayak race across the state of Missouri in late-July. This annual endurance race, called the MR340, is a paddler's marathon. The 340-mile course on the Missouri River began on July 26 in Kansas City and ended, for Team Danielson, on Friday morning in St. Charles (just west of St. Louis).
The MR340 has such a strict timeline that out of the 550 people who enter, about a third drop out before the end. Team Danielson not only finished, but they beat their best time, set two years ago, by 2 hours.
Out for adventure
The idea came up for the Danielsons when Launa, flipping through National Geographic, came across a list of great American adventures. On the list was the MR340, which is literally in the couple's backyard. Eric and Launa, who live a few miles from the race finish line and have enjoyed outdoor sports their entire lives, asked themselves, "How can we not try this?"
Eric said, "The idea scared and intrigued us. So we bought a secondhand recreational tandem kayak – it's the opposite of a racing boat. It's stable and comfortable. We do get some funny looks, but we are not out to set a record." Besides the fun of it, the race helps fund Missouri River Relief, an environmental organization that cleans up Missouri waterways.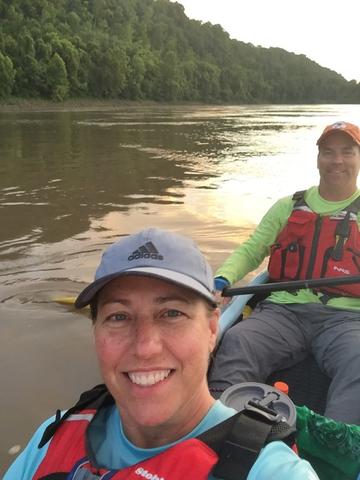 The MR340 stretch has no dams, locks, or portages and is timed to align with July's full moon. Part of the reason it earns the title of longest nonstop paddle race in the world is that paddlers are not required to stop at night. In fact, to meet the required checkpoint deadlines, most paddlers paddle through the nights. Eric said, "This year we had perfect weather conditions: clear skies for three nights. It's amazing how much that full moon lights up the river. You just stay in the middle of the river and listen."
Constant vigilance, clear thinking, and quick reaction
Big Muddy, the longest river in North America, is so wide and much of it is so far from civilization that it is completely dark. Paddlers find mechanical lights on such rivers limited in navigation. So they must listen for what Eric calls "night awareness sounds like ripples and sloshes --- indicating wing dikes and buoys --- to signal danger. You want no part of anything that causes the water to make a sound." Constant vigilance, clear thinking, and quick reaction were essential at all times. The MR340 course is a Class I waterway with a current of 2 to 3 miles-per-hour and no rapids. 
Eric said that one of his favorite moments of the race came at 2 a.m. on the second night (42 hours on the river/4 hours off sleeping or resting). "We were not talking, only listening for obstacles, when we were startled to hear the first yips and howls of coyotes. They just erupted suddenly and close!" Eric and Launa stopped paddling, spellbound to hear the hair-raising yowls. Then after silence, but before the paddlers went on their way, another coyote band on the opposite bank of the river yipped and howled a response. 
At midnight on the third night, Team Danielson was about to pass the final checkpoint. Their plan was to paddle the remaining 5 hours to the finish line, which would have shattered their previous time by about 7 hours. But the cool night temperatures caused a thick fog to develop and within minutes they were engulfed. "It was completely disorienting to lose sight of the river banks." Eric said, "We lost all perspective of the direction we were facing or where we were on the river. We couldn't even tell upstream from downstream! We'd never paddled in fog like that, much less at night."
Fortunately, other racers had reached the nearby checkpoint and had shined a high-powered light into the fog to guide the Danielsons into safety. Eric and Launa remained there until daylight when the fog lifted. "We were a little disappointed to lose so much time, but the fog was a great reminder that despite all of our planning, the river is in charge."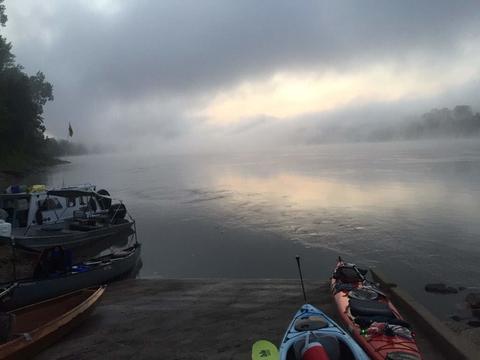 Restore your faith in humanity
Eric and Launa also remarked on the sense of kindness and comradery they received from the entire race community. For example, Eric said, "We would pull into a dimly-lit checkpoint at 3 in the morning and volunteers wade out in waist deep water to help our zombie bodies out of the boat so we can stretch. They steady us to make sure our legs are working again so we can restock food and drinks, while they carry our boat up the steep ramp. All so we can rest a bit and get back on the river."
Team Danielson included a ground crew made up of Launa's sister and niece. The ground crew, who tracked Eric and Launa's progress and brought supplies to checkpoints, reported similar comradery among their ranks. Other teams' ground crews would call out, "Do your paddlers need anything? Got enough Gatorade?" Everyone wanted to help.
"During these four days, the outside world slips away. Everyone involved (racers, volunteers, safety crews, ground crews) becomes focused on the same goals as we all experience and witness the difficulties of this event. The generosity and kindness that racers experience are astounding. For these four days, things are as they should be, and people are at their best. They [the race community] just restore your faith in humanity."
Read more about the MR340