The Importance of Governance in Aligning the Financial with the Clinical
The value of aligning financial and clinical aspects within healthcare organizations is critical to closing the gap that exists between the revenue cycle and IT departments. The need for clinical understanding in finance operations complicates these efforts, along with the siloed technology systems that hinder the ability to align the clinical with the financial systems of many healthcare providers.
As a result, many CIOs have at the top of their "to-do" lists the need to better leverage information technology and finance to overcome obstacles by aggregating data and creating financial reports capable of helping revenue cycle leaders effectively manage costs and reimbursements. Develop the role of Financial Informaticists and building a revenue cycle that bridges both clinical and financial processes are essential elements.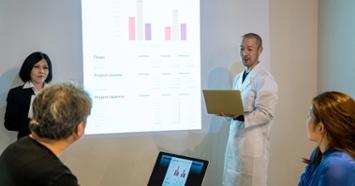 Financial Informaticists produce a tighter collaboration between clinical and financial teams builds efficiency and drive performance from enhancing opportunities across the healthcare enterprise. For example, the Discharged Not Final Billed (DNFB) statistic is an important revenue cycle performance indicator for most hospitals and health systems. It's important for many revenue cycle professionals need to closely monitor this metric to assess their cash flow performance. Yet, health IT professionals often lack the understanding around the number's context or importance.
Hospitals or healthcare systems with a Financial Informaticist can provide meaning behind this statistic to IT staff. By doing so, the reporting tools Financial Informaticist develop can then offer the most relevant insight to guide effective decision making.
Strong Governance is Critical
Moving towards alignment between clinical and financial depends on a strong governance model. It's important that the governance team for the revenue cycle include members from all areas of the organization- both clinical and non-clinical- since a need often arises for administrative involvement, revenue cycle leadership, and clinical leadership.
By implementing a diverse governance structure, organizations ensure that at the core of each initiative there is the focus on the greater mission of the organization. This also democratizes the impact of the clinical areas on those in the revenue cycle process and as a result all parties are better understood by clinical leadership, and create an organization that is more likely to embrace the needs of revenue cycle in clinical workflows. Leidos studies also show that clinicians conveying a message to their peers ensures a higher level of acceptance. If there is an employed physician group, we recommend that there be representation from that group as well.
Achieving and maximizing the relationship between financial and clinical processes leads to alignment, purpose, and strategy by employing a skilled advisor who has experience matching healthcare's clinical, finance and IT goals. This, with proper governance, can drive the strategy discussions and help healthcare organizations find direction. This strategic role can also help align Clinical and Financial Informaticists to empower the enterprise with alignment and accountability, thereby leading to a fully-supported revenue cycle.
Let's discuss the unique components of your revenue cycle goals and challenges.
Speak with one of our experts to review your revenue cycle needs and discuss how
Leidos Health can support your optimization goals and maximize revenue.