The Importance of Partnering to Ensure a Successful EHR Go-Live
Go-Live events are expensive. Many Go-Lives can be in the millions in total costs. This cost factor makes it important to set a budget for Go-Lives ahead of time, which requires planning early in the process. The total labor costs of the project are a combination of the number of "elbow support" used, how long the project is planned, the hours worked per week, and the rate from the external vendor. Travel expenses for the Go-Live project are mainly driven by the hotel costs since it's a daily cost.
It's helpful, therefore, to include some room in the budget to expand service if necessary. Budgeted capital can always be returned if unused, but it's harder to get more during the roll-out if money runs short. It should be the goal of your Go-Live partner to get adoption done as soon as possible, and then exit the project.
Picking the right partner for elbow support is critical. It is important to remember that you get what you pay for with Go-Lives. The lowest bill rate or project estimate doesn't translate into the best outcome of the Go-Live project. Cutting elbow support pay rates and using sub-par hotels during the project as a means to win the project has consequences once the project is underway. Drop off rates can be significant. This is where the value of properly partnering with a Go-Live vendor comes into play.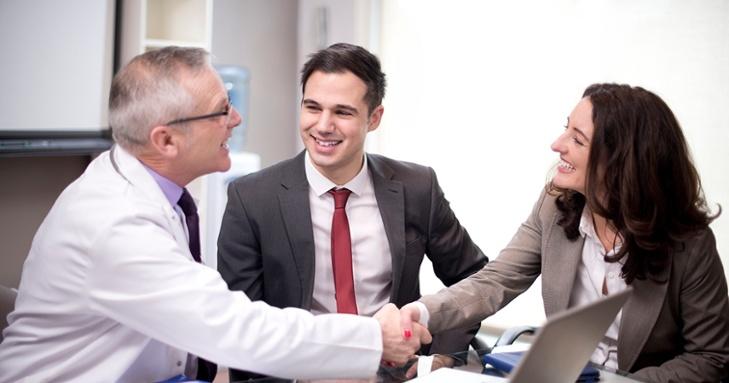 It's important to make sure the vendor has the capacity needed for the job, and it's important for hospitals to make the vendor selection sooner rather than later. This can improve the chances of a successful rollout. To receive accurate bids and make the best choice of contractor, hospitals must provide potential bidders with a complete timetable and list of activities that will require support – another reason to emphasize upfront planning.
The right partner with good project management skills can help with planning and scheduling, communication and training. Setting priorities is critical for scheduling. If some EHR systems do not allow a physician to work before completing training, they must be identified so they can receive needed training before the Go-Live. A good tip is to use an online system for scheduling rather than spreadsheets – it can be more flexible and efficient for everyone involved.
Staffing a 100 Person Go-Live Event in Record Time
Vendor personnel working on the launch will need to be trained on the hospitals' workflow, processes and environment. These differ from one organization to another, and training should be done as early as possible so it can be completed before the Go-Live begins.
By the Go-Live date, all users who have not successfully completed training should be identified and plans made to complete their training. Most clinical personnel will start to become proficient with a new system only after they have used it several times under the guidance of the support team.
Finally, hospitals should designate a project leader who will be communicating with all stakeholders. This will be the liaison between C-level executives and tactical project leads. This will enable coordination between stakeholders so that the hospital, vendors and contractors can have people in place to ensure the needed level of support for clinical, operational and administrative functions.
Coordination also will be needed to support on-boarding prior to the Go-Live date. This will ensure that all requirements are met, such as needed immunizations and certifications for persons working in medical environments. Addressing this in advance can help avoid unnecessary delays when putting support in place.
Go-Live events may be expensive. But by partnering effectively, and following these tips for maximizing partnerships, hospitals can go a long way towards minimizing the costs, and saving as much money as possible, associated with a new EHR adoption.