'Important work' honored at the 2019 Leidos Technical Awards
In September 2017, the North Korean government detonated a nuclear weapon for the sixth time. The test included a hydrogen bomb with an explosive yield of 120 kilotons, roughly 10 times the yields of Fat Man and Little Boy, the bombs dropped on Hiroshima and Nagasaki during World War II. The provocation was not only a demonstration of North Korea's status as an emerging nuclear power, but also a scientific challenge for the rest of the world.
To accurately determine the bomb's yield, thereby gauging the progress of North Korea's nuclear weapons program, Leidos researchers Jeff Stevens and Michael O'Brien studied the blast by observing its effects on surrounding topography. Their investigation was sponsored by the Air Force Research Laboratory (AFRL), who wanted to quickly assess whether or not North Korea's sixth test was significantly more advanced than its previous five. Their report, published in Seismological Research Letters, earned top honors at the 2019 Leidos Technical Awards, an annual showcase of the company's most impressive technical and scientific achievements.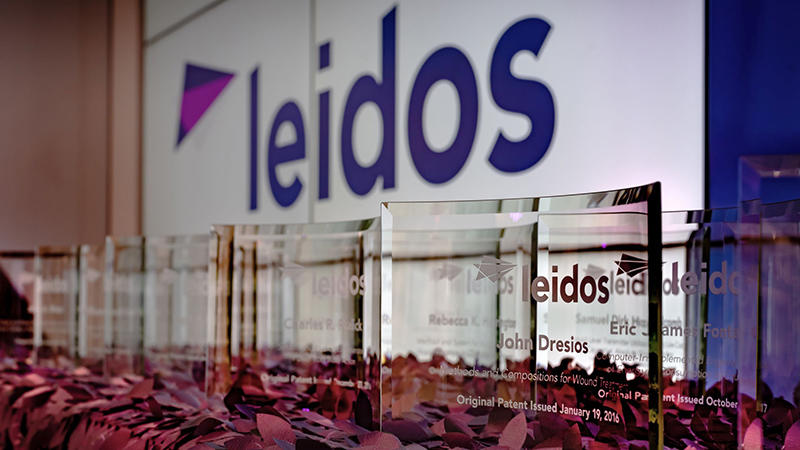 While nuclear weapons in the hands of adversarial leaders may be the ultimate national security challenge of our time, each award of the night was emblematic of Leidos technical staff doing "important work," which was the evening's major theme in the eyes of Leidos CTO Jim Carlini. Eight authors and five patent assignees, representing their co-authors and co-assignees, earned awards in domains from space travel to disease prevention. "As you read about the work of these 44 award winners, it's striking that Leidos researchers are solving some of the world's hardest problems," Carlini said. "From the great power competition to defeating devastating biological threats, the brilliant minds at this company are in the middle of the fight."
For example, Barbara Kamicker and her team earned an award for their research on vaccinations for foot-and-mouth disease (FMD), one of the most highly contagious and difficult livestock diseases to control. If introduced to the U.S., the disease would dramatically disrupt meat production and the agricultural economy. Their paper, published in the journal Vaccine, is a culmination of more than 10 years of research, and describes the first successful FMD vaccine technology developed in more than 50 years.
 
Technology is our driving force. We're here to recognize our technological heritage and honor the scientists and specialty engineers that separate Leidos as a company.

,

Leidos Chairman and CEO
In biotechnology, James Pannucci's team earned an award for their patented work related to the malaria epidemic, a global health crisis and the world's largest killer of children. Malaria kills one child every 30 seconds and more than one million every year. According to UNICEF, more than 40 percent of the world's population lives in malaria-risk areas. Pannucci's team was honored for two patents (anti-malarial compositions, PD1 peptide inhibitors), both based on small proteins called peptides, which have proven highly effective in fighting viral agents. "Developing novel drug candidates is an exciting new chapter for Leidos," Pannucci told the audience. "This work will have a significant impact on how malaria is treated by ushering in a long overlooked class of drug."
In space travel, which is expected to become a $1 trillion industry by 2040, it's important to find ways to protect human lives when they leave the planet. But extra-orbital space travel is hazardous, partially because it exposes the body to high doses of radiation. NASA has created framework that calculates the risk associated with different radiation environments. How much can the body handle? Martin Kroupa, representing his colleagues, earned an award for their work studying radiation detection in these environments. Their paper, published in Applied Physics Letters, is a breakthrough in measuring the kinetic energy of charged particles in space, allowing more precise risk assessment for a crew. Every kilogram costs a lot of money to launch, so his solution involves a low-mass sensor that uses a novel multi-pixel detection approach to study the environment.
The research honored tonight is remarkably varied and emergent. It was exciting to share this important work and honor it along with our company's senior leaders.

,

Chief Scientist and Technical Fellows Chair
In seafaring, Andrew Genduso and his team earned an award for their patent and its innovative approach to aid autonomous vessels navigating in traffic. Their invention fuses together multiple streams of sensor data to enable sea drones to monitor other objects on the ocean surface. It was applied to Sea Hunter, the U.S. Navy's experimental unmanned prototype ship that uses AI in place of a crew, and was critical in her unmanned roundtrip from San Diego to Hawaii in late 2018. "The root problem deals with traffic rules on the water," Genduso said, "which can't be followed if we don't know where other vessels are and what they're doing. We can't rely on just one sensor to tell us where other vessels are, so this solution gets data from multiple sensors and combines it into a single view."
RELATED READING: Takeaways from our AI Palooza 2019 convention
Finally in biomaterials, Wonmo Kang earned an award for his work studying brain damage from blunt injuries, a field of study with real-world applications in the design of protective headgear for soldiers and football players young and old. His paper, published in Scientific Reports, is original insight into the physics of injury mechanisms in the brain, what Kang described as "an understanding of the response of brain tissue stimulant, which is crucial for accurately assessing potential blunt head injury." His solution is an innovative way to visualize and understand these effects.
---
Click here for the full list of winners from the 2019 Leidos Technical Awards.