ISO 50001 takes strategic energy management to the next level
Large commercial and industrial customers are seeking better ways to build effective energy management systems, prioritize savings opportunities, and track ongoing energy performance. As a result, many utilities and energy efficiency program administrators are engaging their customers in Strategic Energy Management (SEM) offerings to achieve and sustain energy savings. To support these SEM offerings, the U.S. Department of Energy (DOE) developed the 50001 Ready program , which helps businesses and organizations implement ISO 50001-compliant energy management systems. ISO 50001 is the international standard for energy management systems and enables organizations to enact a systematic, continual improvement approach with energy performance. The 50001 Ready program is designed to help facilities identify their energy management gaps, provide technical tools and resources, and stimulate employee engagement.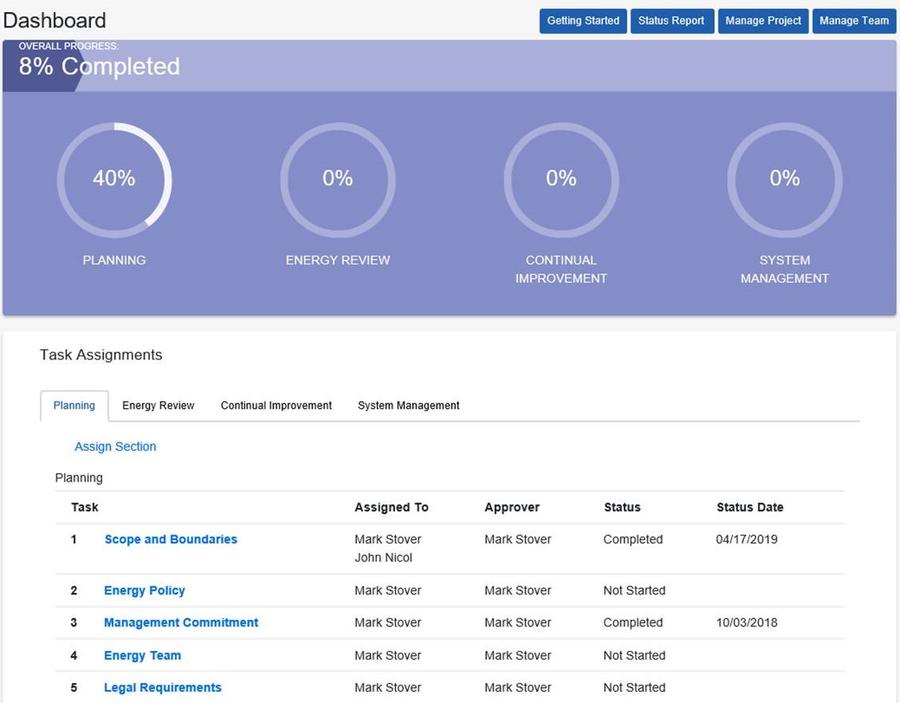 Across the country, SEM program administrators have started using the 50001 Ready Navigator online tool to simplify and standardize the implementation of energy management systems at their customers' facilities. The tool introduces their customers to the concepts of continual energy management and provides them with helpful tools, resources, and an option to receive national recognition. By integrating the 50001 Ready Navigator tool early in the SEM engagement process, customers will better understand the components of a standardized energy management system. It also helps them to develop a systematic approach to build the operational and management structures needed to drive continual improvement in energy savings. Organizations can view their progress in DOE's 50001 Ready Navigator dashboard as they use the built-in online resources to work through the tasks in each of the four sections.
For more than 15 years, Leidos has implemented SEM programs for a variety of utilities, including Wisconsin FOCUS ON ENERGY®, Pacific Gas and Electric, Ameren Illinois, and DTE Energy. To date, Leidos—along with their partner Energy Performance Services—has helped five facilities achieve ISO 50001 certification and five companies attain 50001 Ready recognition. In addition, the team is working with four additional facilities who are striving to achieve 50001 Ready recognition. By attaining ISO 50001 certification and recognition, these companies reap several benefits of a best-in-class continual improvement process, including greater energy cost savings, increased reduction in greenhouse gas emissions, enhanced employee engagement, and better overall energy performance.
"Our bottom line is that we need to produce energy savings and SEM with 50001 Ready is a great way to get at those savings without costly capital improvements," said Tim Dantoin, Engineering Manager at Leidos. "This energy management approach delivers great benefits to our customers—particularly those that have already captured the easiest energy savings."
In addition to helping customers adopt 50001 Ready and attain ISO 50001 certifications, Leidos' team of experts is preparing for future market needs. Five members of the Leidos team have earned the 50001 CP EnMS (50001 Certified Practitioner in Energy Management Systems). This professional credential acknowledges the specialized knowledge and expertise attained from the Institute for Energy Management Professionals.
To learn more about the importance of integrating the ISO 50001 standard into SEM programs, read the full case study by the Department of Energy.
---
Contact our team of experts to learn more about 50001 Ready offerings