Karoom Brown's past shaped his present, plotted his future
More than 12,000 students, educators and professionals will be in downtown Pittsburgh this week for the 44th Annual Convention of the National Society of Black Engineers (NSBE). The four-day conference is full of programming that is designed to drive NSBE toward its strategic goal: To graduate 10,000 black engineers annually by 2025.
Conferences and organizations like NSBE are vital to the STEM industry. They help companies find strong, diverse talent who can drive business growth and innovation. Companies that attend, participate or partner with NSBE and its peers are able to build meaningful diversity pipelines that improve team performance, influence business strategies, and advance a workforce of inclusion.
Only 3,500 black engineers earned bachelor's degrees in 2014. For NSBE to meet that 10,000-graduate annual target, it's going to require a strong and sustained commitment to increasing diversity from academic institutions, corporations, and government agencies. Another powerful driver can be the perspectives and mentorship of people who have paved the way — people like Karoom Brown.
Imagining success
Brown began his career as an engineer before transitioning into sales and business development roles. Today, Brown is the Senior Vice President of Business Development and Strategy for Leidos Health, a $2 billion-plus business. He has won numerous awards, led high-performing teams at every level, and has a remarkable track record of closing multi-billion-dollar contracts. He is an exemplary employee and a caring and determined leader that motivates his team to do better every day. Reaching this point in his career, however, has taken significant determination and resolve.  
"I grew up with 10 brothers and sisters. I grew up on the poor side — underprivileged — and a lot of folks in those communities don't see a path or a light at the end of the tunnel," says Brown.
Growing up less fortunate, Brown says he was driven from a young age to be successful.
"My goal was not to fail. I was a firm believer that if I worked the hardest and produced the best results, those things would help carry me," says Brown. "I started working at a very young age. When I think back, I've worked every year since I was nine."
Brown credits those early years with helping him become more outgoing, and even more driven. He also credits a strong family support system for keeping him focused on a better future, despite clear obstacles.
"I grew up poorer than most, so when I told my parents I wanted to go to college, they said 'You can go but we can't afford it,'" says Brown.
Undeterred, Brown pushed forward.
Igniting a career
Johnson and Wales University in Providence, R.I., was one of the schools that offered Brown a large scholarship. It was also one of the more affordable universities on his list.
"I went where the lowest tuition was, but Johnson and Wales ended up being a great school and an ideal learning experience for me to grow as an engineer," says Brown.
Two JWU deans and professors, Dr. Albert Colella and Dr. Frank Tweedie, mentored Brown and left a lasting impression.
"Those two educators were instrumental and a big part of my career. They were very supportive in me getting through school while I was also working full-time," says Brown.
Brown draws from the examples set by Drs. Colella and Tweedie in his own mentoring efforts, frequently returning to campus to encourage and speak to students. In 2017, he launched an innovation fund for JWU's College of Engineering and Design. The fund helps advance new and innovative ideas from students and faculty. Brown used his own money to make the fund's first donation.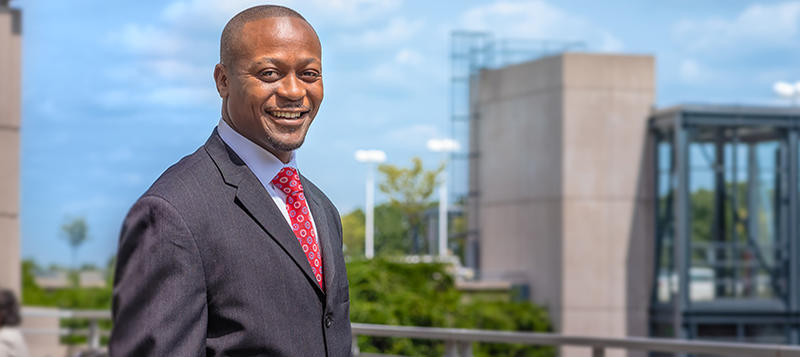 "The school takes in a lot of underprivileged students, so funding and investment is much-needed in order to continue to support those students that can't afford it on their own," says Brown. "I started the fund because of what the school provided for me. I know what I was when I went there, and what I was when I came out with the right support."
Brown earned his bachelor's degree in electrical engineering from JWU (the school recently honored him as one of their Distinguished Alumni of the Decade). He followed that up by earning a master's in information systems management from New York University's Tandon School of Engineering, where he graduated as valedictorian.
"By the time I hit corporate America, I was prepared. I had a lot of work experience and a lot of customer service experience. Combined with being afforded a great education and the right mentors, those are some of the big reasons why I am where I am," says Brown.
Personal and professional fulfillment
In February, the Black Engineer of the Year Awards (BEYA) STEM Conference presented Brown with their 2018 Technical Sales and Marketing Award. The honor recognized Brown for his leadership in securing a $6.8 billion contract with the Veterans Benefits Administration for Leidos to continue providing medical disability exams for veterans worldwide.
"It was very humbling to win that award. It was one of the few times in my career that I was able to take a step back and look at what I've accomplished," says Brown.
Another prestigious honor came last year when the Association for Federal Information Resources Management (AFFIRM) presented Brown with the Executive Leadership Award for Industry (large business category). AFFIRM recognized Brown for his contributions to the health information technology industry and his dedication to community service.
Brown is a strong supporter of the National Institutes of Health's Children's Inn, Paralyzed Veterans of America, and other wounded warrior non-profits. The Children's Inn is a non-profit, free-of-charge residence for families and their children who are participating in groundbreaking pediatric research studies.
"I'm blessed and fortunate that my kids are healthy. Becoming a father moved me to be really attached to the NIH and what those families go through," says Brown. "As a parent, I feel like I owe a commitment to the community to give back to those families and kids that can't afford treatment and aren't as blessed as mine."
Veterans are another group Brown cares deeply about and has supported and devoted his time to over the years.
"What those men and women sacrifice — and especially those that come back hurt, paralyzed, or are no longer with us — drives me to help organizations that either support veterans or active duty service members and their families," says Brown. 
Brown's biggest assist, however, might come from continuing to share his story with young people with a similar upbringing.
"I went through the journey of leaving my parents' house early, putting myself through undergrad, grad school and continuing education — and pushing through the age barriers, the racial barriers, bumps in the road and being able to fall and get back up," says Brown.
"If you know my story and you have a situation where you think it's hard or next-to-impossible — it is possible. It is possible if you work hard, if you're not afraid to ask for help, and if you continue learning."