Leidos Biomedical Research staff advance Genomic Data Commons capabilities
A recent study that examined how mutations of a certain gene could affect clinical management of glioma, one of the most common types of primary brain tumors, is one of the first examples of the Genomic Data Commons' impact on cancer research.
Launched in 2016 as part of the Precision Medicine Initiative, the National Cancer Institute's Genomic Data Commons (GDC) provides the cancer research community with a unified data repository that enables data sharing across cancer genomic studies in support of precision medicine. Frederick National Laboratory for Cancer Research (operated by Leidos Biomedical Research) staff serve on the Genomic Data Commons project team and have collaborated in leading its launch.
Mark Jensen, Ph.D., is a senior principal scientist with Leidos Biomed for the Genomic Data Commons and director of Genomic Data Programs at the Frederick National Laboratory. Other Leidos Biomed staff working on the project at the Frederick National Laboratory include Sharon Gaheen, who is a technical project manager for the GDC, and Himanso Sahni, who is its technical lead.
Together with scientists and specialists at the National Cancer Institute, University of Chicago, and Ontario Institute for Cancer Research, these Frederick National Laboratory staff are implementing the Genomic Data Commons in several phases.
The GDC harmonizes data for existing comprehensive cancer genomic datasets including The Cancer Genome Atlas (TCGA) and its pediatric equivalent, Therapeutically Applicable Research to Generate Effective Therapies (TARGET). 
"Where the GDC will shine is when you can look at data from tens of thousands of patients and compare their differences," said Jensen. "The TCGA laid the foundation. We are taking it to the next level by running standard, unifying analyses on all data that comes into the GDC and making the results available to all."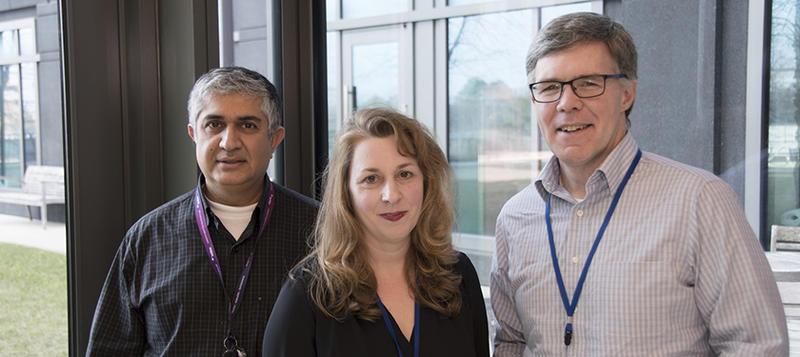 A major goal of the GDC is to integrate genomic and clinical data, which will help scientists explain which patients respond best to which therapies.         
With the glioma study, published in CNS Oncology, the researchers used Genomic Data Commons data and tools to compare frequency of the specific mutations and subtypes they were looking at with overall survival rates of lower-grade glioma patients with and without these mutations. These data could help researchers understand how structural gene mutations could impact improved clinical glioma management.
"The Genomic Data Commons aims to drive translation to get closer to the clinic," explained Gaheen.
The GDC is being implemented through five phases. The Frederick National Laboratory GDC team recently worked to complete the fourth phase, which developed data analysis tools and support for new data types, platforms, and programs.
Next steps include expanding data analysis tools to include support for histology/pathology image viewing and integration, an image archive that will support radiology images, development of further cloud capabilities, and additional areas of data expansion.
Genomic Data Commons usage has increased as more data analysis tools have been developed. As more datasets are integrated, the goal is to expand clinical query capability and to develop more longitudinal data so researchers and doctors can see changes in genomic data over time.
"The GDC aims to be the operating system of cancer genomics," said Jensen.