Leidos to demonstrate Augmented Reality, more at AUSA 2017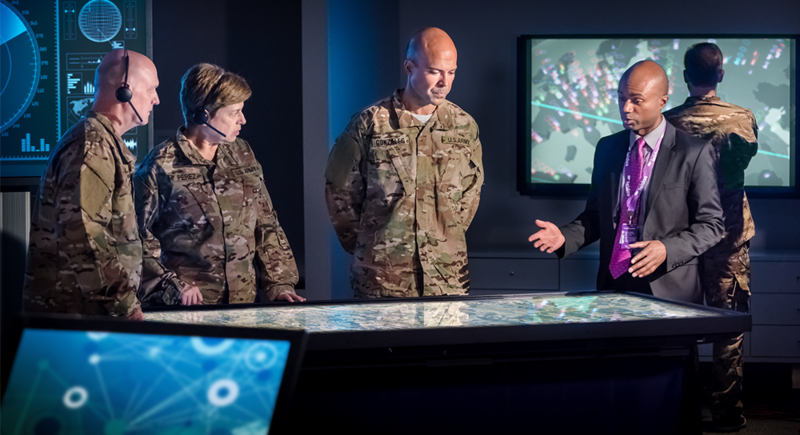 Please join us at AUSA at Booth 425, Hall A, to learn more about our company and participate in demonstrations that can provide transformational impact for the U.S. Army. Our featured demonstration will be an augmented reality experience featuring Hololens technology. Other demonstrations include:
Multi-Function / Multi-Domain Platform
The Cross-Warfighting Function/Multi-Domain Platform streamlines connectivity between targeting/mission planning and mission execution through the integration of multiple open systems architectures into a single, adaptable, flexible, multi-level security, automated workflow platform powered by user specified interface agnostic of programs and capabilities, minimizing training impacts.  Automated data sharing and processing at the point of collection enables time-critical integration, synchronization and visualization of Cross-Warfighting Function/Multi-Domain information and intelligence at the point of decision allowing warfighters to identify and exploit temporary windows of advantage, employ capabilities at the lowest practical echelon (Enterprise to tactical), and generate operational tempo and semi-independent maneuver, as desired.Actionable Threat Intelligence from Open Sources
Parallax 3D 
Demonstration of Leidos Parallax3D (P3D) Structure-from-Motion capability to create point clouds and 3D models from Full Motion Video. View the models both on-screen and as an augmented reality hologram via the Microsoft HoloLens.
PXP – PAI Exploitation Platform
PXP is a mission focused data collection and analytics platform that fuses social media with the full universe of publicly available information (PAI) data types (social media, text, news, imagery, video). PXP is an analyst's one-stop shop for safe and secure open-source data collection, transformation, discovery, analytic pipeline enrichment, customizable visualizations, and its eventual fusion with classified sources
CyberNEXSTM
CyberNEXS™ enables the ability to assess an organization's cyber security readiness by providing realistic, tactical training on systems that emulate an operational environment without compromising the organization's network.  The platform features up-to-date scenarios with automated provisioning, dynamic load balancing, and controls to keep current with dynamic cyber threat as well as a full menu of options to tailor training, assessments, and competitions.
Enterprise Logistics Platform 
The Enterprise Logistics Platform (ELP) is a robust data integration and visualization platform that can provide ERP-like reporting visibility using disparate data sources.  Leidos can pull data from a variety of Government and commercial sources, integrate it, enrich it, and display it in dashboards that convey meaningful and actionable information to our customers.  Our scalable, adaptable, easy to implement solution facilitates rapid analysis necessary to drive innovation and deliver cost savings over the total life cycle of a program.
Integrated Building Interior Surveillance System
Processes through-wall radar data collected from standoff ranges to reconstruct 3-D building interior floorplans and track building occupant activities and pattern of life. Integrated with current geospatial intelligence products, IBISS can remove the enemy's advantage in urban operation by providing warfighters with comprehensive 3-D building interior situational awareness to support mission planning and execution.
One Semi-Automated Forces 
OneSAF® is a U.S. government open-source, common constructive simulation platform for the Army, joint, and non-military communities to manage the entire simulation life cycle, from scenario development through after-action review. CAI makes cloud technologies useful to distributed simulation centers enabling virtual technologies, resources, and expertise from other locations and delivering simulation services to the warfighter's point of need. Through auto-initialization, CAI simplifies the use of simulation systems, significantly reducing sustainment costs. 
GPS Denied Navigation
Leidos' Extensible Navigation Framework (XNF) provides assured real-time navigation in GPS-challenged environments while using low size, weight, power, and cost (SWAP-C) hardware.  XNF's vision aiding, sensor fusion, and collaborative navigation algorithms have been field tested in real-world environments on aircraft, dismounted soldiers, ground vehicles, maritime, and commercial transportation applications.  Come see our UAV hardware-in-the-loop demonstration of XNF executing in real-time on a Tegra X2 
Global Monitoring and Planning Service
 Leidos' anticipatory analysis service, GLIMPS, provides global early identification and advanced warning of potential instability through machine learning and data mining of human activity to anticipate instability related to and leading to political, economic, and military events at sub-national locations.