Leidos donates masks, hand sanitizer to local Latino communities
The Leidos employee resource group, Hispano-Latinx Leidos Asociación (HoLA), teamed up with the Mayor's Office on Latino Affairs (MOLA) in Washington, D.C., and Neighborhood Health in Alexandria, Virginia, to donate more than 6,000 face masks and 1,500 bottles of hand sanitizer to help combat the spread of COVID-19 within Latino communities in DC and Northern Virginia.  
Nationwide, coronavirus infection rates among Latinos have outpaced that of the overall population. In the District, Maryland, and Virginia, Latinos have been reported to make up about a third of the coronavirus cases in the region. In response, HoLA shifted its priorities and quickly set out to find ways to help provide relief to some of the hardest hit communities in the region.
"Minority communities around the country have been hit hard by the coronavirus," said Glend Garcia, chair of the Hispano-Latinx Leidos Asociación. "As a result, HoLA felt that need to step up and give back. By teaming up with the Mayor's Office on Latino Affairs and Neighborhood Health, we hope to provide communities in our region with essential items needed to protect themselves."
As part of the initiative, HoLA donated 3,200 face masks and 780 bottles of hand sanitizer to Neighborhood Health, a chain of neighborhood medical clinics that serve vulnerable communities in Alexandria, Arlington, and Fairfax. Of the health center's 30,000 patients, 50% are Latino immigrants hailing from Central America.
"We are honored to be chosen by Leidos for this donation," said Jane Knops, director of community partnerships and communications at Neighborhood Health. "Our clinical teams have already begun the process of distributing the hand sanitizer and face masks at our free COVID-19 testing sites to keep people safe from infection. Additionally, our Family Support team is also delivering these supplies to the homes of people who test positive to help prevent spread to other family members. This donation allows us to provide these important supplies to hundreds of families who otherwise would find it difficult to afford these critical infection-reducing items."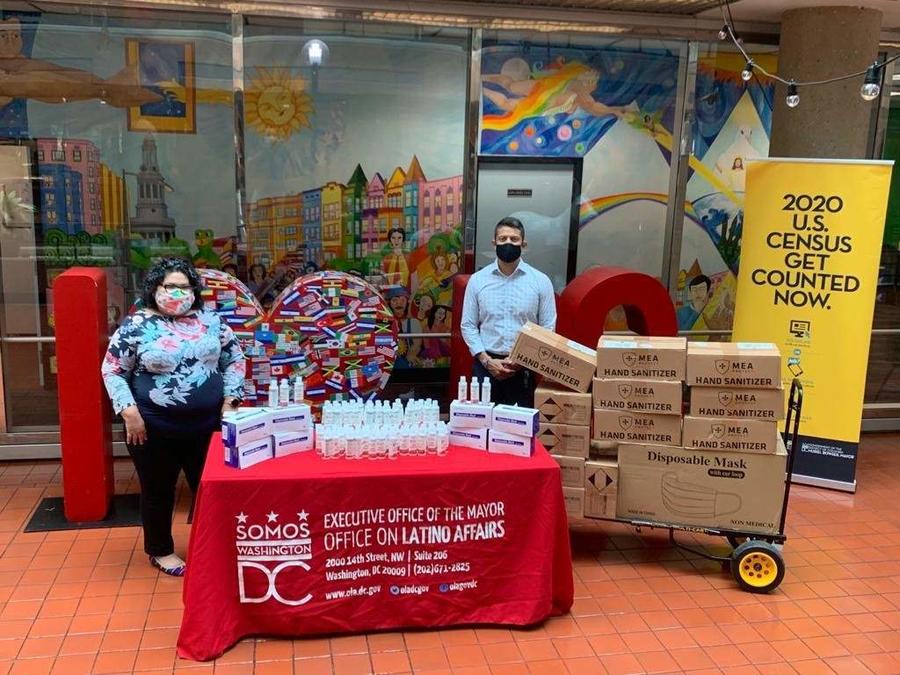 A similar donation of 3,200 face masks and 780 bottles of hand sanitizer was also made to the Mayor's Office on Latino Affairs, which works to provide resources and services to the District's Latino residents. Columbia Heights and 16th Street Heights have emerged as two neighborhoods with the highest number of coronavirus cases in D.C. Both neighborhoods have relatively high numbers of Latino or Hispanic residents and is a main focus for the agency.
"The Mayor's Office on Latino Affairs is thrilled to be a recipient of this donation," said Jackie Reyes-Yanes, executive director, Mayor's Office on Latino Affairs. "Families in Ward 1 and Ward 4 have been exposed to the virus at disproportionate rates. We appreciate the work of Leidos to help our most vulnerable residents during this health crisis."