Leidos engineer receives nation's highest award for young scientists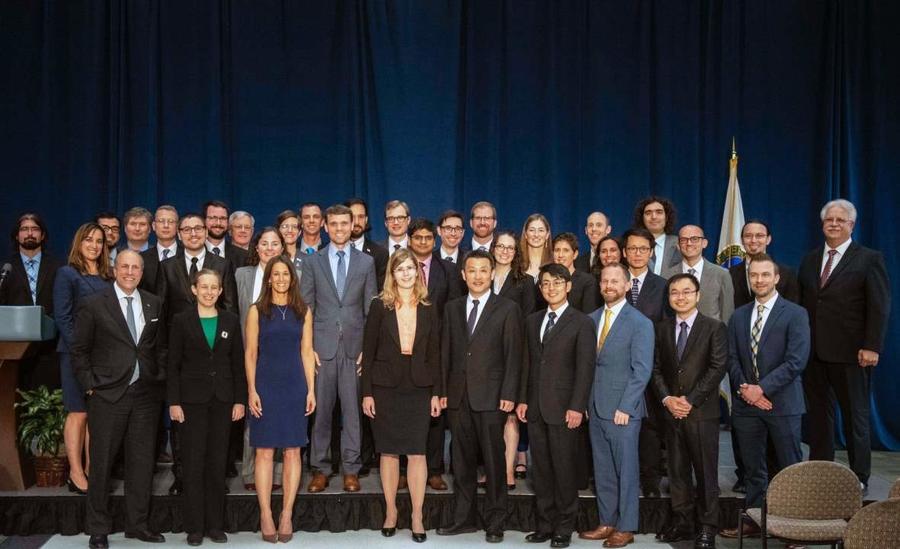 President Donald Trump recently selected Leidos scientist Shiwoo Lee‍, Ph.D., to receive the Presidential Early Career Award for Scientists and Engineers (PECASE). This award is the highest honor the U.S. Government can give to outstanding scientists in the early stages of their research careers.
Dr. Lee is a materials scientist at the National Energy Technology Laboratory (NETL). He was selected for his outstanding innovation and technical leadership, his citizenship, and his willingness to help others. His expertise in materials science and ingenuity was applied to the invention of a cost-effective, high-impact method to improve the durability of solid oxide fuel cells (SOFCs)—an ultra-clean, ultra-efficient energy conversion technology capable of running on fossil resources or renewable hydrogen. Dr. Lee developed a single-step infiltration technique that sends engineered nanomaterials to active sites within a SOFC's cathode (the electrode is where oxygen reduction takes place), which increases the durability and efficiency of the cell. 
Why does this technology matter?
Here's how it works: fuel cells are not batteries. They don't store energy; they produce it. Space flights have used them since the 1960s. Dr. Lee's innovation will make them more available to us. Because the SOFCs in Dr. Lee's lab have nano-sized electrocatalysts, they change the rate the hydrogen fuel in the cell reacts with oxygen. SOFCs do not require combustion, so in one step, it produces a powerful, efficient electric current.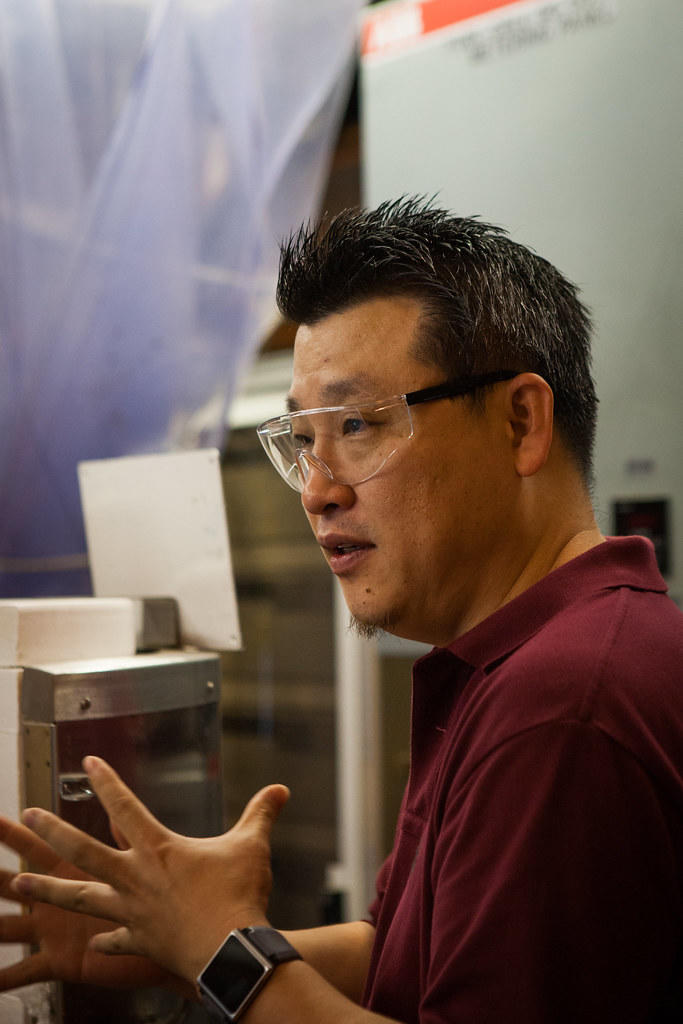 This improved system has a longer lifespan. It is cheaper to produce and is modular so it is easier to apply in industry. 
Industry tests of Dr. Lee's process demonstrated greater than 10 percent increases in power density, 30 percent reductions in relative degradation rates, and a doubling of cell lifetime. Based on the interest expressed in the new generation of SOFC, Lee said he plans to devote himself to using the electrochemical systems to reversibly produce electricity and hydrogen with other useful chemicals to ensure a steady global fuel supply and mitigate climate change.
Freshly minted American citizens
Dr. Lee was born and grew up in South Korea, where he learned to read and write English but did not speak it much. He earned a doctorate in materials science and engineering from Korea Advanced Institute of Science and Technology and worked as a senior researcher at the Korea Institute of Energy Research before arriving at the University of Pennsylvania as a postdoctoral researcher. His work at the Department of Energy's NETL began as a National Research Council Senior Research Fellow and ultimately led to his role as a senior research scientist on NETL's research support contract. He became an American citizen in 2014. Citizenship is a requirement of the PECASE.
Imagine the linguistic challenges he and his wife, Grace Oh faced in that first year of postdoc. Despite obstacles, they and their infant son soon grew to love the United States. Dr. Lee remembered learning to speak English by watching the TV show, Friends. He said, "The first step was to watch the shows with Korean subtitles. After enjoying all the fun parts and understanding the overall situation, I watched them again with English subtitles or printed scripts. Then, I could watch them without subtitles." 
When asked what about Friends made it especially helpful, Dr. Lee said, "The most probable reason I used the show for my English study is because each episode was so funny that I didn't feel like I was studying, and no self-driven effort was needed to continue."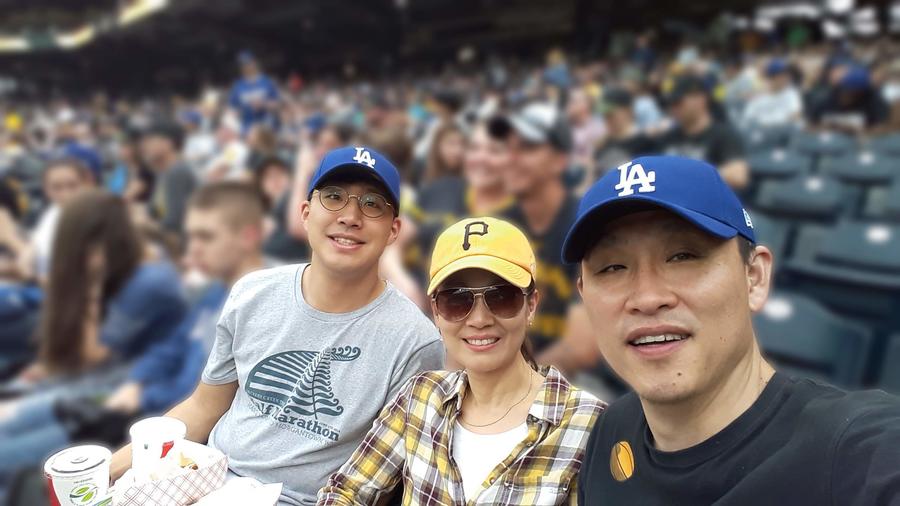 Baseball in South Korea has been popular for some time, so it's not especially surprising that the Lees enjoy baseball in the United States. Two of the three Lees, Shiwoo and his son Steve, are Los Angeles Dodgers fans. Grace is a Pittsburgh Pirates fan. The family attends baseball games regularly in Pittsburgh, where they live nearby. 
A long-standing custom he was happy to drop
Another reason Dr. Lee enjoys living and working here is that Americans do not ask each other their birth year, nor does age set a hierarchy in work settings. Asking another person's age when you first meet someone is a long-standing custom that most Koreans accept. Age establishes levels of rank in how friendships or business relationships form and determines how formal language must be. One's birth year quickly establishes honorifics and is the basis for communication and behavior.  
Dr. Lee said, "I discovered early in my work at the University of Pennsylvania that the familiar pyramid structure in the laboratory does not exist here. We were free to collaborate at all levels. The culture is open to hear ideas from all ages as equals when we all study and research. This is what I especially enjoy at NETL. It appeals to me that ideas are collaborated in our research and that I work with so many brilliant and creative NETL colleagues who share knowledge."
Community outreach
The PECASE awards recognize contributions to the advancement of science, technology, engineering, and mathematics education (STEM) and for outstanding community service as demonstrated by scientific leadership, public education, and community outreach. 
Dr. Lee demonstrates commitment to community service by his mentorship to college student groups at his church and through a local community group. He mentors both undergraduate and graduate students, typically those from abroad, in practical matters like working with the U.S. Citizenship and Immigration Services and meeting their requirements.
Students come to him with passport issues and specifically with their college and career planning. He helps them develop life plans, find internships, and helps prepare them for work life after graduation.
PECASE awards are conferred annually following recommendations from participating agencies. Each Presidential award winner receives a citation, a plaque, and funding from his or her agency for up to five years to advance their research. Individuals can receive only one PECASE award in their careers.