Leidos LIVE and the future of immersive marketing
This piece originally appeared in the Summer 2019 issue of Gallery Design Studio's GDS Quarterly and is published here with permission.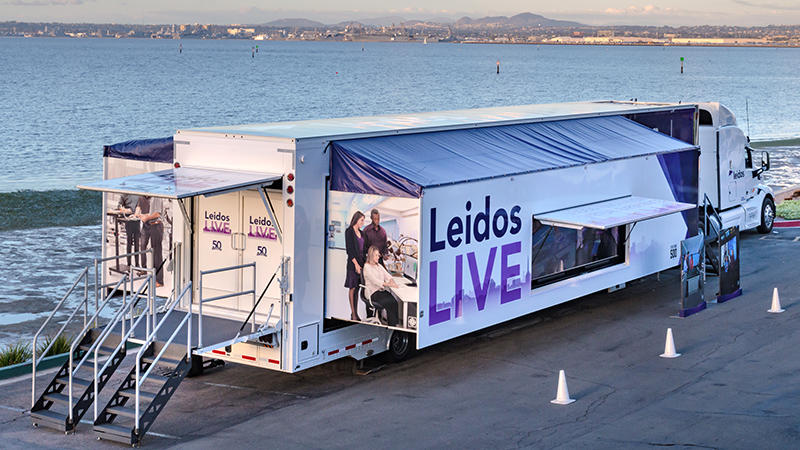 Scott Greenwald is the Director of Marketing for Leidos, a science technology and engineering government contractor that provides IT and cybersecurity solutions to customers around the world. With two decades of marketing expertise, Greenwald has seen government contractors through the transition from basic PowerPoint to AR and VR.
Greenwald's team recently launched Leidos LIVE, a mobile technology experience that showcases Leidos' IT and cybersecurity solutions. Housed in a 53-foot purple truck, Leidos LIVE is touring the country and visiting civil, defense, intelligence and healthcare clients at their offices, where visitors can explore interactive modules that bring real Leidos projects to life.
We spoke about Leidos LIVE and strategies for building immersive, educational customer experiences.
How do you communicate your business value to those outside of your field?
We're a 50-year-old company with a six-year-old brand, so we're still trying to educate people as to who Leidos is, what markets we serve, and what capabilities we have. We have to grab people's attention. We're focusing on generating better content from a visual perspective: infographics and videos that are much more appealing.
It's our 50th anniversary this year, so we wanted to do something big with Leidos LIVE to showcase our very diverse set of capabilities, portfolio, and customers. Visitors can walk through the truck in 10-to-20 minutes, and view a dozen different demos to learn a little bit about our capabilities.
When we're so focused on the day-to-day, our employees and our customers aren't aware of everything that we do. This was an opportunity to create a fun interactive experience where hopefully customers will walk away and remember a couple things about our brand and capabilities.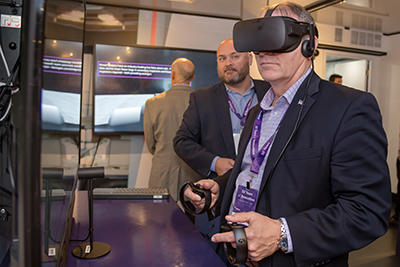 The Antarctica module is the first activity people engage with on the truck, and it includes a two-minute video of our work on the longest supply chain in the world. You see the scientists pulling cores, people diving underwater to do their research, and the voiceover describes how Leidos empowers researchers to focus on their expertise, while we take care of operations and logistics. It's a visually appealing experience with real information about our capabilities.
We identified team members from each of our four different groups to represent our work. When visitors activate the AR video triggers on the sides of this 53-foot trailer, the people of Leidos come to life: a data analyst describes her work with cancer research, someone else talks about their work on the impact of space travel on the body.
What metrics do you use to ensure campaigns like Leidos LIVE are working?
We have multiple customers in mind: the "eternal" customer; our potential customer base; and potential employees from a recruiting perspective. We've got beacons throughout the truck, so we'll know what demos are most utilized. We track time overall that people spend in the truck, and send out a survey for visitor feedback. Overall, people scored nine out of 10 for enjoying the experience.
Going forward, what will be the most difficult aspect of communications for Leidos?
One challenge we face is talking about the possible versus the hype. Our company takes a very responsible approach to thought leadership and how we represent what we can and can't do. We have to set realistic expectations for near-term business benefits; how can you leverage technology now? Case studies and customers are a great way to do that.
The other issue is just keeping up with content needs. Everybody is producing so much content, so how do we produce more and faster while not jeopardizing quality?
What resources do you use to keep up with marketing trends?
I spend time checking out the competition and what they're focusing on. AI melds, blockchain, what's the next big thing to get a lot of traction? I went to SXSW recently to get ideas on what other vendors do to turn a business capability or problem into an experiential demo. As a marketing person, you cannot operate in a vacuum.
You have to listen to what other people are doing. Yes, we're competitors, but in the end it's a small world and everyone's just trying to share great ideas and approaches.