Leidos makes 'Military Times' Best for VETS Index
Thanks to a partnership between Military Times and VETS Indexes, investing in companies that invest in our nation's veterans is not only easy, but likely profitable too.
Launched in July 2017, the Military Times Best for VETS Index includes 36 companies that support the hiring and professional development of veterans. In order to make the index, each company must meet four key requirements. For starters, they must be a Military Times Best for Vets employer for three consecutive years.
"Military Times is proud to provide the independent research for this exciting new index offering. Our Best for Vets Employers rankings of the top companies with veteran initiatives and programs have been the premier listings in this space for a decade," said David Smith, President of Sightline Media Group, the parent company of Military Times.
Companies on the index must also be publicly traded, have a market capitalization greater than $200 million, and have more than $1 million in average daily trades. That level of scrutiny explains why only three dozen companies — out of more than 2,000 that receive the annual Best for Vets survey — are on the index.
"We want companies that are constantly there and show persistence in supporting our servicemen and women," said Andre Corpuz, Managing Director of VETS Indexes.
With almost 6,500 veterans among its 36,000-strong workforce, Leidos is one of those 36 companies. Since 2014, the company has hired more than 4,500 veterans, including 3,200 veterans and military spouses in the last two years alone.
"We're very proud of our veteran hiring efforts and we're honored to receive this award," said Ann Addison, Chief Human Resources Officer of Leidos. "We're a big proponent of veteran hiring. We believe in the caliber of their talent and in the mindset they bring to the business."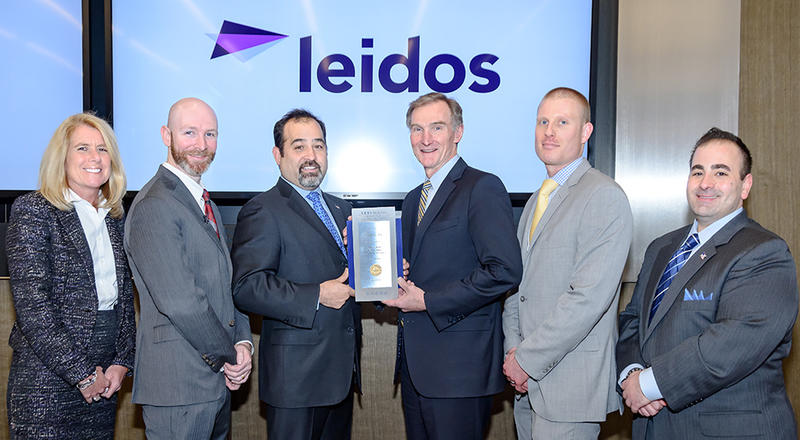 Veterans have mission-critical mentalities, unique skill sets and specialized training – traits which can make big differences in the workplace.
"Hiring veterans is not just a charitable thing; it's not just a do-gooder thing. It's good for your bottom line as a company, based on the skills and experience that veterans bring," said George Altman, Editor of the Military Times site Rebootcamp.
Through the Best for VETS Index, Corpuz believes that they've found a signal that can be used in the market to tell people that veteran hiring isn't just a feel-good story, but one with quantifiable numbers.
"Our index outperforms the S&P 500 over the last seven years by between three and four percent," said Corpuz. "That's pretty substantial when you're looking at a large-cap, broad-based index."
Corpuz adds that all of the companies on the index consistently invest in their human capital. He believes it's a combination of corporate culture and leadership from the top that drives veteran hiring programs and company performance.
This is certainly true at Leidos. The company has an official veteran outreach hiring program — led by Alex Verhulst, a full-time military talent acquisition program manager — called Operation MVP. They also have the Military Alliance Group, a dedicated employee resource group for its veterans.
Those vehicles, along with national and local partnerships with veteran groups, have helped the company make a meaningful impact with service members who are looking to transition. The company's charitable giving and volunteer outreach also strongly supports active/retired/wounded military and their families.
"Being included in the Best for VETS Index is a great recognition for Leidos," said Verhulst. "It's another milestone for the company and our military veteran program, but it's also great exposure with people who follow Wall Street or track financial indexes and maybe aren't as familiar with us and the valuable work we do across so many sectors."