Leidos renews Army Rugby Union sponsorship
Leidos is happy to announce the renewal of its sponsorship of the Army Rugby Union (ARU) for the ongoing 2019/2020 season. This is Leidos' second consecutive year of sponsoring the ARU.
The sponsorship agreement covers the ARU's elite teams, including the Men's Senior XV, the Women's Senior XV, the Academy XV and the 7s Team, with the Leidos logo emblazoned on each team's shirt.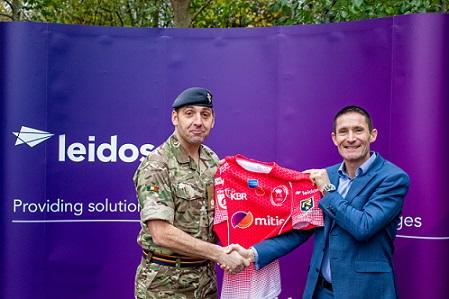 "Leidos is proud to strengthen our support of the military community by renewing our sponsorship of the Army Rugby Union. We have had the privilege of working closely with the Ministry of Defence over the last four years, delivering digital transformation through the Logistics, Commodities and Services Transformation Programme," said Damian Alexander, Vice President and Managing Director for LCST, Leidos UK and Europe. "The sponsorship is helping us to build on this relationship and make the most of our shared values. We look forward to cheering the teams on and I wish them all the best for the season."
The ARU forms a part of Leidos' growing global sports sponsorship portfolio, which also includes the Glasgow Warriors in Scotland, and the Washington Capitals, Washington Wizards, Washington Mystics, D.C. United, and new rugby club Old Glory D.C. in the United States. 
The ARU was formed in 1906 and for more than 100 years, it has provided an infrastructure for the playing of rugby union within the British Army. With four elite teams made up of players from across the British Army, the ARU has a very busy season consisting of 43 matches, culminating in the hot-ticketed games against the RAF and the Navy, in April and May respectively.
"As first team coach, I am pleased that Leidos has agreed to sponsor the Army Rugby Union for another season," said Brigadier (ret'd) Paddy Allison, ARU Marketing Director. "Leidos has a long history of supporting the military, whether it is through providing logistics services, employment of veterans or supporting sport and community initiatives. Long may the partnership continue."