Leidos Serves: FIRST introduction to engineering leaves lasting impact
Leidos Serves is dedicated to sharing the stories of employees that give back to charitable organizations.
Erin Ferguson is more than familiar with FIRST, an organization dedicated to engaging students in kindergarten through 12th grade in science, technology, engineering, and math (STEM) fields. After all, she became involved 13 years ago as a middle school student.
For the Inspiration and Recognition of Science and Technology, or FIRST, was founded by Dean Kamen, an engineer who wanted to find employees to work for him, but was unable to find recent graduates with the skills he needed.
"The point of FIRST is to teach [students] engineering problem solving and what they call 'gracious professionalism,' which is the idea that you can compete with somebody, but still be kind to them. Act professionally towards them, you don't tear down the other team, you can help them ... and still be successful. It's [designed] to create a well-rounded engineer."
Because of the wide age range of participating children, FIRST is divided into four levels starting with LEGO League Junior, for kindergarten through fourth grade; LEGO League, for grades four through eight; Tech Challenge for grades seven through 12; and Robotics Competition, designed for grades nine through 12.
A child of two engineers, Ferguson found herself interested in engineering from a young age. When she discovered FIRST, she decided it would be a fun way to learn basic engineering skills with her friends in the LEGO League.
She continued to participate with FIRST through high school. "One of the reasons I knew that Leidos existed [before working] here is because they sponsored an event that I participated in high school. So Leidos is becoming more visible to potential employees, even if they're not in college yet, by being involved with [FIRST]."
After graduating from Worcester Polytechnic Institute with a degree in Electrical and Computer Engineering, Ferguson volunteered with the team that she had participated on as a student and helped with professional development like resumes and college essays.
"I had some students contact me and say 'hey, if you hadn't reached out to me to look over this [and] give [advice on] my resume, I probably wouldn't have gotten that internship or gotten into the college I wanted. So I think that was the more rewarding [part of] giving back."
In addition to the professional development, Ferguson has served as a judge for the competitions, worked with specific teams, and now volunteers once a month during the three-month competition season. "I help coordinate getting robots on and off the field, make sure that the students are in the right place at the right times and everyone's being safe in the competition area."
FIRST has had a lasting impact on many more people than just Ferguson. Since she started with FIRST more than a decade ago as a participant, the organization has added more than 1,000 teams. "I think that because we're doing so much more in the STEM industry now, the organization is just rapidly growing."
According to FIRST, 92% of participants in Robotics Competitions are more interested in attending college.
"As a culture, people are understanding that you can't just have top grades and be successful, you need to have some hands-on skills, too. And I think that people are finding that it is valuable to become a member of an organization that teaches you how to be a better engineer, even if you're a kid and you say, 'alright, I could learn how to program [and] once I get to school, I can use these skills.'"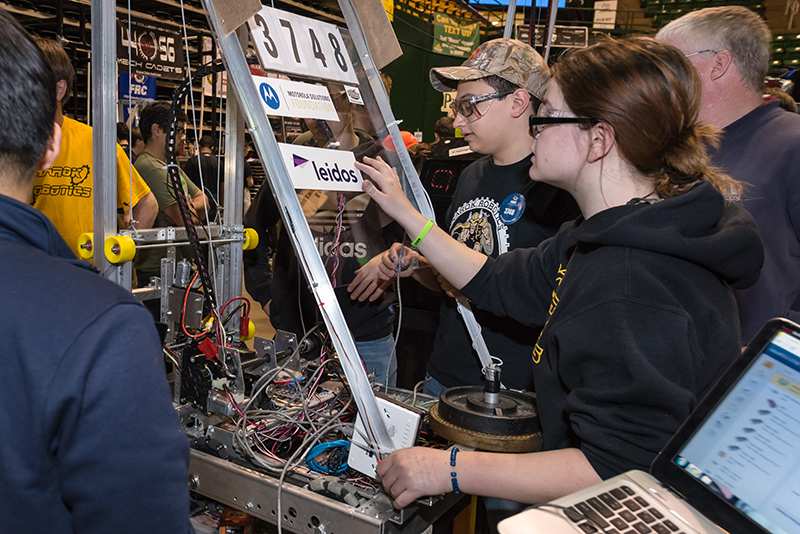 While Ferguson volunteers individually with her local FIRST competitions in New England, Leidos is also a corporate sponsor for approximately 130 teams and 5 competitions across the country. "I think it's really important that Leidos recognizes that you can't just have professional success, you need to be able to have personal success, too, and I think part of that comes from giving back, so it's nice that I work for a company that sees that it's important for their employees to have a well-rounded life."
For more information on how you can become involved with FIRST, visit their website.