Making travel safer, healthier, and more efficient
As airports implement plans to return their operations to capacity, it is clear that a new age of air travel is developing. Contactless travel is becoming more widely accepted as airports look for solutions to enhance a frictionless passenger experience wherever possible.
With the acquisition of L3Harris Technologies' Security Detection and Automation portfolio last month, Leidos is making trade and travel safer, healthier, and more efficient through fully-integrated security technology. The new, comprehensive suite of products and solutions is positioned to deliver security systems of the future that are fast, frictionless, and fully-integrated.  Leveraging this comprehensive portfolio, our core technical strengths, and robust R&D initiatives, we can help our customers address emerging and evolving threats through rapid development of innovative solutions.
Leidos is facilitating secure, efficient, and healthy passenger movement and enhancing passenger experience through fully-integrated solutions in airports worldwide.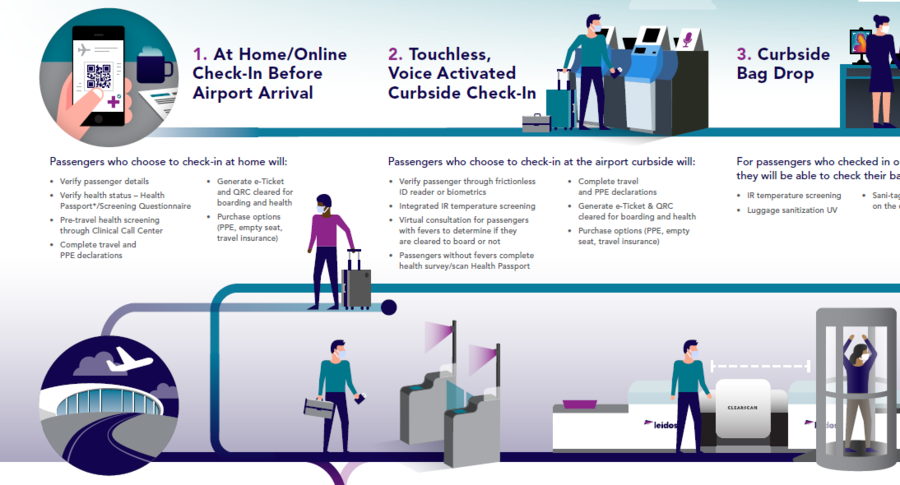 Frictionless Travel
This includes the well-known ClearScan™ CT cabin baggage explosive detection system, which enables the highest level of passenger convenience while delivering the maximum level of explosives threat detection at an unprecedented low false alarm rate. With the adaption of the ClearScan technologies, passengers will no longer need to remove liquids and electronics from their baggage, reducing touchpoints throughout the checkpoint.
In addition, Leidos' best-in-class people scanners, ProVision, operate with new AI/ML based detection algorithms that offer low false alarm rates and enable more passengers to be screened with less pat downs, ensuring passenger and officer safety. It is the most widely deployed advanced people screener, with over 2,400 procurements worldwide.
Furthermore, before passengers arrive at the checkpoint, Leidos solutions help enable seamless travel through the planning and monitoring of passenger flow. Beontra, a Leidos company, provides scenario planning solutions that offer 15-minute forecasts using real-time operations and schedule data. Combined with the Leidos Secure Efficiency Management System (SEMS), which provides a holistic view of airport checkpoint systems, Leidos delivers real-time data to decision makers throughout the passenger experience. With this information, operators and airport security officers can direct passenger flow to ensure social distancing measures are practiced as much as possible.
Protecting Surfaces
Leidos has incorporated antimicrobial technology into the manufacturing of its security trays to reduce the spread of more than 99 percent of harmful bacteria and provide 24-hour protection against most harmful microbes. Unlike disinfectants that are effective for a limited time, the integrated antimicrobial technology works to continually minimize the presence of microbes and eliminate their ability to grow and reproduce.
In addition, Leidos engineered a UV sanitation system to sanitize security trays with the use of UV light between each use. UV-C light, more commonly known as germicidal ultraviolet light, offers a chemical-free way to sanitize by eliminating bacteria, viruses, and other microorganisms.
This system is embedded into the automated Leidos tray return system and exposes each empty tray to UV light as it returns towards the divest for use by the next passenger. The sanitizing process operates "at speed" and is concealed and automated within the tray return system, eliminating any exposure of UV rays to passengers or security operators, therefore avoiding any disruption to routine operations.
As more travelers return to airports, advancements in technology are continuing to play a key part in evolving and adapting to new measures and procedures. Leidos stands ready to help make air travel safer, healthier, and more efficient.
View our interactive to learn more