Meet Angela Gutierrez, our 2019 Marine Corps Marathon tandem jumper
Since 2017, thousands of Marine Corps Marathon runners and spectators have looked skyward over the starting line on Route 110 in Arlington, Va. as Leidos-branded purple parachutes drop 6,000 feet to deliver a 400-square foot American flag. Joining the friendly skies this year will be Angela Gutierrez, our 2019 MCM tandem jumper and a first-time skydiver!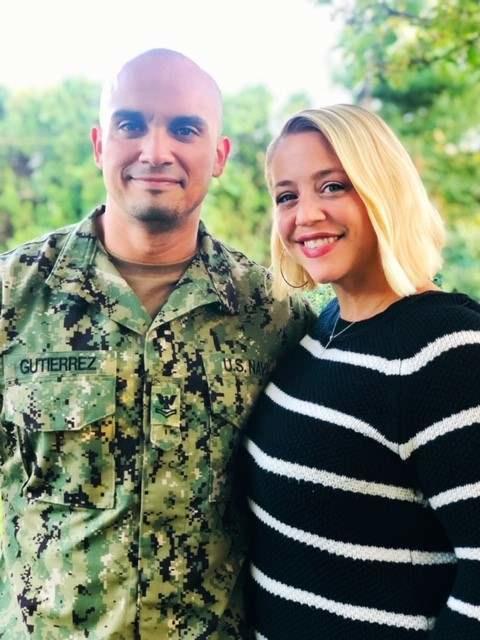 Angela hails from Erie, Pa., where she currently works from her home office as a human resource business partner supporting the Civil Group. She received her bachelor's degree in communications from Edinboro University of Pennsylvania and has primarily worked in the human resources industry for more than 15 years. Upon completion of her bachelor's degree, she relocated to New York City to work as a legal recruiter for a Manhattan staffing firm. After spending several years in New York, Angela and her husband Daniel made the cross-country move to Albuquerque, N.M. where she got her start at Leidos (then SAIC). Since that time, Angela has provided HR support in various capacities for more than nine years.
Angela currently maintains an active PHR certification from the HR Certification Institute and is SHRM-CP certified by the Society for Human Resource Management (SHRM). She recently accepted a voluntary role as Program Chair with the Human Resource Management Association of Northwestern Pennsylvania, a local SHRM affiliate, and has been an active member since 2018. Earlier this year, Angela completed a 2.5-year appointment as the Military Alliance Group (MAG) Employee Resource Group Chapter Membership and Engagement Lead, a role she was honored to fulfill. Supporting our veterans is something near and dear to Angela's heart as her husband is a Navy veteran and active duty Navy Reservist. She has supported various causes in her community promoting awareness of Post-Traumatic Stress Disorder (PTSD) and its impacts on veterans. 
Angela lives at home with her husband and their 7-year-old daughter, Lena. She is an engaged member of her church community and an avid garage sale enthusiast.