Miss DC finalist hopes to win over judges with 'beauty and enchantment'
Ismailia, Egypt is a long way from Washington, D.C. Roughly 6,000 miles and a half-day's flight separate the two cities. The cultural distance between northeastern Egypt and the Northeast, however, is something Dina Gharib is trying to bridge.
Dina was born in Ismailia, the middle child of Ashraf Gharib and Mona Elmetwally. In 1996, Dina was 2 years old when her parents made the difficult decision to uproot their young family. They left behind a comfortable life in Egypt for an uncertain future in the United States. Dina's older brother Ahmed was born with a cranial cerebrospinal fluid leak and his condition required specialized care.
"No one in Egypt would operate on him because it was too risky. His condition was the whole reason we came to the U.S.," says Dina.
When Ahmed was born, the cerebrospinal fluid leaked out of his brain and formed a liquid bubble on his head.
"My parents spent the first five years of Ahmed's life guarding that bubble because if anything were to puncture it, the draining fluid would have exposed his brain," says Dina.
The family settled in Baltimore so that Ahmed could undergo brain surgery at Johns Hopkins Hospital. Doctor Ben Carson was the hospital's Director of Pediatric Neurosurgery at the time. Yes, before he was a 2016 presidential candidate and the current Secretary of Housing and Urban Development, Carson was a world-renowned neurosurgeon.
"Dr. Carson ended up doing Ahmed's surgery, which took about six hours to complete," says Dina.
Ahmed has gone on to lead a normal life. He recently married and works as a program manager at Facebook. Dina, meanwhile, is a marketing and communications specialist for Leidos at the U.S. Department of Transportation. But things weren't always so promising for the Gharib family.
Making ends meet in a new country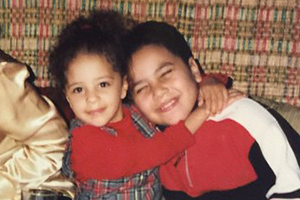 Ashraf Gharib represented his country as a swimmer for the Egyptian National Team. He worked as an accountant before the family left Egypt. His wife Mona taught English to middle schoolers at the Taha Hussein Institute. When the Gharibs arrived in the U.S., they had to reinvent themselves.
"My parents are both college educated but for their degrees to transfer, they would've had to take a bunch of courses. And they didn't have the time or money to do that," says Dina.
Instead, the Gharibs went to work, doing anything they could to pay off bills for the life-saving care that Ahmed received. It meant putting their pride aside and working multiple jobs at times.
"They were working at McDonald's and Papa John's and places like that just to cover all the expenses," says Dina.
The family's finances eventually improved but the experience made a lasting impression on Dina and her brothers. Over the years, the siblings often talked about growing up poor and watching how hard their parents worked.
"Our experience really pushes the three of us to succeed in our careers. We want to make our parents proud and be able to take care of them one day," says Dina.
A pageant contestant with a purpose
In Egypt, Ismailia is known as "The City of Beauty and Enchantment." With that kind of reputation, it's almost as if it was predestined for Dina to be a finalist for the Miss District of Columbia Pageant. But unlike the other 17 contestants, the June 23 competition is her first-ever pageant.
The thought of being a 24-year-old rookie pageant contestant likely terrifies most people but not Dina. She says she's always liked to try new things, and the more random, the better. Her journey to Miss DC started after last year's Miss America was crowned. On a whim, Dina did some Google searching which led her to the Miss DC contest. In her last year of age-eligibility, she decided to enter.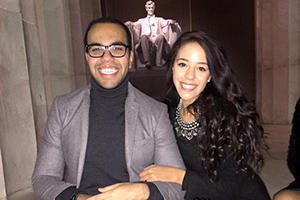 "I'm kind of the outsider. I don't really know anyone in the pageant sphere. But at the same time, being the newbie can have its advantages because the judges might see things about my personality or special talent that they don't normally see in pageant contestants," says Dina.
It's probably safe to assume that her chosen talent is one the judges haven't encountered. Dina will perform a traditional Egyptian belly dance, something she's practiced since the age of seven.
"There could be swords. There might be a candle head dressing. I haven't decided how theatrical I want to make it yet," says Dina.
If she finishes in the top five for Miss DC, Dina will win scholarship money. Currently studying for the GMAT, she wants to pursue an MBA. But being crowned Miss DC would mean so much more. Besides getting to represent the District at September's Miss America pageant, Dina would have a platform to promote causes she cares about and a city she loves.
"If I'm lucky enough to win, I want to work with low-income families and the homeless. There are a lot of people and organizations in D.C. that need help.
"The other thing I'm going to do if I win is to push culture, diversity, and inclusion. I love D.C. and what a melting pot it is, and for someone who's an immigrant, I think we should celebrate, protect, and value those things as Americans."