Mother and daughter bond over heart health, helping others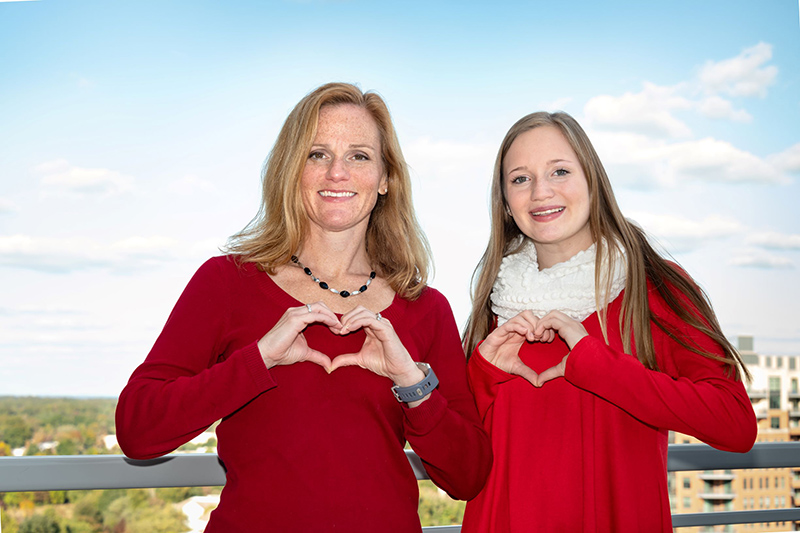 Hypoplastic left heart syndrome. Sarah Roberts was in a doctor's office and 18 weeks pregnant the first time she heard those words. Her second child, a daughter named Megan, was going to be born with HLHS, a rare congenital heart defect.
This Saturday, Sarah, Megan and the Roberts family – including their puppy – will be on the National Mall for the American Heart Association's annual Greater Washington Heart Walk. Together, they'll be walking to help the AHA raise funds in the fight against heart disease and stroke. For Megan, the Heart Walk is a way to "help people who went through what I did. I want to give back and raise money for others."
Now 14, Megan is an active and cheery teenager. A surgical scar that runs down the middle of her chest is the only visual cue that Megan's a heart patient – she has no serious limitations as a result of her condition.
"Long-distance running is difficult because it's harder for me to get air in and out fast enough. Otherwise, I'm capable of doing pretty much everything," says Megan.
Seeing how well Megan is doing today might have been difficult to envision during her early years. But while the initial diagnosis was worrisome, Sarah and her husband Jonathan were able to find some comfort amidst the situation their young family faced.
First, because Megan's HLHS was discovered in the womb, Sarah's pregnancy was heavily monitored so that mother and daughter wouldn't have any complications. Second, the delivery was going to take place at the Children's Hospital of Philadelphia (CHOP), one of the nation's leading hospitals in treating HLHS. Third, one of Sarah's best friends from college had recently given birth to a boy with a congenital heart defect. Having supported her friend through that journey and seeing that her newborn son was perfectly healthy after the initial scare, Sarah put her faith into the medical professionals at CHOP.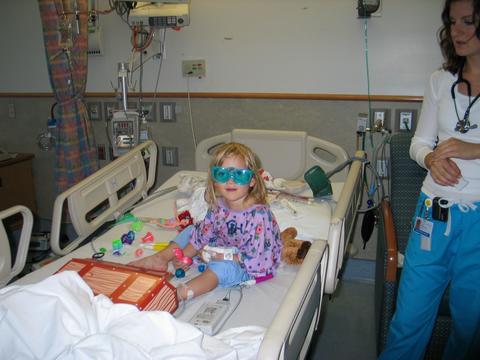 "They took Megan away immediately after birth and hooked her up to all kinds of machines for monitoring," says Sarah. "She had her first surgery when she was two days old."
Megan underwent a second heart surgery at five months and a third and final procedure when she was almost three. According to the CDC, the three surgeries are very different and need to be performed in a specific order and within a specific timeframe in order to help increase blood flow through the body.
In a normal heart, the right side of the heart pumps oxygen-poor blood from the heart to the lungs while the left side of the heart pumps oxygen-rich blood to the rest of the body. For Megan and others born with HLHS, the left side of their heart fails to properly pump out that oxygen-rich blood, thus requiring surgery.
"The size of a newborn's heart is not big enough to set them up for long-term success and that's why kids with HLHS go through a planned, three-stage surgery to get them to a point where their heart can work and sustain them," says Sarah.
While the surgeries don't cure HLHS, they do help restore heart function, or as Megan says, they helped her heart "work normally-ish." Megan and others with HLHS also need to have regular follow-up visits with cardiologists. She sees her heart doctor twice a year to ensure everything looks good and that she can continue to do all of the things she enjoys, like competitive dancing.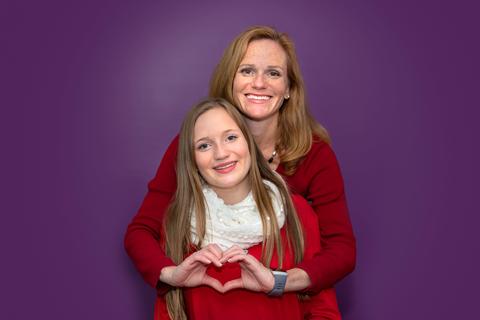 "I do mainly ballet, tap, jazz, lyrical and modern from September through May for a dance company. I've been dancing since age five. It keeps me active, which is important, and it's something I really enjoy," says Megan.
An active lifestyle is something Sarah has passed down to her daughter. The older Roberts is an avid runner and is fresh off her first marathon, having ran last weekend's Marine Corps Marathon with Team Leidos. On Saturday, she'll be walking alongside Megan in support of heart and stroke patients everywhere, including herself.
"About a year ago, I was diagnosed with bicuspid aortic valve. I had no idea, at age 45, that I was born with a heart condition," says Roberts.
While the condition hasn't impacted her, she's now also required to have annual check-ins with a cardiologist. She's inspired by her daughter and the unique bond the two now share.
"I'm thankful every day that she's a very normal teenager. She's taught me that you can do anything," says Sarah.
"Different challenges come everyone's way. It might seem like there's no good way out of some situations, but perseverance and strength can go a long way."