National Aviation Day and the unmanned conquest of the air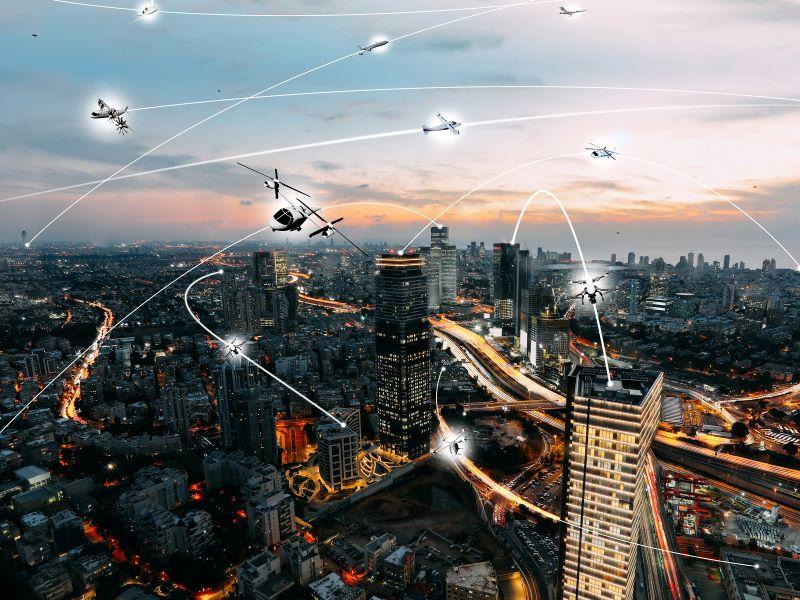 Today is National Aviation Day, observed each year on Orville Wright's birthday, celebrating what is described on the Wright Brothers National Memorial as the "conquest of the air." President Franklin D. Roosevelt established the holiday in 1939, but the spirit of this conquest is alive today, especially in the domain of autonomous flight. In light of the occasion, it's interesting to consider what the Wright brothers achieved and how it's relevant to the unmanned conquest of the air in 2019.
Wilbur and Orville Wright earned "first in flight" distinction in 1903 at Kitty Hawk, where they demonstrated a 12-second controlled flight that made them the most famous pioneers in aviation. How did they do it? Dynamic flight controls. The Wrights didn't invent wings or gliders; they patented ailerons and wingtips maneuvered with pulleys to achieve controlled, repeatable, and scalable flight.
Fast forward 116 years. Intelligent controls are now foundational to progress in unmanned flight, which will dominate the airspace of the future. The FAA projects 450,000 commercial drones, four times today's number, will travel domestic highways in the sky by 2022. Drone technology has been compared to the jet engine because of how dramatically we expect it to disrupt transportation and commerce. This transformation will be unmistakable in metropolitan areas, where drones will be widely used as taxis, medical transports, and package carriers. The urban air mobility (UAM) market, though still in its infancy, has seen more than a billion dollars of R&D investment in the past year alone. Seventeen countries are active in UAM, which is projected to grow to a nearly $8 billion market by 2030.
David Zahn and Dale Sickels, aeronautical procedure specialists at Leidos, describe this autonomous future as something like "The Jetsons," with commercial drones zipping across the cityscape. This idea is especially appealing in congested cities where on-demand mobility is highly limited. "Form follows function," Zahn said. "This new wave of autonomy will allow industry to catch up to the engineering. Take San Francisco for example. Driving across the bay takes an hour and a half, but flying across via drone taxi would take 15 minutes. This wouldn't be cost-efficient with a pilot and an engine burning fossil fuel. But with electric propulsion systems and AI in place of a crew, the price point will become affordable to the masses."
Realizing this vision will require sophisticated control systems that ensure drones don't crash into each other. The scale of this challenge is what caused NASA, the government agency responsible for testing experimental aircraft, to issue a series of "Grand Challenges" to accelerate progress toward an ecosystem to support safe and efficient drone traffic.
Safe airspace starts on the ground. Urban air mobility will require large investment in new infrastructure to sustain "vertiports," or airports designed for vertical lift. These ports, unlike today's airports which mostly operate in geographically separated areas, will present new challenges in collision avoidance because they will live in densely populated spaces. This is where Zahn and Sickels come in. The two have been compared to the Wright brothers in that while they didn't invent drones, they are designing systems for maximum controllability, repeatability, and scalability.
Zahn and Sickels responded to NASA's challenge in a white paper which describes the need for an entire ecosystem of interconnected sensing devices, communications technology, and safety apparatuses. "While the technology exists for hovering aircraft," Zahn said, "the standards, policies, regulations, and certifications for them do not—things like rules for climb and descent gradients, terminating altitudes, and obstacle evaluation for safe departure and arrival. All of these things start with airspace infrastructure."
 
The U.S. maintains the safest airspace in the world because of airspace infrastructure, which is the foundation for safety.

,

Aeronautical Specialist

When pilots can't see, they rely on pre-determined routes and altitudes called instrument flight rules (IFR) which allow them to avoid obstacles. While flying by instrument without sight might sound dangerous, it's safe and effective with the right infrastructure and procedures. Zahn and Sickels believe all human drone transportation should be governed by IFR and other stringent requirements for peak safety and efficiency. Through their work they're building test infrastructure that will collect data to inform these requirements.
In short, Zahn and Sickels are modernizing foundations for the unmanned conquest of the air. Their research will be tested through NASA's Grand Challenge, through which drone manufacturers will submit their aircraft to a series of robust flight requirements. Findings from this R&D phase will help allow the UAM industry to flourish across the globe. "It's important that airspace infrastructure is thought of on the front side," Sickels said. "It's the foundation for safety, so it's not something you want to make an afterthought. Part of the reason the U.S. maintains the safest airspace in the world is because of this foundation."