One man's fight for his life leads to the race of his life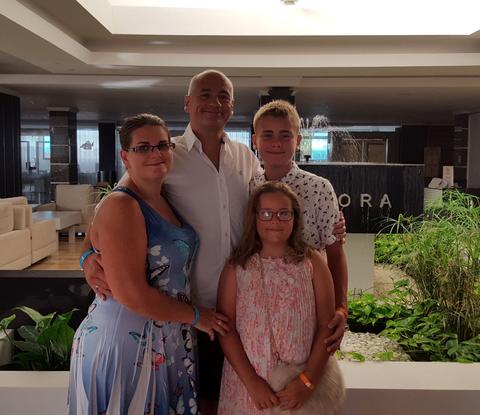 As Leidos parachutes sail down toward Arlington, Virginia on Sunday, Dave Hughes will look to the sky and think about how lucky he is to be lining up at the start of the iconic Marine Corps Marathon. Severe acute pancreatitis nearly took Dave's life 18 months ago.
The British engineer, who is the head of systems engineering for Leidos in Portsmouth (on the south coast of the U.K.), first discovered something wrong when he took his family on a vacation to New York in April 2017. He and his wife Rachael were both turning 40 and wanted this to be a memorable trip. With their two children, ages 13 and 10 at the time, the Hughes family hit the top spots for New York tourists. They visited the Statue of Liberty and rode to the top of the Empire State Building—all of it just like in the American movies they'd watched.
Then, overnight, Dave's abdomen began to tear at him. "By morning, I was bent over with severe pain, really massive sweats and was just sort of doubled in the corner of the shower with the cold water running on me," he said. He thought the pain would subside and sent Rachael and the kids out to museums until he could recover. That evening, the family returned and Dave's condition had worsened. The family hopped a cab to NYU Langone Medical Center.
"This came completely out of left field," Dave said. "Apart from the usual bumps and scrapes you get as a lad, I've been fit and healthy throughout my life. Everyone's always laughed that I've lived my life like I'm invincible."
With the pain too great to stand and walk, Dave entered the hospital in a wheelchair. Doctors there immediately diagnosed him with severe acute pancreatitis. "My lipase levels were roughly around 27,000, which is in the region of organ failure," said Dave. He would later learn that the source of the problem was his gallbladder, which was passing stones into his pancreas.
An estimated 210,000 new cases of acute pancreatitis occur every year in the United States, according to research from the Cleveland Clinic Journal of Medicine, with about a fifth of cases leading to organ failure.
After a few days of excellent medical care, the British engineer was strong enough to return to England and reunite with his family. After a couple of weeks recovering at home, however, he was rushed into the Queen Alexandra Hospital for emergency surgery. In a worse condition than before, the situation was dire and Dave came extremely close to losing his life altogether.
Thankfully, Dave pulled through. He felt lucky to be alive, but also suffered from survivor's guilt after witnessing the deteriorating health of many around him during his hospital stays.
Raising awareness at the Marine Corps Marathon
"I really couldn't comprehend what I was going through, so I got in touch with the U.S. National Pancreas Foundation," Dave said. "They helped me understand how to deal with the physical and mental aspects, and also made me want to raise awareness and money to help others who are going through something similar." Soon after, the National Pancreas Foundation put out an announcement seeking people who would run the Marine Corps Marathon to raise awareness of pancreatic diseases.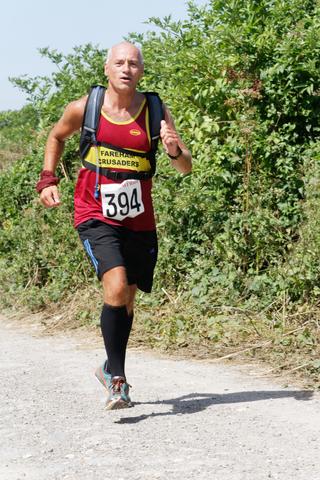 "I was feeling a lot better about myself, was fully back into work; and I realized that not only would it be a way of raising awareness for the charity and helping achieve closure, but also that Leidos was sponsoring the event," Dave said. Leidos has been a sponsor of the Marine Corps Marathon since 2015 and a presenting sponsor since 2017.
"You can't help but get inspired by the Marine Corps Marathon—people running in honor of people who have given their lives," said Dave.
Dave resolved to train for the marathon and raise money for the foundation, but he also remembered his support team. "I'm not the hero in all of this," said Dave. "My wife was really a star — making sure insurance was taken care of, getting me back to the U.K., and looking after the kids, while dealing with a husband in deteriorating health."
Dave decided to ask his wife if she would also come out and run the companion 10K in support of the foundation. "Before I'd even finished the sentence, she said 'yes,'" he said.
The Marine Corps Marathon was founded by Col. Jim Fowler USMC Ret. in 1976 to promote community goodwill, and serve as a recruiting tool for the Marine Corps and as a qualifier for the Boston Marathon. There is also a longstanding camaraderie between Americans and Brits at this event. In 1978, the British Royal Navy/Royal Marines donated a Victorian-era silver cup as a challenge piece between U.S. and British marine marathon participants. The team with the fastest top three finishers takes the Challenge Cup home each year.
The Marine Corps Marathon has grown from 1,000 racers in its first year to about 30,000 runners in this year's race. Before Leidos CEO Roger Krone kicks off race day by firing the starting gun for the 10K, a professional team of skydivers will descend on Arlington using purple Leidos parachutes and present a 400-square-foot American flag.
On the ground, Dave Hughes will join more than 250 runners from the Leidos team. He is looking forward to watching the Leidos parachutes in the sky, running through and past historical monuments, and emotionally processing a tumultuous year and a half.
"I know that at some point, I am going to physically and mentally lose it completely just because of what I've been through," Dave said. "I'm looking forward to going through that and coming out the other side, because it gives me some closure and will help convince the kids that their dad is going to be alright."