Picking an EHR vendor: Cut-and-paste RFPs are not the answer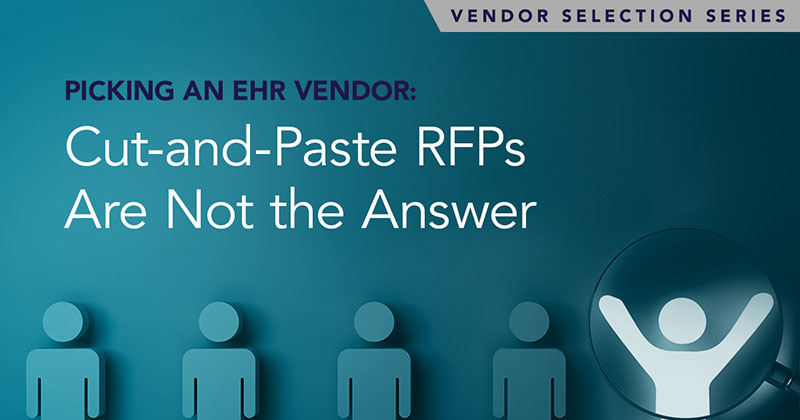 So you've decided to upgrade your electronic health records (EHR) system. You've polled your stakeholders, confirmed what elements they'd like to see in an ideal EHR system, and together, agreed on a "vision" of how this new system should work, one that everyone largely agrees on.
Congratulations! Although it may feel like you've made little progress towards actually acquiring your new EHR system, in fact, you're nearly halfway through the process already. Now it's time to make it over the hump with step 3: soliciting bids from the vendors who will build your new EHR system.
It's time to put together the Request for Proposals (RFP).
You may be tempted to take a shortcut at this point, Google "sample RFPs," and grab the first likely suspect. Or you might reach out to a specific software vendor and ask if they have an RFP handy that they can provide you.
Don't do either of those things.
Yes, it's easy to find sample RFPs on the internet. A Google search for "software RFP templates" will return over 400,000 hits. Problem is, none of these RFPs take into account the effort you've already invested in identifying exactly what you want a vendor to offer to meet your hospital's needs. They're generic — and what you want is specific.
And yes, any vendor can probably provide you with a sample RFP. But it's probably going to contain questions that — perhaps even unconsciously — skew to that vendor's strengths and downplay its weaknesses, biasing you towards buying a product that might not really be right for you.
Believe it or not, you're better off starting with a clean slate, and building an RFP precisely tailored to your specific needs. Luckily, you're already halfway there. Here are a few points to consider when building your RFP:
You've already spent a lot of time developing a vision for how your new EHR system should look. Tell your vendors that. Include your "vision statement" as part of your RFP, so they know precisely what you're looking for in a bid.
Vendors may not be familiar with your particular business and how it operates, so lay this out for them, too. What specific clinical and business requirements do you need your EHR system to satisfy?
What else is unique to your healthcare practice that vendors should know, that you'll want them to consider when making their bids? For example, what software systems do you already have installed, with which a new EHR system will need to seamlessly integrate? What software licenses do you possess? What hardware will the new EHR software be running on?
Is your EHR project time-sensitive? (Is any project ever not?) Then let your vendors know right at the outset when you need delivery to take place.
Finally, do you have a healthcare IT consultant on retainer? Most consulting firms that specialize in HIT systems have experience with developing custom RFPs and know what questions to ask to ensure vendors address critical requirements. So make use of that expertise and, once you have a draft RFP worked up, ask your consultant to review it and provide feedback.
Later on, your HIT consultant can also assist in vetting and evaluating the vendor bids you receive. But we'll address that part of the process in our next installment.
 
Picking an EHR vendor
Read the entire series: