Picking an EHR vendor: So how much is this going to cost me?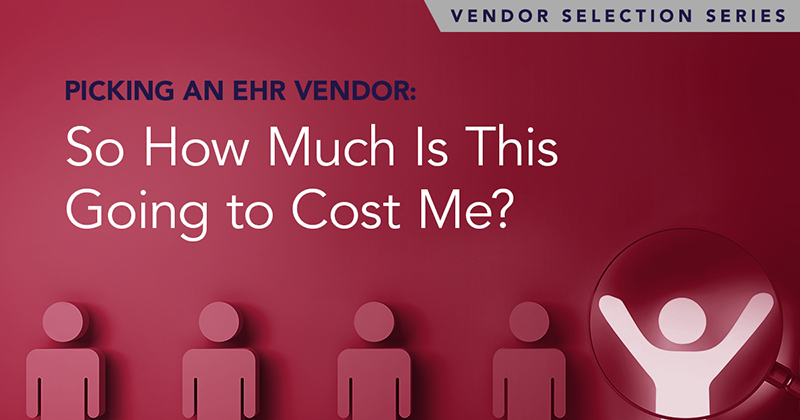 Congratulations are in order.
Since first setting out to upgrade your Electronic Health Records (EHR) system, you've ticked every box on the checklist:
At long last, you're nearing the finish line and are ready to buy a product. You know each vendor's strengths and weaknesses and have had a chance to test-drive their respective products.
Now it's time to agree on a price.
Problem is, this isn't as simple as it sounds. Buying an EHR system is less like shopping for cereal and a whole lot more like buying a new car (shudder). Unless your purchasing department is backed up by an experienced outside evaluation team, probably with the help of legal counsel well versed in negotiating healthcare IT contracts, there's a very good chance that despite all the work you've put in to this point, you're still going to end up overpaying.
Why is that? Well, consider all the variables that go into pricing an EHR system:
Software License Cost. This is the base cost of your EHR upgrade, usually dependent on some combination of the number of software modules you'll be installing and the number of people who will be using the system.
Implementation Cost. Before you can use your new EHR software, of course, you'll need to install it and get it up and running. Typically, there's a rough 1-to-1 ratio between your software license cost and the price charged to "implement" it — so take the licensing cost and go ahead and double it. Depending on how complicated the installation procedure, the number of hours of work the vendor requires to install it, and the amount of time needed to train up your staff to use the EHR, the implementation cost could rise even more.
Maintenance Cost. Even once your new EHR system is up and running, you aren't done paying. The vendor will probably charge an annual fee of anywhere from 18% to 25% of the software license cost to maintain, support, and make periodic upgrades to your software over time.
And even then, there may be other variables to consider. Sure, you know you're going to need help maintaining your EHR system, but are there different levels of support on offer, and if so, how much support do you actually need?
Does the vendor offer a warranty for its product? What does it cover and how long does it last? Must payment be made upfront, upon completion, or in the form of milestone payments as the installation progresses? Can you finance the cost of the EHR purchase, and under what terms?
With so many variables in play, you won't be surprised to learn that studies show some hospitals end up paying 10% to 30% more than they should, over a 10-year term, when buying a new EHR system.
So what's the best way to avoid overpaying for an EHR upgrade? As so often in life, expertise is your friend. Bring in an outside consultant to help evaluate your EHR purchase at the start, and take full advantage of their experience all the way through the final negotiations. The consultant will provide you with the resources and information you need to ask the right questions, compare offers to prevailing rates on the market, and negotiate the best price for your new EHR system.
Picking an EHR vendor
Read the entire series: