Picking an EHR vendor: Trust, but verify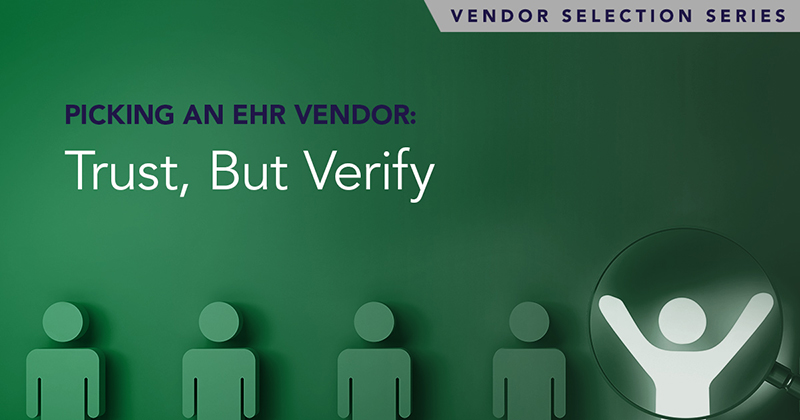 When choosing a new Electronic Health Records (EHR) system for your hospital, there's a natural inclination to seek an objective opinion on which product is best. Vendors will be happy, of course, to explain to you the pros and cons (mostly pros) of their product versus the competition's.
"More customers use our software than any competitor's," they might tell you. Their company is the biggest in the nation by revenue (so it has to be good). Their software offers more features (and more is always better). It's highly rated on such and such survey (and when has an internet survey ever been wrong?)
All of this marketing talk may be 100 percent true and accurate, but is it relevant? Vendors rarely explain why they have so many customers or so much revenue. They won't point out that not all the features they boast of are relevant to your business. And they will refrain from going into detail on the criteria a complimentary survey was based on.
Perhaps most important of all, though, none of these supposedly objective reasons why a vendor's product is great actually address your specific needs in an EHR system. And when you get right down to it, that's really what should be most important to you when picking an EHR vendor:
Is the product the best fit for your organization?
More important than what other people think of a vendor and its software, is whether it's right for you. Here are a few elements to consider and questions you should be asking to make that determination:
Scalability. Can the software grow with your organization? Does the software license limit the number of users?
Flexibility. As your needs change, how easily can the software be modified to adapt to them?
Usability. How user-friendly is the interface, and do the workflows cover the procedures you decided upon when preparing your vision statement?
Technology. How user-friendly is the software for your IT staff? What technical skills will they need to be able to use and manage the software, and will additional training be necessary?
Cost. What is the total cost of ownership, including licensing costs, the cost of training and support, and set-up and implementation costs? What ongoing, recurring costs should you anticipate? Will you need to purchase special hardware to run the EHR?
Support. What level of support will the vendor provide to your end users, and how long can they commit to maintaining support for the software version you will be buying?
Answering these kinds of questions should help you to narrow the field of potential vendors to a short list of just two or three finalists. These finalists should be invited to run a scripted software demonstration that you design. (If you have retained an outside system evaluation and selection specialist to assist you with picking an EHR vendor, this consultant can assist you in preparing a custom script).
This is important: Unless you design your own script, you can expect each vendor to run through its own special, standard presentation, highlighting its specific strengths but hiding its weaknesses. This makes it difficult to "compare apples to apples" among vendors.
In contrast, by insisting on a demonstration according to a script you lay out, you can require vendors to modify their usual product demonstrations to show how their software addresses your organization's specific needs. Just as important, you'll be requiring vendors to compete on a level playing field, giving you more clarity into which product best meets your needs.
Only then can you make a fully informed decision on which EHR product is best for you, and at what cost. We'll discuss this final step in our final installment: Picking an EHR Vendor: So How Much Is This Going to Cost Me?
Picking an EHR vendor
Read the entire series: