Picking an EHR Vendor: You need to know what you need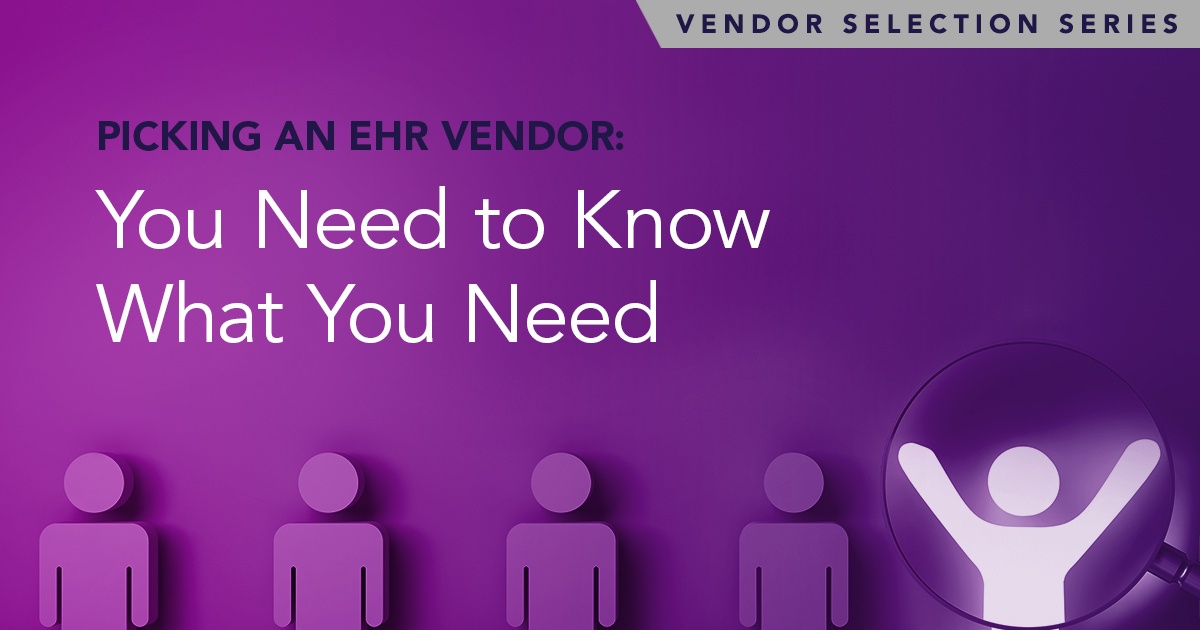 Since the passage of the Health Information Technology for Economic and Clinical Health (HITECH) Act in 2009, electronic health records (EHRs) have become a fixture of American medicine. Federal data show that some 84% of hospitals surveyed today have adopted at least a "basic" EHR system.
That's more than an eightfold increase compared to 2008, before HITECH became the law of the land, when fewer than 10% of hospitals used EHR. This surge in popularity is a good thing. HealthIT.govcredits EHR adoption with "improving all aspects of patient care, including safety, effectiveness, patient-centeredness, communication, education, timeliness, efficiency and equity."
That's good news, but there's one complication: After a hospital has adopted EHR, it must maintain and even upgrade its EHR system over time — and choose the right IT software vendor to help with this.
So how do you pick the right EHR vendor for your needs, and have confidence from the outset that you're making the right decision?
Taking a methodical, step-by-step approach can help you set goals and control risk. Today, let's get the ball rolling with the very first step: Deciding what you want to accomplish.
Get clarity around your EHR needs
Upon deciding to install a new EHR system, it's natural to want to jump right in and compile a vendor list, then immediately start sending out Requests for Proposals — but that's putting the cart before the horse. Before interviewing vendors who want to sell you a product, you need to figure out what you want to buy. 
And in this case, "you" is a collective pronoun, because this needs to be a team effort. Get together a representative sampling of your key stakeholders — people who use your current EHR system and are familiar with its flaws, and people you expect to be using the new EHR system once it's installed. Explore what people in different roles need from an EHR system: 
What do physicians want EHR to accomplish for them? 
What do the nursing staff need? 
What about the IT department? Are there any essential technical requirements that the new EHR system must comply with? What other software programs will the EHR system have to be able to "talk" to? 
What are your front desk and back office looking for? Your receptionists and customer service will almost certainly be accessing your EHR system, as will accounts receivable, claims and other insurance specialists. 
Are there other important departments in your healthcare practice that might want to weigh in? The pharmacy? The radiology department? In-house lab?
All of these key stakeholders need to be polled, interviewed, and asked to provide a wish list of what they'd like to see in an ideal EHR system, before you even begin to draw up an RFP — much less buy a product. 
Why is it important to poll all these stakeholders at the outset? Simply put: if you buy an EHR system that people don't like, they're not going to be happy. They'll demand changes — or even refuse to use the new EHR.
The last thing you want to end up with after implementing a new EHR system, is to immediately face the prospect of retrofitting it to fix problems, or find your staff so unwilling to use the new product that they immediately seek out manual work-arounds. 
Making sure you ask for input, then buy, is the first step to making certain that doesn't happen.
 
Picking an EHR vendor
Read the entire series: