Picking an EHR vendor: Is your vision 20-20?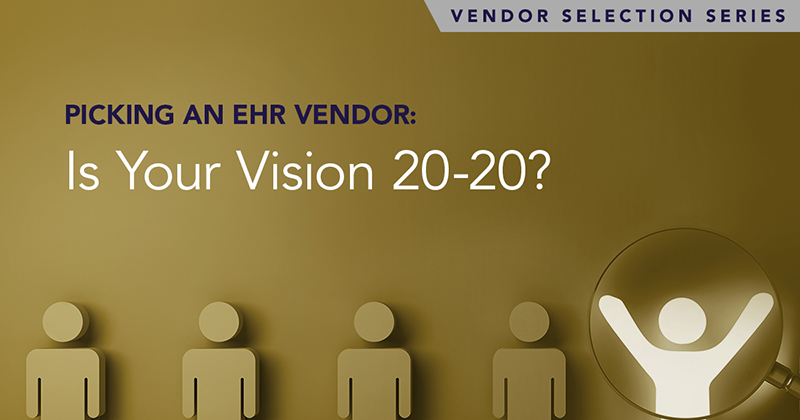 Electronic health records (EHRs) have been credited with "improving all aspects of patient care" at America's hospitals and clinics, including measurable improvements in "safety, effectiveness, patient-centeredness, communication, education, timeliness, efficiency and equity."
But to ensure hospitals get the full benefit of an EHR (and remain compliant with the Health Information Technology for Economic and Clinical Health Act), it's essential to keep these systems maintained, and to upgrade them over time.
Which costs money. And time. And requires dealing with EHR software vendors.
To help make this process as painless as possible, we're using this series to review five essential steps to picking an EHR vendor. Our goal: To help you avoid mistakes that could cost you money and delay implementation of your new EHR system. In our first post, we discussed the importance of compiling a "wish list" of what you want in a new EHR system at the outset. Today, we move ahead to step 2. 
Establishing a vision
No single EHR system can be all things to all people, and satisfy every wish on your list. Over the course of reading answers to your questionnaires, and going through responses from one-on-one interviews with your stakeholders, you'll probably begin to see themes emerging.
Your IT physicians and nurses say they want an EHR system that "just works," with an intuitive user interface that's easy to use and easy to learn. IT is more concerned that the software is stable, requires little maintenance, and "plays well with other" programs you're using. The billing department wants something that integrates well with software that the big insurers are using — and so on.
What we're going to suggest you do next is review this grab bag of "wishes" expressed by your key stakeholders — your physicians, your nurses, your IT personnel, and really, everyone from the front desk to the back office — and boil it down to a unified vision of what you hope to get out of your new EHR system. Specifically, we suggest you use a formalized "Voice of the Customer" process, documenting and distilling all stakeholder needs into an "Ideal Future State."
What is your overall vision for how things should operate within your organization? How do you hope your new EHR system will fit into your hospital's overall organizational plans and initiatives going forward? What will be different with a new system? Will you simply convert existing processes into a new system, or use the system to transform your organization?
You may not be able to satisfy everyone's wishes with one single IT system. Still, finding out what those wishes are, discerning common themes, and getting everyone to agree on the key requirements that a new EHR system must have can help you to firm up your vision for what the ideal EHR system should look like. It can help you rule out certain EHR options, and develop a short list of which systems might work best.
And this will be important as you move on to the next step in picking an EHR vendor: putting together the Request for Proposals (RFP).
Spoiler alert: cut-and-paste RFPs are not the answer.
Picking an EHR vendor
Read the entire series: