Remembrance wreaths honor the fallen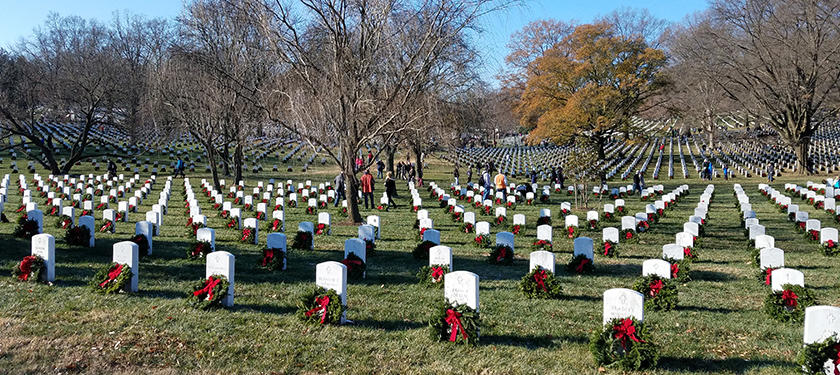 National Wreaths Across America Day is a day of gratitude and reflection, and it's become an annual tradition for many employees around the United States. 
"Seeing the crowd of people come to Arlington Cemetery was heartwarming," said Melissa Koskovich, director of Marketing and Communications and executive co-sponsor of the Military Alliance Group (MAG), one of seven employee resource groups at Leidos.
"It clearly demonstrated how much people honor our fallen, and I was proud to be a part of it. We have a lot to be thankful for this holiday season." 
Arlington National Cemetery (ANC) estimates that more than 75,000 people came through their gates to place wreaths with Wreaths Across America (WAA) in December, breaking the previous record of about 70,000. It's almost difficult to comprehend, but you can see more in ANC's video:
2017 is the fourth year every headstone in the cemetery and each column in the Columbarium had a wreath placed on it. But Arlington is only part of the story. In total for 2017, WAA was in every state with: 
1,422 participating locations
500 truckloads of wreaths delivered
Almost 1.6 million wreaths placed 
Leidos employees supported no fewer than 28 locations nationwide and donated more than $7,000 to purchase 712 wreaths.
Volunteers return to the cemeteries in January and February to remove the wreaths once they expire. If you would like to volunteer, please visit Wreaths Across America to search for your location and sign up for updates.