Reshaping the passenger experience: Airport technology and the terminals of tomorrow
The year is 2021 and it's the day before Thanksgiving. You're late getting to the airport, you've over-packed, and you have a cross-country flight with a connection. A few years ago, this was a stressful situation. Not anymore, and never again — this is the future, after all.
Instead, you're already seated at a comfortable, climate-controlled, and well-lit gate. It took just minutes to check-in luggage, pass through security, and get to your terminal. You're connected to the fast and reliable Wi-Fi network, streaming a hit show. Even the latte you ordered moments ago is out for delivery.
Too good to be true? Not for Leidos employees Damon Brady and Enrique Melendez. They're among the visionaries who are conceptualizing, building, and operating the airport of tomorrow — the "intelligent airport."
"The U.S. is 5-to-10 years away from all of its major airports benefiting from some aspect of an intelligent airport," said Melendez, Vice President of Airport Business Development. "We're already halfway there."
"The U.S. is 5-to-10 years away from all of its major airports benefiting from some aspect of an intelligent airport."
Intelligent airports are a smart investment that benefits both travelers and airports. For travelers, it means a more pleasant and stress-free experience. For airports, it means more efficient operations and increased revenue.
"The intelligent airport facilitates the transition of airport operators from a real estate model to a much more inclusive and diverse revenue stream model," said Brady, Vice President of Infrastructure Communications Systems. "This means a lot more technological integration and a lot more reach back from airports to passengers throughout all phases of the travel journey."
The passenger experience
There are several things passengers worry about at airports: transportation and/or parking; boarding passes; bags and luggage; security; wayfinding; gate information; and, of course, flight status. The intelligent airport uses technology — some already in place and others emerging — to make these concerns a thing of the past.
This technology starts the moment a traveler heads to the airport. Using an airport-developed smartphone app, the traveler will be able to select the best mode of public transportation, navigate to an optimal parking spot, or relay the ideal drop-off location to a driver. As the traveler approaches the airport, their app notifies the airline and provides boarding passes, bag tag instructions and other logistics.
"You no longer have to go to a kiosk or speak with an employee. Technology features and apps can push information to your phone about everything from security line wait times to flight status," said Melendez. "This token — the smartphone — allows you, the passenger, to be the central focus, where airports and airlines send you relevant information."
Before the traveler's car can enter the airport's boundaries, it must successfully pass through a VACIS® XPL Passenger Vehicle Scanning System checkpoint. A single VACIS XPL gate can scan more than 150 cars per hour as they drive through without stopping. The system uses high-resolution X-ray imaging and material discrimination to scan everything inside a vehicle, helping security personnel detect explosives, weapons, drugs and other threats. If the system's detailed images reveal a potential threat, security personnel flag the vehicle and intervene before it enters airport property. Extending security to outermost boundaries is a step some airports might consider following the March 2016 Brussels bombings.

With their vehicle passing inspection and all logistical details in-hand, the traveler can proceed to a self-service bag drop kiosk as soon as they enter the airport. In addition to providing the connectivity that operates these self-service kiosks, Leidos helps ensure the safety and security of air travel with its Reveal® line of explosives detection systems (EDS). Reveal EDS machines combine proprietary computed tomography material discrimination and TSA-qualified detection algorithms to detect explosives and help security personnel intercept a wide range of threats in every checked bag.
"These detection systems use high-resolution 3-D imaging and can inspect up to 1,000 bags per hour," said Brady.
After checking in luggage, the traveler can use their airport app to track the location and status of their bags throughout the trip — one less worry as they head toward the intelligent airport's security checkpoint.
"Leidos is working to define the architecture for the security screening checkpoint of the future, which is intended to reduce or completely eliminate the TSA lines in a standard security checkpoint," said Brady.
For the traveler, the security checkpoint of the future is as hands-off as it gets. As they approach the security area, a sign informs them that by entering, they are consenting to an explosives and prohibited materials screening. Sensors built into the airport's walls use radio waves and other low-impact technologies to passively scan the traveler for potential hazards as they proceed through the screening area on a moving walkway.
"With the security screening checkpoint of the future, you won't have as obvious a security demarcation in airports," said Brady. "Instead, you'll have a porous and progressive screening system that places less stress on the passenger."
Less stress for the traveler means more time to browse shops, grab food or drinks, and unwind as they await their flight.
"Once the passenger gets through security, they're part of the airport environment," said Brady. "We deploy the technology and communications systems network infrastructure that provide an array of passenger experience and value-added services."
"Security screening of the future is intended to reduce or completely eliminate TSA lines."
For example, digital tools and wireless technology can track — anonymously and non-anonymously — passenger movement through an airport. This type of location-based data, along with traveler preferences and characteristics, can help passengers avoid long lines, navigate to their gate, and receive special offers from retailers.
"Concessions are using data to profile passengers and push out promotions. Technology is allowing orders to be placed and delivered right to the passenger," said Melendez. "This kind of data sharing changes the whole business model of customer service and delivery."
The enhanced customer service extends all the way to the traveler's gate. Leidos deploys high-density Wi-Fi technologies that enable every passenger to enjoy their mobile devices as they normally would. Leidos solutions also ensure that the temperature and lighting at every gate is comfortable and performs at the highest efficiency and at minimal cost.
The passenger journey can take many twists and turns, but Leidos solutions help make it less of an odyssey and more of an experience.
"Airports are realizing they have to be service providers. They have to have quality solutions and provide the infrastructure that enables new service offerings in a manner which airlines, tenants, and passengers expect," said Melendez. "Leidos understands the airport environment and works to field these technology-based solutions."
Inside the intelligent airport
The centerpiece of the intelligent airport is an Integrated Airport Management System (IAMS), such as the one Leidos recently developed and implemented at Denver International Airport. IAMS is a platform which improves data collection and sharing, organizational connectivity, and situational awareness at an airport. By integrating several disparate systems and applications into a single platform, IAMS helps an airport optimize how it manages its activities, staff, and resources.
"IAMS is evolving to become a common operating platform that bridges the physical, digital and data worlds," said Brady. "It's something that is going to take hold and drive the efficiency of the airport of the future. It's coming and Leidos is at the forefront."
The traditional airport environment has several operational siloes, from air-side to facilities to IT to security. IAMS enables these various operations to share a common data flow and feed relevant situational information to each other. As airports evolve to deploy more technology and collect more data, the only way to operate effectively will be with an IAMS.
"The real differentiator of IAMS is that it bridges all of those operational siloes," said Brady. "It's a fusion of the multiple critical datasets of an airport into a single monitoring and management system."
Airports can tailor IAMS with roles-based privileges and unique interfaces for specific operations staff. IAMS can also support mobile access by employees and allow them to track relevant real-time information about their duties during normal or emergency situations. The operational improvements from IAMS provide added benefits to airports.
"The IAMS tool is made possible through the establishment of enterprise-wide information systems architecture. Without information and ability to access real-time data from the variety of airport sensors, none of this is possible," said Melendez.
"Once in place, an integrated environment will allow airports to deliver high-quality services and applications. This can drive non-aeronautical revenue and operational efficiency, while maintaining minimum costs for airports."
To deploy an IAMS and begin realizing these benefits, airports need to have technology-enabling infrastructure in place. In the past, airports focused on the brick-and-mortar part of infrastructure and had little interest in anything to do with technology. As a result, U.S. airport infrastructure is, on average, at least 20-30 years old and has not upgraded or kept pace with global innovation and technological advances.
"Airports have learned over many years, especially their architects and engineers, that you've got to include the technology infrastructure to make the facility 'smart' early on in the design phase," said Melendez. "And by smart, I mean where the airport staff, airlines, tenants or passengers, are able to access and share data and information."
"An integrated environment can drive non-aeronautical revenue and operational efficiency."
Leidos provides all of the foundational connectivity for its airport customers. This ranges from cable plant with passive optical networking, to core fiber and copper infrastructure networking capabilities, to developing the business rules for establishing what data and information exist, who needs it, and when. These solutions allow for the linkage of access control, intrusion detection, video surveillance, and electronic visual display — all systems which Leidos integrates and installs. In short, Leidos is a technology integrator that designs and deploys solutions that enable connectivity and infrastructure for enhanced collaboration, data sharing, and operational performance at airports.
"We call it laying the groundwork and providing the underpinnings, so that as the technology evolves, our airport customers have a clear technology lifecycle and strategic plan that allows them to deploy their vision of the intelligent airport," said Brady.
The prime opportunity for airports to transition toward the intelligent airport model comes when capital improvement programs or terminal redevelopment projects are on the table. Depending on the complexity and the number of systems that need integration, the design phase could take at least 12-18 months. The construction phase could need another 12-18 months, meaning that most facilities could make the transition to an intelligent airport within three years. General contractors often take on these massive builds but while they recognize the transformation that various technologies bring, complex technology expertise is not always a part of their core competency.
As technology plays an increasingly important role in the airport environment, general contractors are recognizing it as the critical component in ensuring that their work meets security mandates, sustainability objectives, and passenger experience thresholds. Working with Leidos substantially lowers the delivery risk for contractors, according to Brady.
"We know how to integrate all these disparate technologies. We also understand the design-build process and the construction process around airports," said Brady. "So the contractors may not speak technology, but we do, and we can translate that into construction and into design-build."
"We understand how to work in complex construction environments and how to deploy technologies into ongoing and critical airport operations."
Leidos solutions for the intelligent airport extend beyond the structure. For example, the company provides on-airfield wireless services for "tail-forward coverage." When a 747 pulls up to a gate, Leidos ensures that the plane has wireless coverage all the way from the tail forward to the boarding area. This allows airline staff to use hand-held devices to scan and load bags or to perform maintenance and other vital tasks. Leidos also provides land-mobile radio infrastructure at airports, which enables public safety, FAA, and ramp communications.
On the airfield, Varec's Foreign Object Debris Detection (FODD) system provides constant surveillance of runways. Varec is a Leidos subsidiary which installs and integrates FODD at airports, such as Seattle-Tacoma. FODD uses proprietary software to detect debris or wildlife on runways, and then alerts airport officials. Its radar and cameras run sophisticated algorithms to identify and pinpoint runway debris, even at night or in inclement weather. The system eliminates false alerts and provides a more efficient process for runway monitoring. It can even be deployed as a web application, with airport employees able to access the monitoring system from their own devices.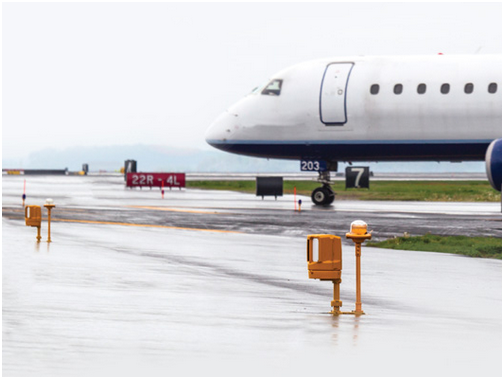 Varec also provides an innovative aviation fuel management and electronic ticketing system. Their 9640 Intoplane Handheld Computer (IHC) helps make fuel agents more efficient by automatically providing logistical and fuel load information. It also performs and validates fuel calculations to help reduce data entry errors. As a result, airports see a reduction in flight delays and are able to automate the invoicing of their fueling transactions.
Looking ahead
In addition to Denver and Seattle, Leidos airport solutions are also in Wichita, Kan., and San Diego. This project portfolio has grown tremendously now that Leidos and Lockheed Martin's Information and Global Solutions Business (IS&GS) have combined. Legacy IS&GS brings a variety of air traffic management, airport operations, terminal optimization, and air traffic forecasting solutions to the aviation sector. 
Most, if not all, of these offerings should be in major U.S. airports within the next decade. Airports will shift from reacting to what's happening to predicting what will happen, and then deploying the appropriate resources and responses. The intelligent airport will mean more efficient and enjoyable travel. It will also mean an optimized workforce and financial benefits for airports. To get there, airports need an integrated, robust, and reliable network and information systems infrastructure. In other words, they need Leidos.
"We're product-agnostic and vendor-agnostic," said Melendez. "If you're our airport customer, we're going to deploy the best-of-breed, best value, and most tailored solution for you."