Riding solo: a 100 mile journey for diabetes awareness
As the holiday season approaches, generosity and compassion swells in more abundantly with the cold air. November brings Thanksgiving and Giving Tuesday, both of which celebrate gratitude and giving back to others. Furthermore, November honors American Diabetes Month, a disease that affects the lives of more than 34 million Americans. To raise awareness for the epidemic that is diabetes, Leidos supports the American Diabetes Association's annual fundraising effort, Tour De Cure, for which individuals and teams from across the U.S. ride, run, or walk to raise funds for diabetes research and provide resources to healthcare professionals and those impacted by the disease.
2020 marks Director of Marketing Shaun McDougall's second year as Tour De Cure team captain for the Leidos Northern Virginia (NoVA) chapter, which he celebrated with a 100 mile ride in seven hours. "As a Type 1 diabetic it's important to me to try and be a role model, both to my children and the community at large, trying to show that living with diabetes doesn't need to be an impediment to living healthily, being active, and, more generally, leading a pretty normal life with just a few small lifestyle changes," says McDougall.
McDougall was diagnosed with Type 1 diabetes at age 17 in the U.K., "It was certainly a shock to the system but was also a relief to eventually understand why I'd lost over 30 lbs, had no energy, and was running to the bathroom constantly for the 2 or 3 months prior."
"Since the age of seven, I'd played rugby regularly and it was so critical in making sure I didn't end up in hospital in a diabetic coma during those months before my diagnosis. Playing 6 days a week was helping my body burn off at least a little of the carbohydrates that my body just simply couldn't process, but I still couldn't escape my Grandad critiquing the slowness of my play on the field every weekend thanks to the inescapable lethargy I had!"
This was a life-changing diagnosis for him and his family, requiring experimentation and frequent doctor visits to get a handle on how to properly treat his diabetes while continuing to play rugby. "The first few years were a voyage of discovery – moving out of home, going to university, and lacking some of the maturity to make good, long-term choices meant my control and focus wasn't where it should have been."
Additionally, McDougall had to learn to adjust with the discrepancy in medical coverage of diabetes since he moved to the U.S. nearly four years ago. "Drug prices is a problem that only really exists here in the United States but it is by far the biggest crisis facing those with diabetes. From my diagnosis age 17 to the day we left the U.K., treatment for diabetes was free at the point of care through the NHS. Not a single pound spent on medicine, visits to specialists, tests, check-ups, and so on. The adjustment to paying several hundred dollars every month here in the U.S. was hard and, frankly, the drug companies here should be ashamed of the profiteering at the expense of the basic human right of health and access to life-saving drugs."
Now, McDougall uses Tour de Cure to focus on training and keeping himself healthy and advocate for fairer, more equitable insulin prices. In 2020 alone, he's cycled nearly 300 miles throughout Northern Virginia.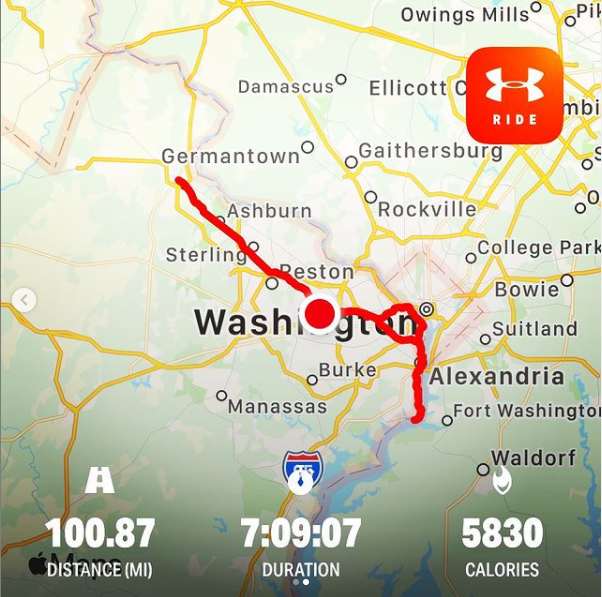 Much like a marathon, McDougall trained with shorter rides to build up for the 100 mile ride, though the training did not go exactly as planned. "You'd think being at home more this year would give more opportunity to train, which I apparently didn't take. The longest ride I did in training was only 40 miles which was a really bad choice!"
When it came to the 100 mile ride, the journey was more of a mental than a physical challenge. "Cycling solo is something I do often but only for around three hours. Over longer distances you really feel the burden of not having that group to pull you along. There was a period around 60-75 miles where everything slowed down for a while until I realised I was almost home!"
The ride required lots of self-motivation and encouragement "to stop being so lazy and get moving a bit faster," but McDougall managed to finish in a mere seven hours. After crossing the finish line of his driveway, he said he felt like he earned a beer and some takeaway. "Of course, there's the sense of satisfaction in completing a milestone distance, but the competitive part of me wanted to go back and do it much faster. I think I just about got the nutrition and fluids right, but had hoped to do it quicker than the seven hours it ultimately took."
In the end, no matter the distance or the time, the ride gave McDougall a platform to encourage others to become more educated on diabetes, the symptoms to look out for, and some of the steps you can take as an individual to reduce your risk of Type 2 diabetes in particular. "Choosing a healthier lifestyle and being active is something we should all strive to be, whether we have a chronic medical condition or not, it's just a good choice both physically and mentally. That doesn't necessarily mean you have to go and cycle 100 miles, but committing to (largely) eating a relatively balanced diet and doing moderate exercise is recommended for everyone!"