Shared hometown, Hispanic heritage a point of pride for NASA colleagues
An email with the subject line "El Paso to NASA!" popped into Ginger Kerrick's NASA inbox in late May 2017. For Kerrick, a Division Chief in the Flight Integration Division at Johnson Space Center in Houston, it was like receiving a note from her younger self. The woman on the other end was Alyssa Saenz, a college senior interning at NASA and a fellow Hispanic American from the same area of El Paso, Texas.
Two-and-a-half years later, Saenz is now a Robotics Flight Controller for the International Space Station (ISS) and Kerrick's colleague at NASA. Although years apart, the two El Pasoans attended the same elementary, middle, and high schools, even studying under some of the same teachers. As Saenz grew up, she often heard Kerrick's name in conversations at school or saw updates on her professional achievements in the local media.
"I first heard about her and what she was doing in middle school and I thought 'Someone that went to my school sat in these seats and is at NASA doing all this cool stuff with space?'" says Saenz.
Throughout high school and college, Saenz followed Kerrick's career and gained strength from her accomplishments. When Saenz faced difficult stretches in her aerospace engineering studies at Texas A&M University, she told herself that if Kerrick could do it, so could she.
"Ginger's been a huge inspiration. Having someone from my community that went after her ambitions made my dreams seem a lot more realistic," says Saenz.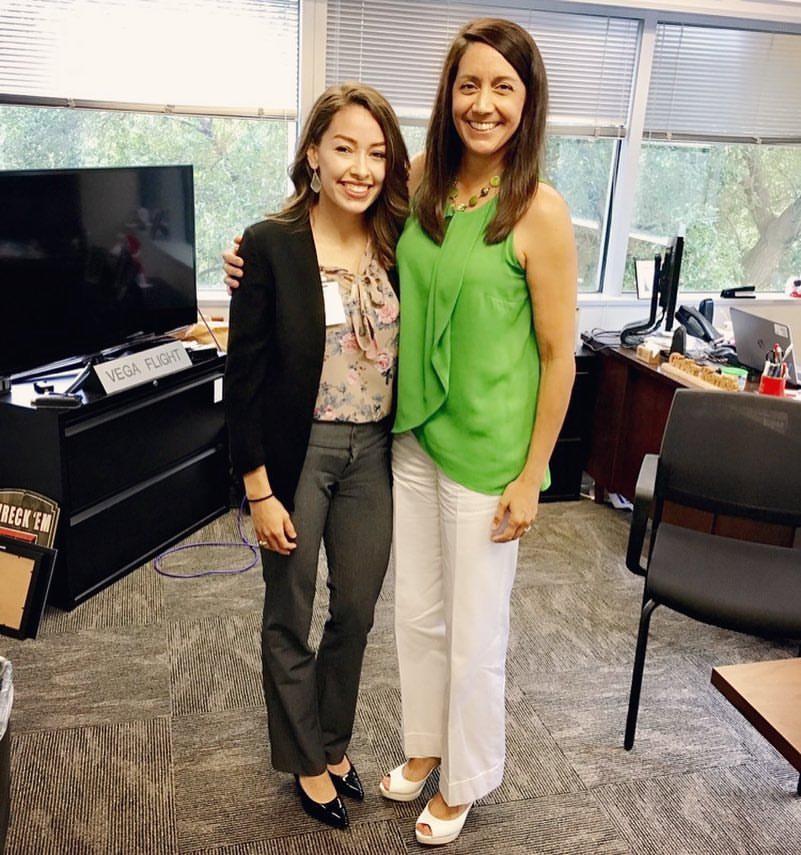 Childhood a launching pad for space careers
Saenz's love for space started in fourth grade when her class reached the solar system section of their science textbook. The vastness of the universe fascinated her and driven by curiosity, she tried to learn as much as she could about space. She minored in astrophysics at Texas A&M so she could "nerd out" on space and get a break from the demanding coursework of her major.
Kerrick caught the space bug a littler earlier. As a young child, her father took her to the library to check out books every Friday. After one of their trips, Kerrick came home with a book about astronomy and astronauts.
"I read that book cover-to-cover and went into the living room and told my parents that I knew what I wanted to do with my life. I was five and I told them I wanted to work at NASA," says Kerrick.
As "daddy's little girl," Kerrick says she didn't have typical little girl interests. Whether it was studying science, putting frogs in a Barbie playhouse, or playing basketball, Kenneth Kerrick supported everything his daughter wanted to do. But when Ginger was 11, her father died of a heart attack at the age of 44.
Devastated, Ginger, her three older siblings, and their stay-at-home mom faced a new future. Kerrick's mom, Genoveva, explained that paying for a college education was going to be difficult and stressed the importance of earning academic or athletic scholarships. The youngest Kerrick listened to her mother's advice and excelled in high school, graduating second in her class and being named El Paso Female Athlete of the Year as a senior for her basketball and volleyball exploits.
Overcoming challenges in college
Kerrick had numerous college offers to choose from, but she accepted an academic scholarship at the University of Texas at El Paso (UTEP), where she walked-on to the women's basketball team. She suffered a career-ending knee injury before her first game and decided to pour all of her energy into her dream of becoming an astronaut. Unfortunately, near the end of her freshman year, she learned that NASA didn't have a co-op program established with UTEP.
Committed to pursuing her space career, Kerrick contacted Dr. Walter Borst, the Physics Department Chair at Texas Tech University, where NASA had a co-op. Kerrick let Borst know about her financial situation and her dream of working for NASA. Borst told Kerrick to come meet him and visit the university. While she went off on a campus tour during the visit, Borst secured $4,000 in scholarships and two part-time jobs for Kerrick.
"I wanted to go to Texas Tech and Dr. Borst took it upon himself to help me find scholarships and jobs that would help me transfer. He believed in me," says Kerrick. "I've been very, very fortunate throughout my career to have many people like Dr. Borst who have helped take me a couple steps further and believed in me to continue on my journey."
Kerrick transferred to Tech before her junior year and went to work as a summer intern at NASA after graduating from the school in 1991. Her father attended Tech as well but did not graduate, making Kerrick's achievement that much more special. By the end of her summer internship, Kerrick transitioned to co-op status and was back at Tech studying for her master's degree in physics. In May 1994, NASA hired Kerrick as a full-time employee.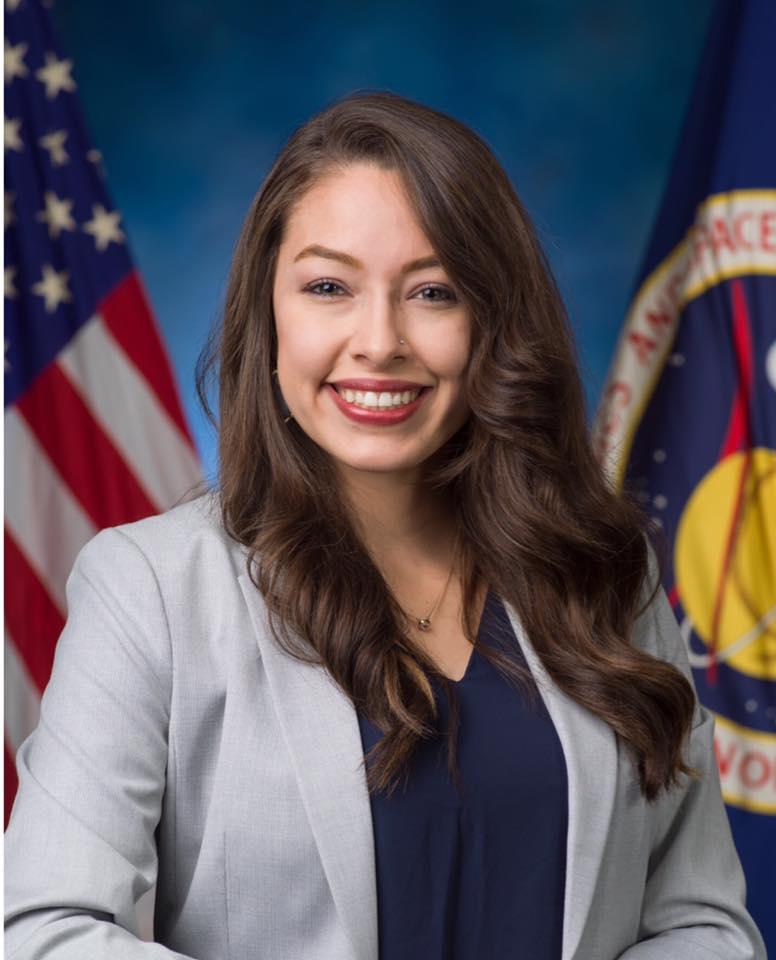 As for Saenz, her first two years at A&M were a struggle. College Station is on the opposite side of Texas, a full day's drive from El Paso. On top of being far from home, the engineering curriculum was "such a different and higher caliber" than Saenz was used to.
"I was one of the few women and usually the only Hispanic woman in my classes, so it was hard to relate to the people in the room sometimes," says Saenz. "I felt like I had to prove myself even more than the others."
Saenz stayed focused and worked hard, eventually settling in and succeeding. She established a core group of friends that supported each other and encouraged good study habits. She also found a healthy distraction from heavy-duty engineering courses through her astrophysics minor.
"Those astronomy courses helped counterbalance the craziness of my engineering classes and gave me my weekly space fix," says Saenz.
By the end of her senior year, Saenz was ready to make her NASA dreams a reality. She sent her introductory email to Kerrick shortly after starting an internship at Johnson Space Center. Ironically, her manager Sergio Lucero was also an El Paso native. Lucero challenged Saenz, encouraged her to network and learn as much as possible, and told her to ask him as many questions as she could – all of which he answered.
"He was a great mentor, and still is. Like Ginger, he was someone from my community whose perseverance led them to NASA," says Saenz. "He helped me see both the program and operations sides of the ISS as an intern. I experienced what it was like to sit in Mission Control and that completely sold it for me as a career."
Making their NASA dreams come true
Saenz graduated from A&M in Dec. 2017 and started her current full-time position with NASA a month later. Her position as a Robotics Flight Controller marries her passion for human space exploration with her engineering prowess. She helps design and execute real-time operations for robotics on the ISS, whether it's performing station maintenance, installing science experiments, or installing visiting vehicles to the ISS.   
"All the science experiments we robotically install are helping us understand space and understand more about robotic capabilities in space. The robotic trajectories we work on day-to-day help upkeep the ISS, allow for more on-orbit science, and long-term are going to help us get back to the moon and eventually to Mars," says Saenz. "It's both cool and crazy that this is my job."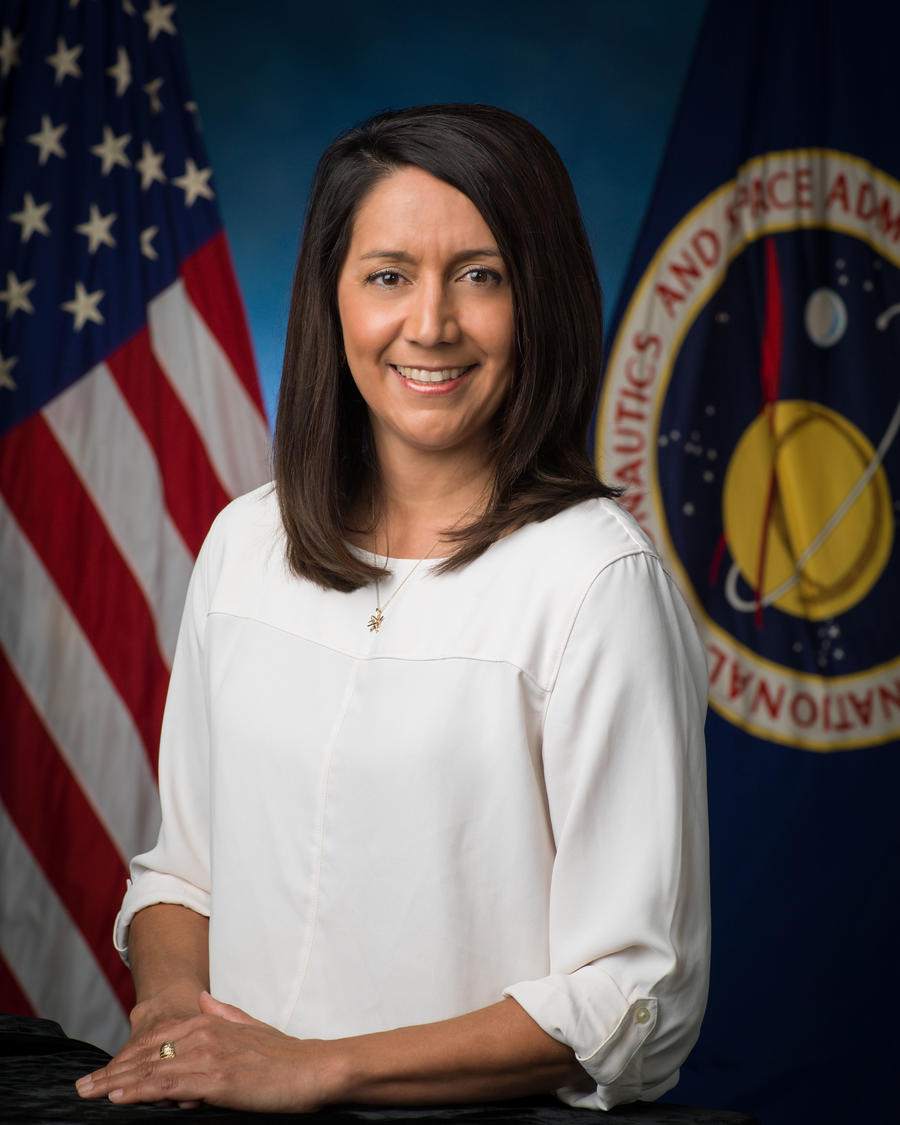 Kerrick is as passionate about her career now as she was 25 years ago when she joined NASA. She's seen a lot of changes over the years and experienced plenty of her own professionally. Originally hoping to become an astronaut, a medical exam in 1995 found that Kerrick had kidney stones, disqualifying her from space travel. Heartbroken, she set her sights on becoming a Capsule Communicator or Capcom, the next closest role to actually being in space.
Capcoms, typically former astronauts themselves, are the flight control crewmembers responsible for communicating directly with the astronauts while they're in space. Kerrick became the first non-astronaut Capcom in NASA history in 2001. Her combination of job roles up to that point, which included supporting ISS operations in Mission Control and serving as a program integrator for the U.S. and Russian space programs, made her uniquely qualified.
"The Chief of the Astronaut Office and the Chief of the Mission Operations Director both thought I would make a good Capcom, so they asked me to be the test case for non-astronauts," says Kerrick. "My boss joked 'If you don't screw this up, maybe you can start a career path for other people.'"
Kerrick flourished in the role and it's now an official career path at NASA with more non-astronauts than astronauts in the position. Four years later, Kerrick achieved another milestone by becoming NASA's first female Hispanic flight director. Thriving in that role as well, Kerrick supported 13 ISS crews and five joint shuttle missions, including lead assignments for Expedition 14 and STS-126/ULF2. Expedition 14 carries some extra sentimental value for Kerrick.
"Michael Lopez-Alegria was the commander on that mission and he flew the watch my dad was wearing when he died," says Kerrick. "I have a little certificate and picture of the watch floating in front of a window. My dad got to go to space."
Honoring those before, helping those after
Hispanic Heritage Month runs annually in the U.S. from Sept. 15 to Oct. 15. Saenz and Kerrick understand the importance of recognizing the contributions that Hispanic Americans have made and continue to make in the United States.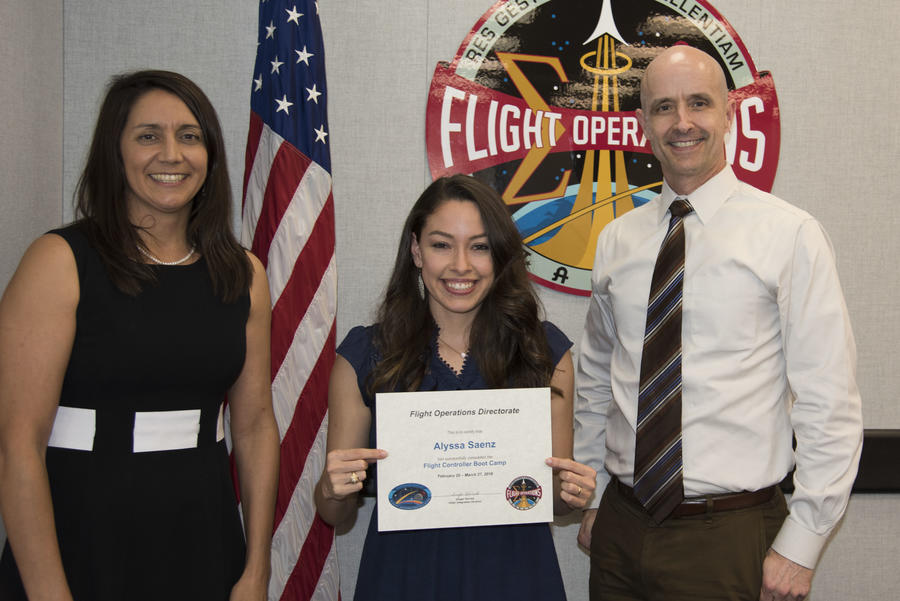 "It's great visibility for the Hispanic community and it lets us highlight some amazing accomplishments and show young people what's possible if you set goals and chase your dreams," says Saenz. "I want to be an inspiration to Latinos everywhere, as Ginger was to me."
Kerrick agrees about the significance of setting an example and adds that the annual observance of Hispanic Heritage Month is a time of reflection for her. She thinks about her mother and how challenging her life has been in comparison.
"My mom was born in Mexico and came across the border when she was four. She had to quit school when she was in sixth grade to go work in the cotton fields. I think about her life and how different it was from mine, and how she was able to afford me opportunities that she probably never envisioned for her children," says Kerrick. "I'm very grateful. I'm not happy she had to grow up that way, but it made her a strong person and she instilled those qualities in me."
This school year, Saenz is corresponding via Skype with a couple of classes back in El Paso. She wants the kids to get excited about engineering and science and the possibilities that exist. There's a chance the next Alyssa Saenz or Ginger Kerrick is sitting in one of those classrooms. When they reach out to her as an adult, Saenz will think of what Kerrick has meant to her and she'll know what to do.