Technology that meets ever-more diverse energy demands wins a Carnegie Science Award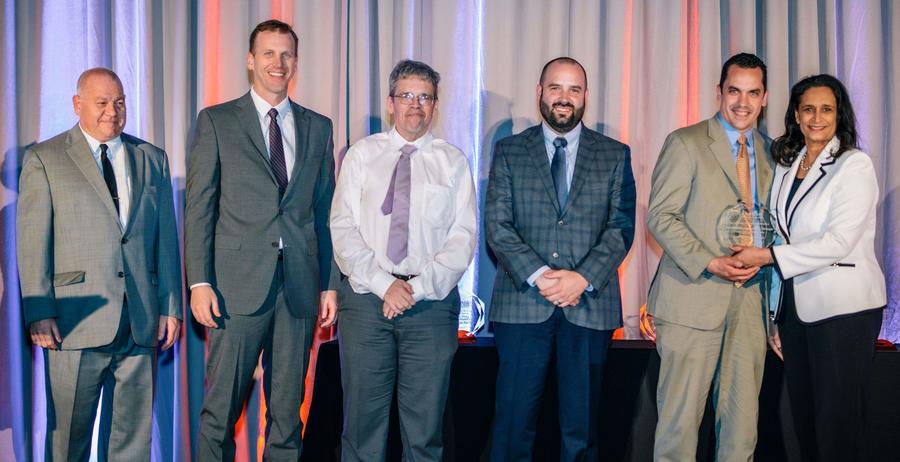 Kevin Byerly, a materials scientist at the National Energy Technology Laboratory (NETL), earned the high honor of receiving a Carnegie Science Award for his work in Advanced Manufacturing and Materials.
Byerly has been working on this unique project — going from idea to research to commercial application — off and on since 2007. The project began, as many do in science, with the recognition of a problem.
Simply put, the soft magnetic materials that make up today's electric grid power conversion and storage devices need to be modernized. This team's technology is following that shift by introducing a new soft magnetic core material to be used in a variety of applications. One technology will simplify next-generation power systems and improve electricity delivery with greater efficiency, cost-effectiveness, and better reliability.
A long history with this research
About 13 years ago, Byerly was working with magnetics for a private company using equipment that he terms as designed for "pure research." He worked then with his fellow Carnegie Science Award winner, Paul Ohodnicki. Paul was at that time a Ph.D. candidate, under Michael McHenry, professor of material sciences and engineering at Carnegie Mellon University. McHenry also shares the Carnegie award. The three of them developed the initial collaborative investigation from 2006 to 2013. After years of lost contact, Ohodnicki and McHenry reached out to Byerly in 2016 and hired him onto their NETL research team to continue with the work. 
"Paul and I have a long history with this research that began, more or less, as Paul's Ph.D. thesis, which has now culminated in this end. The process went from research to findings that allowed us to bridge the gap between the lab and commercialization," said Byerly. 
"And not only did these people [Paul and Michael] come back into my life, allowing me to get back into this kind of work, which I most enjoy, but also on the very same equipment as well. It's really kind of surreal."
Byerly and the advanced manufacturing and materials team he joined at NETL mastered an innovative process in permeability engineering through strain annealing to create electromagnetic cores that have unprecedented properties. 
Supporting this process is an emerging material called amorphous metal ribbon. The ribbon itself is obtained through a rapid solidification process, which cools the molten metal alloy at a rate of 1 million degrees Celsius per second. The result is a continuous-length ribbon with a virtual "blank slate." The NETL team then used an in-line annealing process, known as strain annealing, which couples a heat treatment at the same time the ribbon is held under tension. This revolutionary process gives the team control over the magnetic and, ultimately, the thermal properties of the magnetic core. 
Byerly puts it this way, "Imagine an electricity distribution transformer box in your neighborhood … one of those usually green boxes along the curb? Now reduce that big box down to the size of a softball. That's what this process has done." That difference in mass and weight creates tremendous energy efficiencies in machines that move.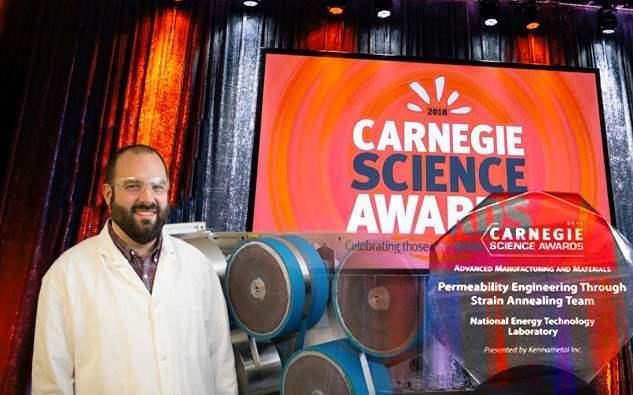 Paul Zandhuis heads Byerly's Leidos NETL team under the Research Support Services (RSS) contract. Zandhuis credits Byerly especially for the successful collaboration of the team. He said, "Several days a week, Kevin works at CMU to operate the strain annealer. Additionally, Kevin made regular trips to the NASA Glenn Research Center in Cleveland for newly cast ribbon from the melter."
"In many ways, Kevin operated as the catalyst to maintain the teamwork bridge between NETL, CMU, and NASA," said Zandhuis. "The Carnegie Science award is a prestigious award that typifies Kevin's dedication to innovation and collaboration. Although Kevin has not been a Leidos employee that long, he has already made his mark as a high-performing Leidos employee. Congratulations to Kevin for a job well done."
For the full, technical background, you can read the NETL team's article in The Journal of the Minerals, Metals & Materials Society.