Top three goals behind revenue cycle optimization and risk mitigation
It's common knowledge that U.S. healthcare spending is astronomical. According to the Centers for Medicare and Medicaid Services (CMS), the average U.S. healthcare organization spend in 2015 increased 5.8 percent to reach $3.2 trillion. And that number has only grown. Health spending is projected to grow 5.4 percent in 2017 related to faster growth in Medicare and private health insurance spending. Health expenditures are also projected to grow at an average rate of 5.9 percent for 2018-19, the fastest of the sub-periods examined, as projected spending growth in Medicare and Medicaid accelerates.
In fact, CMS actuaries predict that healthcare spending will rise past the $5.5 trillion mark by 2025. And despite today's costs and the anticipated forecast of additional spending, the quality of care still suffers. Hospitals and healthcare providers also struggle to manage expenses and make the right investments to help lower costs and improve the quality of patient care. Optimizing the management of your revenue cycle from the start can help your healthcare organization better recoup every dollar spent on healthcare services rendered.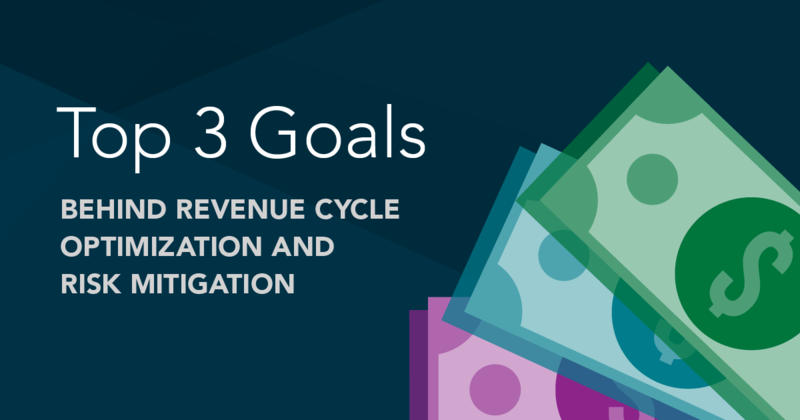 The Healthcare Financial Management Association (HFMA) defines the revenue cycle as "all administrative and clinical functions that contribute to the capture, management, and collection of patient service revenue." With so many moving pieces in play, from patient registration to claim remittance, it can be difficult to determine just what constitutes "optimized" revenue cycle management.
Three good optimization metric goals are:
Having a first pass, clean claim rate in the upper 90's, and aiming to have denial percentages very low.
Start with having reliable data. Having the right metrics on hand are critical. Having the right data can flag where issues may exist and which part of the cycle requires a closer look. Issues that need fixed within the data are most often related to documentation, coding, some problem with eligibility, or patient paperwork.
Look beyond numbers and try to determine what is driving specific metrics. Performing a root-cause analysis can not only help you determine the issues, but also how to fix them.
At the end of the day, revenue cycle optimization and risk mitigation is about making intelligent decisions about resources and investments that can advance quality of care. It's also about finding interesting opportunities to perhaps repurpose resources, to reduce errors, and to invest more strategically across the organization. These activities require having the right numbers in the first place, taken from a pool of accurate and reliable data.
Optimizing the Revenue Cycle: Moving Past the Financials
Click below to learn how healthcare organizations can work towards managing spend and making the right investments to help both lower their costs and improve the quality of patient care. 
By having accurate numbers, finance leaders can not only achieve these optimization goals, but can also take a closer look at the organization by peeling back the layers of activities to see where improvement is needed. But it's also important to remember that optimization benefits should go far beyond the back office and extend to overall patient satisfaction.
Beyond lowering costs, having clean numbers is something that also benefits patients. They will appreciate not being hassled about payment problems when they visit your facility. Instead, they will experience a well-managed system where everything is taken care of correctly the first time, and in the right way.