Unique 9/11 Promise Run honors victims, salutes first responders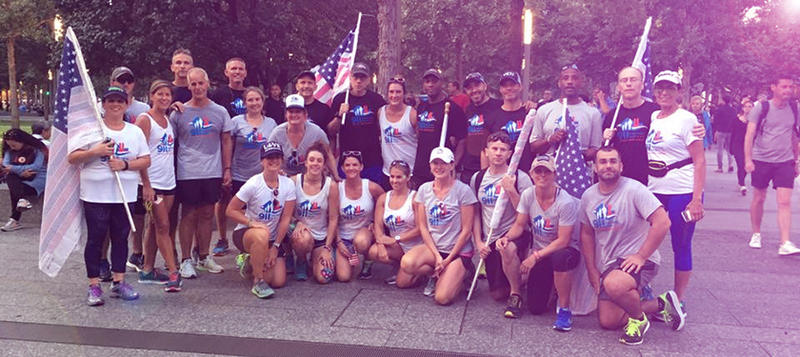 In the early hours of a winter morning in 2016, Jennifer DePoto was training for an upcoming half-Ironman triathlon. She was on her bike trainer and listening to a podcast when something strange happened. DePoto remembers feeling like a higher power was calling on her to "get involved and do something" for the upcoming 15th anniversary of 9/11.
"I used to struggle with it but as the years have gone by, I've grown in my faith," said DePoto. "I've thought about giving back or doing something that's bigger than myself."
For DePoto, that something is the 9/11 Promise Run, a 240-mile team relay from the Pentagon to Ground Zero over the course of three days. The event aims to honor both the victims of 9/11 and our nation's military and first responders. DePoto is an avid runner and comes from a family of first responders, so it's easy to see how she formed her vision for the Promise Run.
"I really just thought, 'I'm going to run to New York and I'm going to raise money for charity,'" said DePoto. "I wasn't directly impacted, but I felt called to do something for the greater good, to see if I could turn something that was so tragic and devastating into something good."
Now in its third year, DePoto's brainchild continues to grow, with 62 runners across seven teams taking part this weekend. But it hasn't always been easy.
The first Promise Run in 2016 had only seven runners, including DePoto, who logged 42 miles herself over the three days. In total, the participants raised more than $23,000 for two 9/11 charities — an impressive feat when you consider that DePoto pulled everything together for the inaugural event in less than seven months.
In 2017, 24 runners across three teams covered the course and raised almost $44,000 for charity. Among the beneficiaries was the American Red Cross, whom DePoto added at the very last minute to try and help victims of Hurricane Harvey.
One of the 2017 runners was Paul Veronie, Director of Information Assurance within Leidos Corporate Security. Veronie says that friends and family were incredibly supportive, even if some of them thought he was "a bit crazy for signing up for such a long run over three days."
"The personal fundraising obligation seemed a little daunting, but by the time I got to New York, I had raised about $2,500," said Veronie. "I was overwhelmed with the generosity."
READ MORE: Paul Veronie wrote about his first Promise Run experience
Veronie is running again this year and the total fundraising is already more than $50,000 and should continue to increase before the Oct. 1 deadline. To help the event meet its fundraising goals, participants don't pay a registration fee. Instead, each runner commits to raising a minimum of $1,000 for charity. The designated charity this year is Hope for the Warriors, a national nonprofit that provides assistance to combat-wounded service members and their families.
"The mission of the run is to honor every single life that was lost, and all the lives that have been lost since then as a result," said DePoto. "A huge part of that mission is also to honor all first responders who, on a daily basis, are securing and keeping our communities safe."
When she plans each year's run, DePoto calls, emails and even sometimes visits firehouses along the route to explain the Promise Run's mission and ask if they'd like to get involved. Several firehouses serve as water stops on the route. In addition, after each day's mileage is complete, the runners all eat dinner together and bunk up in a firehouse that's offered to host them for the night. This builds camaraderie and allows the runners to thank and bond with the first responders over their 9/11 experiences.
I'm looking forward to meeting all the first responders along the route again. The fellowship and hospitality was truly overwhelming last year.

,

Director, Information Assurance
"As the run has grown, more firehouses want to get involved. We tell them, 'This is why we're running, this is what we've done, and this is why we'd like to come by your firehouse to personally thank you for what you do on a daily basis,'" said DePoto.
Eventually, DePoto hopes to have entire groups of first responders running in the event.
"I would love to have teams of strictly firefighters or law enforcement," said DePoto. "I think that would be awesome."
One idea that will be new in this year's run is a commemoration of those on Flight 93, which went down in Somerset County, Pa. DePoto connected with Flight 93 Memorial leadership and received permission to assign each runner a name of a passenger from that flight.
"Every runner has someone's name and that's who they'll be running in honor of this year," said DePoto.
With an eye towards future Promise Runs, DePoto recently formed her own charity, which will focus on providing scholarships to children of first responders and military.
"As we move forward as a nation, we have to do our part to educate the young about 9/11," said DePoto. "It's up to us to educate them on what happened so that they can continue to fight for our country, to call them to a life of service.
"I want to make sure those kids have the ability to go to school and get educated so that they can stay vigilant for our country moving forward."