This veteran's new mission is to fight kidney disease
In mid-January, Capital One Arena hosted the 4th Annual Washington Wizards Organ Donation Awareness Tournament. As a kidney donor and current intern for the National Kidney Foundation (NKF), I was honored to be selected as one of the speakers at the event. The opportunity to share my story and help raise awareness was one I couldn't pass up.  
I have been working with NKF since 2015. It started as a true labor of love as a volunteer for a KEEP screening event in Washington, D.C., then on to more screening events at the NBC4 Health and Fitness Expo. Over the years, I have also participated in the annual Kidney Walk, Kidney Ball and sporadic kidney screenings with the George Washington University Ron and Joy Paul Kidney Center.
The latter tied in nicely with my affiliation with George Washington University as a graduate student in the Masters of Public Health program at the Milken Institute School of Public Health. I have been enrolled in these studies since 2015 with a projected graduation date of May 2018, while working full-time with Leidos. Fitting school in after work and after multiple overseas deployments for our government customer has been hard but also fulfilling. I have been able to apply the same community outreach and patient advocacy skills to the passion of kidney disease awareness and support while working with NKF.
In 2007, I was retiring from the U.S. Army after 23 years of service and returning home to the D.C. area to be with my family. At the same time, life was becoming very difficult for my parents, who were both on dialysis. My father was already on the kidney transplant waiting list but my mother wasn't. Given the circumstances, I donated a kidney to my mother.
LISTEN: David discusses kidney disease and his donation experience in a radio interview
My gift to my mother extended her life to Aug. 2017, when she passed away after a sudden, unrelated medical issue. She had given me so much in life and I wanted to give her the ability to enjoy the life she deserved. But it also gave her the ability to be the caregiver to my father while he continued to suffer from diabetes and chronic kidney disease. 
My father, like many others in this great nation, was an older man and that demographic alone placed him lower on the list to receive a kidney. So while waiting, he first suffered a toe amputation, then a foot, and finally the leg below the knee. He passed away in Dec. 2013 from a heart attack, never receiving a kidney after six years on the waiting list. He remained a dialysis patient, three times a week, until his final day on New Year's Eve.
During those years, my vacations became my parents' vacations as I had to be there to take my dad to dialysis in every town that we visited; that was always a three-hour interruption in our day. My father's story is not uncommon, however. Chronic kidney disease and its comorbidities such as diabetes, stroke and heart disease, remain among the top 10 major causes of death in America.
Following my donation and the passings of my parents, I have turned my focus and life to the cause of fighting kidney disease and continue to make appeals for everyday people to donate and raise awareness in populations at risk. My goal and that of NKF is to help change health behaviors and ultimately, life outcomes, locally and nationally. I have worked with the NKF on many fronts, from health fairs to kidney screening events to other awareness campaigns over the past few years. But this year's charity basketball tournament was a chance to make an even greater difference.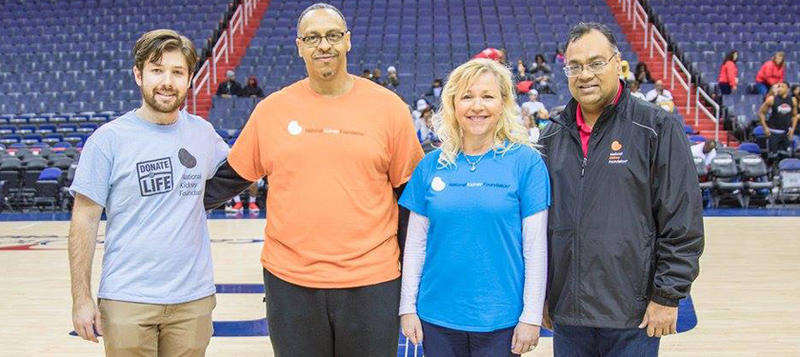 Eight teams competed on the Wizards' home court in the 3-on-3 tournament for a good cause. The tournament was a success and we were so grateful to have so many local businesses and companies supporting the cause of kidney disease awareness. But the championship "shout out" has to go to the students of Howard University's Medical School for emerging victorious after several hours of fun, fellowship and awareness. After the tournament, all of the attendees were treated to a Wizards overtime victory against the visiting Brooklyn Nets.
During the game, I helped staff the NKF donation and awareness table in the arena concourse. I was also welcomed back onto the court at halftime for the announcement of the awareness campaign and promotion for the many things that are accomplished through the efforts of the NKF. All in all, it was a terrific and memorable day supporting a cause I care about greatly and will continue to support for the rest of my life.
---
There are more than 116,000 people on the waiting list for an organ transplant, more than 96,000 of whom are awaiting a new kidney. To learn more or to volunteer or donate, please visit https://www.kidney.org/.