Von Braun Award winner Tav Taverney reflects on 50 years of managing space programs
In September, retired Major General Thomas "Tav" Taverney received the annual von Braun Award for Excellence in Space Program Management at the AIAA Space and Astronautics Forum (SPACE). The award recognizes individuals who have made outstanding contributions in the management of a significant space or space-related program or project. Taverney has almost 50 years of space program management experience. During the course of his decorated career, Taverney has developed industry-changing programs, enhanced missile systems capabilities, supported major satellite operations, developed space warfighting doctrine, and provided renewed focus for the future of national space security efforts.
Based in Southern California, Taverney has worked in space operations at Leidos for the last 17 years. I recently interviewed Gen. Taverney over email and a condensed version of our conversation is below.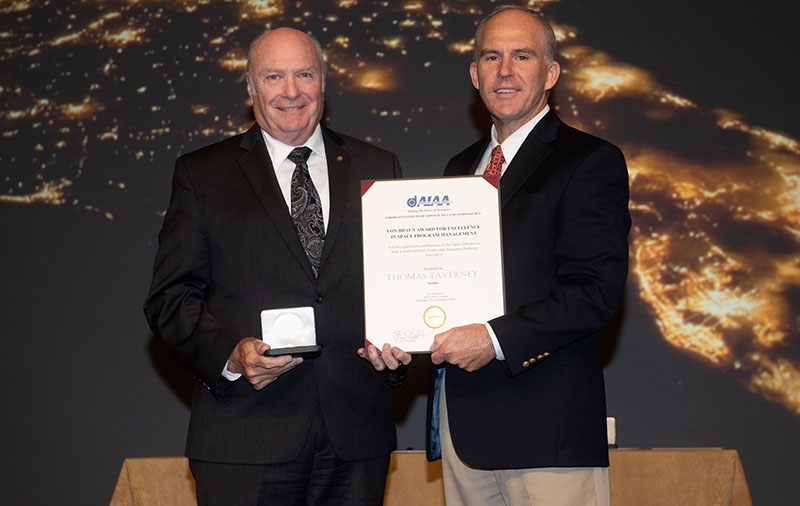 Can you tell us about a couple of the programs you've led throughout your career that you're the most proud of?
A fair amount of cool programs I worked on were classified, but, some were not, and they were definitely rewarding. Certainly the Commercially Hosted Infrared Payload (CHIRP) program is right up there with any of the programs I worked on. The Leidos team broke new ground in multiple ways. We partnered with SES and Orbital and pioneered the first commercially hosted program that was flown for a military mission (missile warning). This led to the Air Force and NASA pursuing other programs to be flown in this fashion, and this will only increase in the future. Additionally, the payload we flew was a major technical breakthrough for the world of missile warning, by providing true persistence, and solved the FPA [function point analysis], electronics, and on-board processing challenges. This program received many awards and accolades.
Early in my career (the late-1960s) I developed an airborne missile concept for space anti-satellite. I used an F-106, a standard ARM Missile, and a miniature homing vehicle. This concept was eventually demonstrated in the early 80s using an F-15, a SRAM, and the same MHV.
How have some of the objectives changed during your time on those programs? And where do you see space programs going?
In the early days of space (starting in 1954) we were exploring whether doing things in space was even possible. It was understood we were plowing new ground, and failure was tolerated (even expected). But, we did things very fast (the first Defense Meteorological Satellite Program satellite was built in 10 months, though its launch failed). During that period we were competing with the USSR, and speed was the most important factor. When the Berlin Wall fell, this competition went away and budgets were significantly reduced. That led to trying to do more with less, which led to execution problems.
Maybe a little background as to how we got here is useful. It began with the confluence of a peace dividend (Department of Defense spending rapidly reduced between 1985 and 1993 and remained flat between 1993 and 1999), and Desert Storm (Aug. 1990 – Feb. 1991). During Desert Storm we began to see the criticality of space support, and despite budget cuts, decided we needed to continue development of the space systems that were underway, rather than cut a system or two. This created an underlying budget vs. requirement mismatch that ultimately led to most of these systems having financial and schedule problems. In an attempt to drive risk to as close to zero as possible, oversight began to grow and continue to get added as issues came to light. This drove cost and schedule up with each added oversight action.
Now everything has changed. Space has become truly international with more than 60 nations using space and 11 nations able to launch systems. The commercial space industry has grown significantly, and our adversaries (Russia and China) are developing and deploying space systems in 3-4 years. With our current development timelines 7-10 years, we obviously need to make a change and look back to the early days of space, where we built systems faster, with shorter lifetimes, replaced technology quickly, and were more tolerant of risk.
We need to respond to this and build systems faster, and many changes are in process to do this. This is another exciting time. Additionally, it is now true that no matter what we do, a determined adversary can take out satellites or nodes of our systems.  With the criticality of space to everything we do, we need to assure these capabilities are available whenever they are needed. Therefore, one of the big changes we need to make is to build resilient constellations that can survive the loss of nodes and still have the mission survive.
What has it been like to basically have a front-row seat over the course of your career, from the initial space race to today's complex environment where non-state organizations have and are pursuing space capabilities?
It has been a very dynamic environment that has gone through many changes but has always been challenging in its own way. It has never been dull. I have been privileged to be able to work with many of space's legends. And every generation of young leaders have brought new ideas and excitement to the business. I have seen humans land on the moon, have seen systems land on Mars. I have been involved in the development of GPS that has virtually changed the world along with the internet becoming ubiquitous from an ARPA internal communication network. The commercial space industry has developed and become a major driver in the world. This would have all been very hard to predict in 1957 when the Russians launched a little satellite that beeped itself around the globe.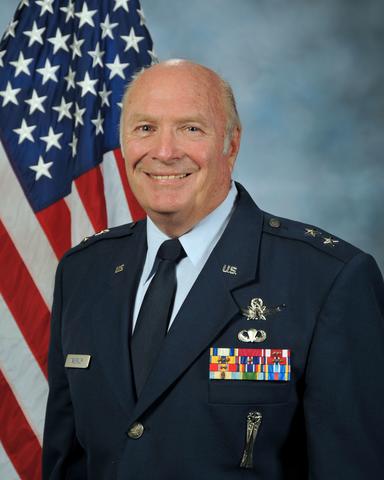 You're very accomplished -- you were elected to the Space Operations Hall of Fame in 2010 and the Air Force Space Command Hall of Fame in 2016. So, what does the von Braun award mean to you?
I certainly know that awards are generally the result of the work of many awarded to the few. I am always humbled by getting any award, knowing that everything we do is a team effort. An award named after Dr. Wernher von Braun is truly special. He was, along with Bernard Schriever, the two most important people in the space business. Having received both the von Braun Award and the Schriever Award [in 2014] is something that I would never have imagined.
Some of your work has involved helping to develop space warfighting doctrine. Can you tell us a little bit more about that? For example, what are the rules of engagement in space?
There are really two elements of space warfighting. The first and most important is what space does in support of our nation's toolkit of responses to political challenges, and supporting our troops in both war and peace. From providing the worldwide utility of GPS, to wideband communications, secure and protected communications, missile warning and space superiority. We are committed to provide assured availability of these capabilities to our troops. As I discussed earlier, this will involve more affordable systems, purchased on much shorter timelines, with much faster technology insertion into resilient constellations.
The second element is protecting and assuring these capabilities are available despite operating in a contested, competitive, and congested environment. These rules of engagement are much less clear, and honestly we will not get to set the ground rules on this. We will have to react to what our adversaries do, and that will require building capabilities that span the gamut of potential space actions so that our leadership has options when adversary actions occur.
How did you go down this career path?
When I was in high school I heard President Kennedy's speech about going to the moon. I was really excited and inspired and decided I wanted to be involved. While I wasn't involved in Apollo, I have been in the DoD space programs for 50 years, going to the Air Force Academy and then going to the Space and Missile Systems Organization (the predecessor to the Air Force's Space and Missile Systems Center, or SMC) as my first assignment and never looked back.
What special considerations does program managing for space bring with it?
As pioneered by Schriever and von Braun, managing space development programs are really unique and different. Many disciplines must come together seamlessly, requiring very tight teams, and strong systems engineering. You need to be ready with alternatives if one of your technology paths do not work as planned. Space also brings some challenges in that we need to be able to troubleshoot and repair problems in systems that could be 20,000 miles away, so a lot of thought for the operations and maintenance of the systems need to be thought about and built in.
What's your favorite thing about space or a favorite fact that might not be widely-known?
It is that innovation is generally key. We rarely build the same system twice, we are always looking at where technology is going and how we can bring that to space. Every program is a true science project, challenging, and most importantly, rewarding. Probably the thing about space that is widely misunderstood is orbital dynamics, and that increasing velocity makes you go up (higher orbit), and decreasing velocity makes you go down.