A winning alliance: Leidos, Lightning Robotics and FIRST
This time last year, a group of 130 teenagers on the Leidos-sponsored Lightning Robotics team joined forces with three other teams to win the St. Louis branch of the FIRST® Robotics World Championship. The annual competition sees several thousand teams of high school students from around the world compete against each other on special playing fields using robots they design, build and program. There are so many teams in fact — more than 3,300 from more than 30 countries in 2017 — that FIRST (For Inspiration and Recognition of Science and Technology) splits up World Championship participants at two locations. Thus, Lightning Robotics and their winning alliance were co-world champions with a four-team alliance that won the competition in Houston.
Lightning Robotics, a consolidated team of students from three Michigan high schools that share a campus, had a new driver and was coming off a 2016 season where they didn't even qualify for the state championship. Their out-of-nowhere world title capped off a long season, one which typically starts at the beginning of the school year and ends in the spring. Established in 1999, the team has experienced the ups and downs of a FIRST Robotics season for two decades now. While the names and faces change, many things stay the same.
"When school starts in the fall, there's what we call preseason where that season's game hasn't been assigned but we start to train all the students and hone their skills so that they're ready as soon as we get the game," says Katie Hyrila, an electrical engineer at Leidos who is one of the team's 30 mentors.
During this preseason period, teams form subgroups. These subgroups include obvious ones such as design, electrical, and programming, but also others that perform vital non-technical aspects.
"We have a fabrication subgroup that does a lot of prototyping and builds the robot," says Hyrila, who helps the electrical subgroup with wiring and sensors. "We also have a marketing group, a safety group, a strategy group, and an awards group which submits the team for different honors and recognitions."
The preseason also has rookie rotation, where students who are new to a team can spend time in each subgroup learning what they do. This allows them to join the group that they feel they can help the most.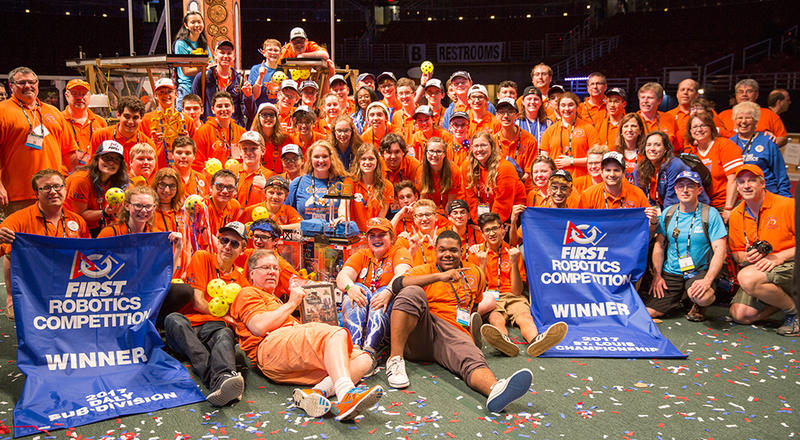 All of this work prepares teams for build season. When the New Year arrives, each FIRST Robotics team receives a kit full of parts and instructions for that season's game and how many points each objective can earn. For example, the 2017 game awarded points to teams whose robots could shoot whiffle balls, carry and deliver gears, or climb a rope. The kit also includes details on robot specifications and other contest parameters.
"We only have six weeks to design, build, program, and get the robot ready. Once build season starts on that first Saturday in January, we're spending at least 20 hours a week together for six weeks to turn a prototype into reality," says Hyrila, who's cognizant of the time commitment involved.
"The kids put in so much work, it's incredible. They have so much schoolwork, they have AP classes, and they still come in and work on this for hours," says Hyrila.
At the end of build season, Lightning Robotics had a robot that was fast, adept at climbing rope — worth a whopping 50 points — and delivering gears, and most importantly, dependable. They named the robot Valkyrie, a figure from Norse mythology.
Once tournament play began, Valkyrie shined. Lightning Robotics made the semifinals at both districts and at Michigan's state championship. That run helped book their ticket to the World Championship in St. Louis.
Things, however, got off to a rocky start in the Gateway City as the team lost four close matches on the first day. The team chalked up the rough start to a combination of tough matchups, weak alliances, and just plain bad luck. But Valkyrie performed well throughout those games and Lightning Robotics managed enough qualifying points as a team to advance.
The team won four matches on the second day, leaving a good account before the competition's top two alliances picked their teammates for the final game.
"What happens at these events is that all the teams scout every single robot, they look and see what every robot does," says Hyrila. "The number one alliance saw that we were putting up points. We just weren't with the strongest alliances or things were working against us. So they skipped all these other teams to pick us."
That top alliance included teams from San Jose, Calif., Montvale, N.J., and another Michigan team from Kalamazoo. The finals alliance had great chemistry and, thanks to Valkyrie's gear delivery and rope climbing, all-around skills that helped propel them to victory.
The World Championship wasn't the end of Lightning Robotics' incredible run. Entrepreneur Dean Kamen, Segway inventor and founder of FIRST, hosted the first Festival of Champions last summer. Lightning Robotics and their winning alliance from St. Louis were invited to New Hampshire to play against the winning alliance from Houston. Once again, Lightning Robotics' group came out on top. A special perk of winning the Festival was dinner at Kamen's home in Bedford, NH.
"The kids treat him like a celebrity. It's so nice to see science and technology idolized like that and it's what I really love about FIRST," says Hyrila.
The team didn't just win bragging rights and a dinner with Kamen. Many of them say that they also gained a second family, one that wants to make a brighter future for the world. In addition to this greater sense of belonging, several team members also earned scholarships from schools like Kettering University and Michigan Tech, and everyone had the chance to learn real-world lessons and skills that will serve them through the rest of their education and into their careers.
"One of the things FIRST teaches, which I think is a struggle for a lot of engineers, is communication. The kids learn how to communicate a lot more effectively by going through this program," says Hyrila. "They may not realize it, but they're learning all these amazing skills that can make them better engineers in the future."
Students develop teamwork, ingenuity and problem-solving – all soft skills greatly needed by employers today and in the future. Hyrila adds that FIRST gives students a taste for what's expected in the industry. When they come up against a challenge, she explains, they can't look in the back of their textbooks for an answer but have to figure out how to beat it as a team – and often under tight time constraints. It's at times like these when mentors make a big difference. Hyrila doesn't just teach them fundamental skills like soldering, wire management, and basic circuit concepts. She challenges them to find their own solutions to issues and then justify how and why they want to move forward with their plans.
"You can never have enough mentors," she says. "They make a huge difference, especially when they have experience from which they can teach the kids solid principles."
What's in it for the mentors? Hyrila admits that the design challenge is fun for any engineer — building a really cool robot and competing with it is a thrill few engineers ever outgrow. But there's another reason she loves serving as a mentor.
"Really, it's the kids," she explains. "They're so great. They have so many cool ideas and don't know limits. They just keep pushing and pushing and pushing. They get so excited, and it's so cool to see kids so excited about something so cerebral."
That brainpower will be put to the test when Lightning Robotics takes the field for this year's World Championship starting April 26. They won't have to travel far as Detroit is hosting the competition for the first time. With more teams (506 this year) and more trophies won at the World Championship than any other state, Michigan is a robotics powerhouse. Already a part of that rich history, Lightning Robotics will try to add another chapter.
Contributing: Anne Shaw
Leidos has an ongoing commitment to K-12 STEM education and sponsors about 120 FIRST Robotics teams in elementary, middle and high schools across the United States. Since 2014, Leidos employee volunteers have dedicated more than 29,000 hours to supporting FIRST's K-12 STEM education efforts and contributed more than $1.1 million to the program.